From reinventing office spaces to creating impactful storefronts, commercial projects have so much potential. Now imagine if one single suite of products could make your project more functional, beautiful, and showstopping — all in one. That's Cover Glass!

We've worked with architects and businesses across the country to transform their spaces with our stunning frameless glass doors and walls, and we love sharing our projects as inspiration for others. Keep reading and we'll dive into just a few of the ways you can incorporate Cover Glass into your next commercial project.
1. Bring The Outdoors In
There's something magical about bringing nature inside, whether you're maximizing an open patio for a restaurant, building balconies with a view for your condo or apartment residents, or creating a serene and calming outdoor space for employees to enjoy on their lunch break.
Our frameless sliding glass doors are perfect for any and all these scenarios. Especially as we continue to navigate COVID-19 guidelines and restrictions, businesses with connected outdoor space are automatically at an advantage.
Plus, getting a little sunshine is good for your health! Sunlight boosts the body's natural Vitamin D supply and can improve your mood, as well as provide a much-needed lift during a busy work day. Even on cooler and cloudier days, sitting near large windows that let in lots of natural light can do wonders for your health.
The El Niguel Country Club in Laguna Beach achieved this beautifully with their remodel. Thanks to large frameless glass doors added to their event rooms, guests now enjoy sweeping views of the 18-hole Championship golf course and the flexibility to move from indoors to the beautiful terrace easily.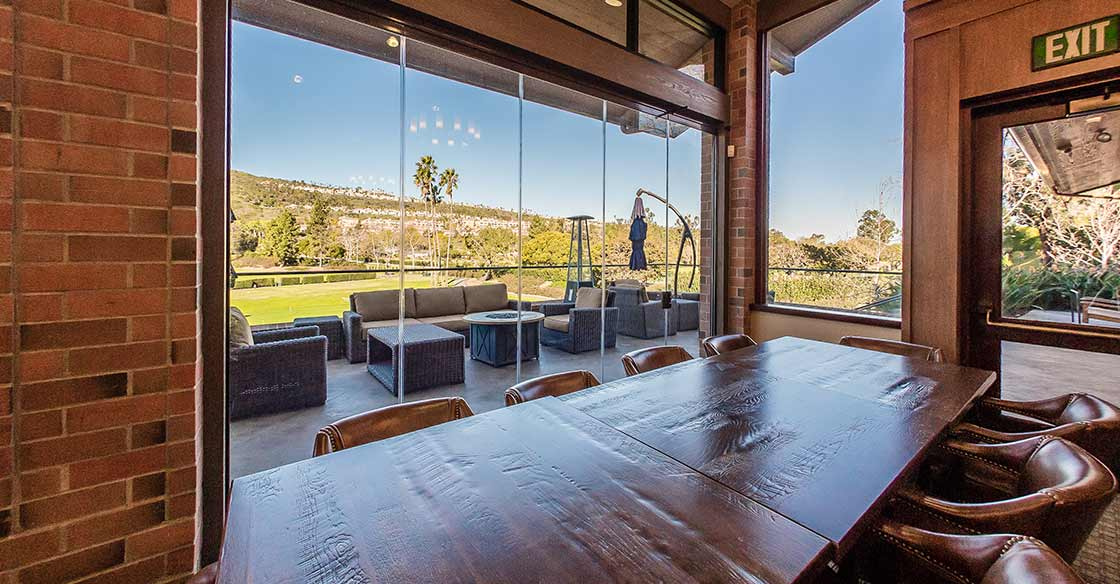 Cover Glass USA's sliding glass doors offer endless possibilities for hotels and resorts, and are a must-have to take advantage of the beautiful scenery around your property. Incorporate our exterior frameless glass windows and doors into lobbies, guest room balconies, suites, outdoor cabanas, or even in smaller window applications to make your property stand out.
2. Create A Flexible Space
Creating these kinds of environments also makes the space much more functional and flexible. Restaurants in particular can use frameless glass doors to quickly and easily add more seating options.
Instead of succumbing to the limitations of a fixed glass door frame, you can eliminate an entire wall, which in turns extends the usable space and increases accessibility, foot traffic, and functionality.
In fact, by increasing capacity through outdoor seating, you may even be able to increase your revenue by up to 30 percent. Research from the Simons Advisory Group, for example, showed that a $200,000 investment increased overall sales by $500,000 — possibly more if your restaurant offers year-round outdoor seating.
This concept was a no-brainer for The Lot at Liberty Station in San Diego, CA. By adding frameless glass doors alongside their bar and restaurant area, they are now able to extend seating options when the weather calls for it (which is just about every day in sunny San Diego!). On warm summer evenings, the open patio has a romantic appeal without seeming cut off from the rest of the restaurant area.
Hennessey's Tavern in Dana Point also takes advantage of extra seating by using a counter-height system, allowing guests to sit alongside the wall and enjoy their meal. Servers and bartenders can easily serve guests through the pass-through opening, and it provides a naturally-shady spot for those wishing to get out of the direct sun.
3. Clean Up The Noise Pollution
Another big function that commercial sliding glass doors and windows can support is reducing noise, especially in an open office environment. Many businesses these days are favoring big open spaces in their designs; however, most workers still need time set aside during the day for quiet and focused concentration. By incorporating glass doors into your commercial building floor plan, you can maintain the ambiance of an open office while still providing quiet areas for your employees to work. A laminated or acoustic glass, like we use with Cover Glass systems, helps to muffle sounds outside and keep the area quiet.
Even better? Consider a flexible or modular system that allows you to customize your space as your needs change or as teams move in and out.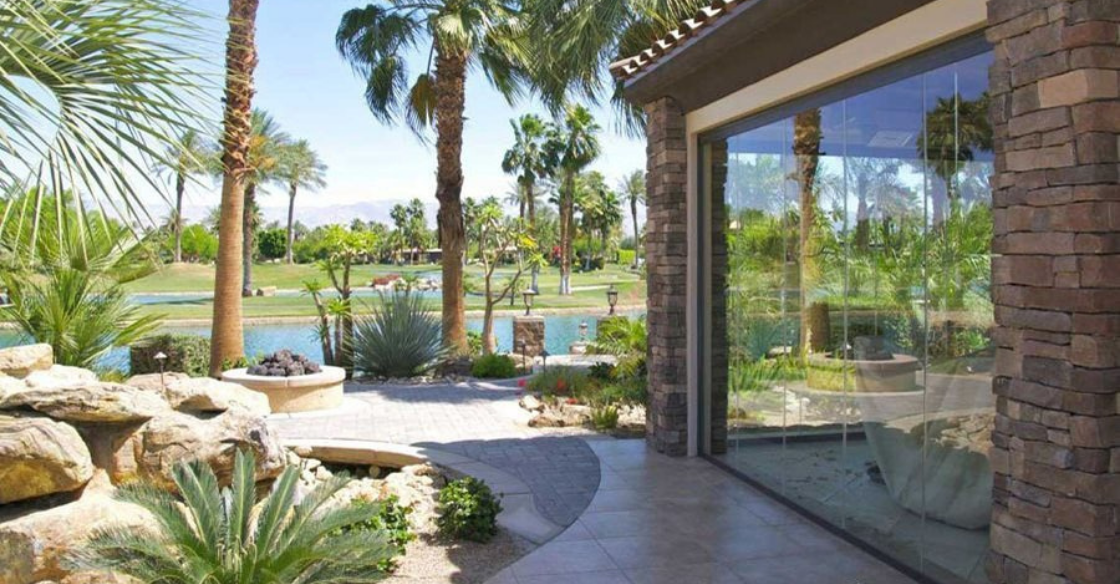 This also works for hotels, resorts, and country clubs for blocking out noisy areas when needed. At the Motorcoach Country Club in Palm Springs, for example, flexible glass doors around the Clubhouse can be set to half-open, fully-open, or fully-closed when guests want a reprieve from the busy community pool area outside.
4. Protect Your People
We mentioned earlier how glass door systems can help you increase your capacity as a restaurant, especially as patrons prefer to dine outdoors due to COVID-19 precautions. The same goes for incorporating them indoors as more businesses are starting to open and bring back employees.
With many worried about the virus spreading indoors, especially with flu season on the way, it's more important than ever right now for businesses to prioritize safety initiatives. Modern glass partitions and doors are a great way to create distance between employees without completely reverting to the cubicle-style offices of the past. Selecting a flexible or customizable system will allow you to make changes as restrictions lift or employees get more comfortable being around one another again.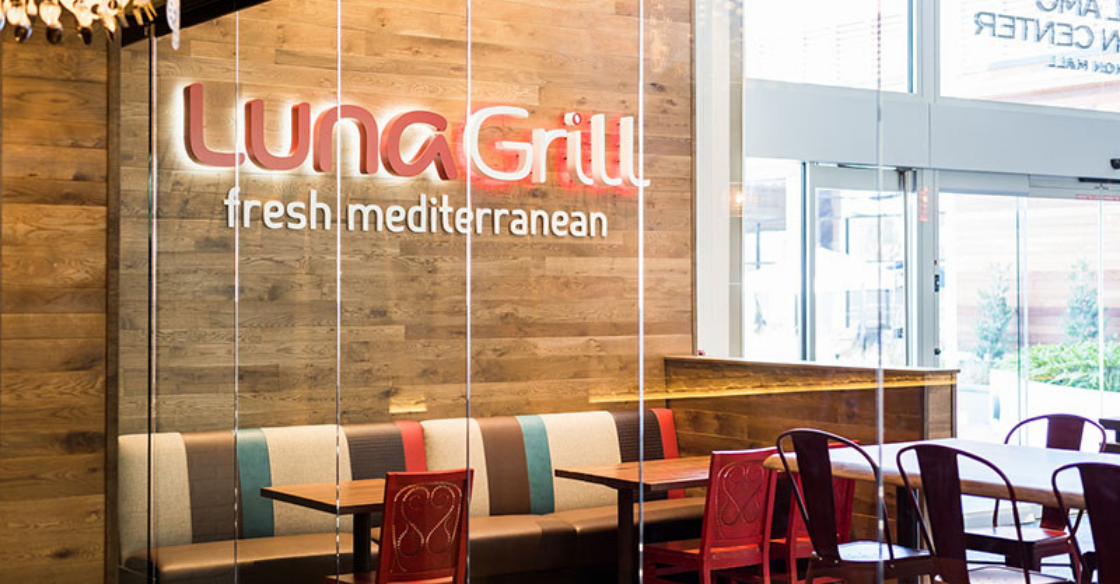 Bring Your Project to Life with Cover Glass
Feeling inspired yet? For more ideas, check out our commercial gallery or contact us to discuss your project with one of our pros. With showrooms in Southern California, Nevada, Arizona, and Texas (coming soon!), we can't wait to help you discover the possibilities.
Whether you're creating an al fresco dining experience or attracting the attention of window shoppers, folding glass doors can add a valuable and dramatic design element your customers will love.