We love showcasing the stunning images after we finish a frameless glass system project. But, we also believe that the "after" pictures only tell one side of the story.
It's always a special treat when we're able to show what a space looked like before a home or business owner opted to upgrade from traditional sliding doors to folding glass windows. And the San Diego home featured here is no exception.
Keep scrolling to see how we transformed this space into something so beautiful that even the dog can't stop taking in the view.
It's called America's Finest City for a Reason
With miles of beautiful coastline and the world's most perfect climate, San Diego has earned its nickname as "America's Finest City."
The homeowners featured in this project own an expansive three-story home with panoramic ocean views from their entire third floor. Despite the amazing views, the space had a dark, closed-in feel. Though the rooms had plenty of windows, they were relatively small and didn't give the home a feeling of openness.
Before Cover Glass

Transforming the Space
The Cover Glass frameless wall system created a seamless transition of indoor/outdoor living. Notice in the after pictures the addition of the top floor deck. By combining a frameless glass wall with a glass-walled patio, the homeowners could finally fully appreciate their surroundings.
Feast your eyes on these beautiful sunsets, and imagine being able to sit on your deck and see this every day. That palm tree right outside the window just might make you feel like you're on vacation every day!
And, what makes our folding glass windows system so unique is that you don't even have to go outside to experience your surroundings. Whether you're lounging on the couch, cooking dinner, or entertaining guests, the floor-to-ceiling glass erases the visual barrier that traditionally exists with framed windows and sliding glass doors.
After Cover Glass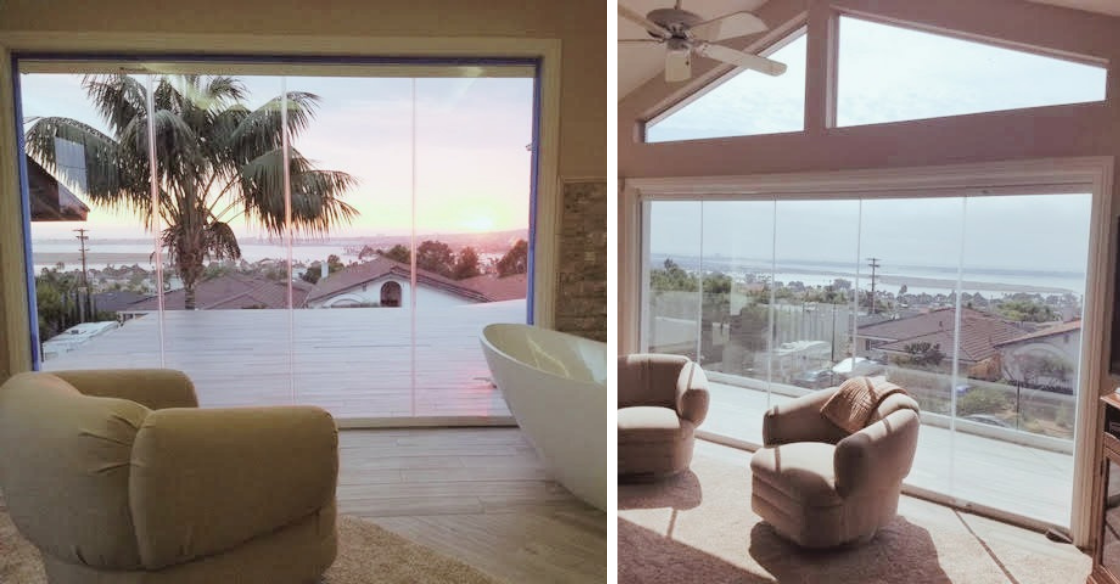 The Cover Glass Process
For this home, Cover Glass replaced the old windows with ½" tempered clear glass. Our patented design process involves creating two pieces of tempered glass with an industrial lamination between them. This innovation creates glass that is five times stronger than standard tempered glass. And though San Diego isn't known for hurricane windows, you can have peace of mind knowing that our glass is tested to withstand wind speeds of over 222 miles per hour.
We work with homeowners, contractors, architects, and commercial businesses to help make your vision come to life. After 34 years in the industry, we've become adept at working with various customers, from homeowners who need help visualizing what's possible to architects who have a clear vision in their head and simply need the tools to make it happen.
One of the best ways to begin the process is by using the Cover Glass Visualizer App. This project planning tool will give you an idea of what having folding glass windows will look like in your home, office, or business.
If you're a homeowner, we know that this process can be both exciting and intimidating. We have plenty of helpful resources to guide you on the journey, including a list of things to consider before beginning a home renovation.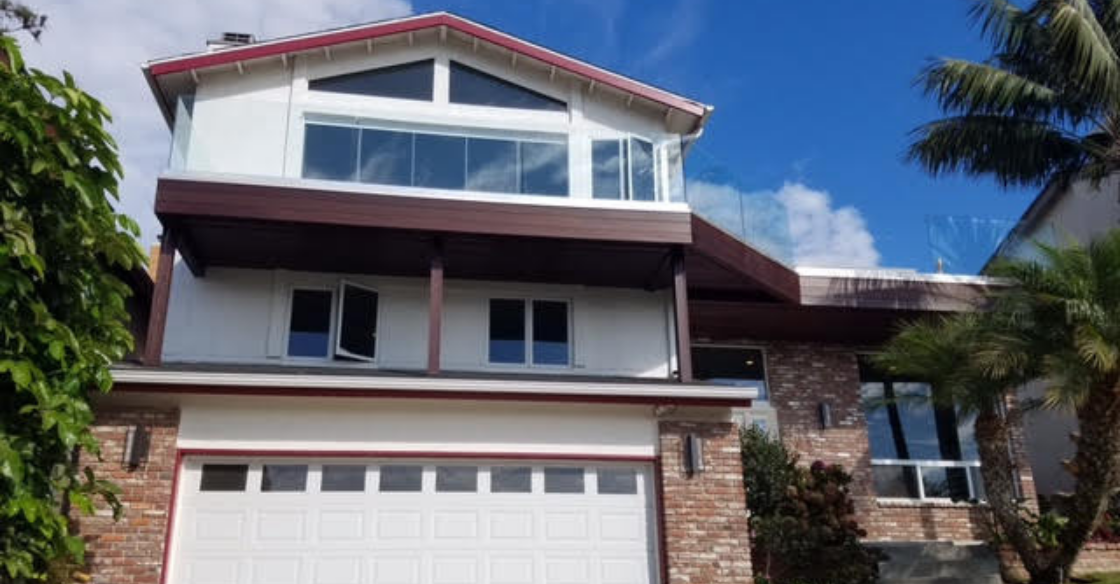 Frameless Glass Windows and Doors – Design Choices
If you can envision it, we can do it.
When it comes to the design options available, the sky is the limit. Quite literally, if you think about it!
Here's a brief overview of your various design choices:
Frameless Glass Window Systems: Though we tend to showcase floor-to-ceiling glass windows and doors, we can make glass panels of any size. Many home and business owners choose to replace their framed windows with a frameless alternative. The size remains unchanged, but you get rid of traditional windows' visual barriers and dated aesthetics.
Fold Glass Combination Systems

: As homes and offices become more open, you may want a way to merge spaces visually while still keeping a physical barrier. A folding glass combination system allows you to control access while creating an open look and feel. This system is popular in open kitchen transformations but can be used for so much more!

Counter Height Systems

: These systems are the ultimate tool for the home entertainer. By having folding glass windows between your kitchen counter and the outdoors, you can interact with guests from inside the house.

Curved Frameless Glass

: If you have a curved wall, you can still have folding glass windows using the Cover Glass System. The overall visual result is breathtaking.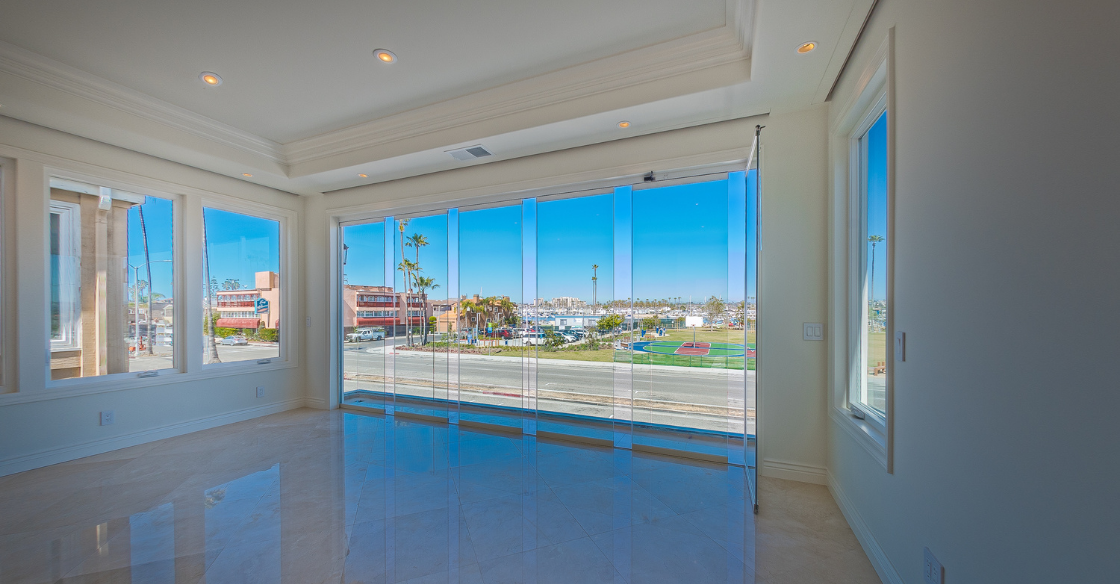 Regardless of which design you choose, you're always in control of how many panels you'd like to have open at any time. You can have a single panel open to function as a door or create a series of air gaps between the panels for more ventilation.
In addition to the improved aesthetic and instant boost to your home value, you may also be wondering what to consider before purchasing a sliding glass door system. Durability, performance, safety, and security are all important factors to evaluate.
Here at Cover Glass, we've specially engineered a frameless glass system that ticks all your boxes. You get a seamless look in your home that provides ultimate security. Our glass is virtually unbreakable. Plus, you could even find that you save money on energy bills thanks to the influx of natural light and the superior insulating properties.
Our homeowners in this frameless glass doors San Diego project are now able to fully enjoy their space by taking advantage of the ocean breeze and being able to entertain or relax on their new patio.
Are You Ready for Your Own Transformation?
Now that you've seen this radical transformation, you're probably what Cover Glass can do for you! Be prepared to be dazzled. You can contact us by phone at (800) 317-2984 to discuss your project, or if you have an idea of what you want, you can request a free quote.
Want to explore more of our frameless folding glass windows?