The Endless Configurations Options Our Folding Glass Doors Offer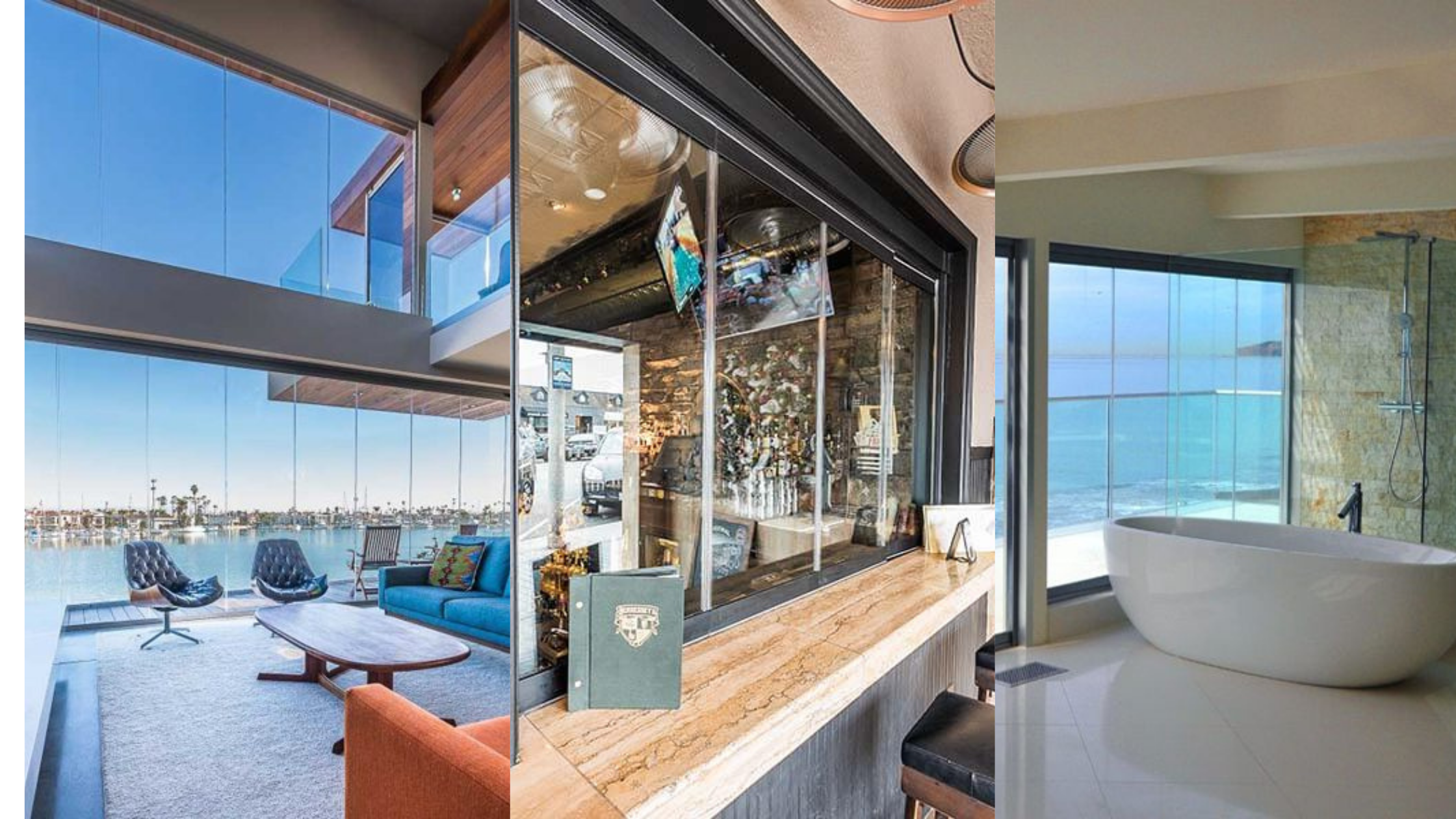 Tastemakers are flocking to frameless glass systems for their sleek design and superior performance. With frameless glass, you can let in natural light and give your home, office, or business an instant upgrade.
There's no limit to what can be done with frameless sliding glass walls and windows. Cover Glass has got you covered whether you need a simple shower door or a veritable wall of glass.
Let's explore the possibilities….
Flexible Spaces with a Glass Wall
Cover Glass wall systems function much like sliding doors, but instead of seeing bulky frames every 60 to 72 inches, you'll have a smooth sheet of glass that extends from the floor all the way to the ceiling. Say goodbye to unsightly vertical frames and treacherous tracks to trip up family members, guests, or patrons.
A glass wall can be a game-changer for a residential or commercial space. Homeowners can fully utilize and appreciate their property by blending the indoors with the outdoors. Enjoy unobstructed views, and open up an entire wall to expand your space for entertaining or simply appreciating Mother Nature. The glass walls can also be configured to open and close areas in the home. This allows family members to establish boundaries without shutting people out.
For commercial spaces, the possibilities are also endless. Restaurants use frameless glass to customize their ambiance. The glass can create a luxurious atmosphere or serve as a practical means of defining boundaries or closing off rooms while maintaining visibility. Another optional configuration is to create separate, distinct areas for private events.
Customizable Windows
Frameless glass needn't be solely for sliding doors. You can also incorporate this aesthetic into windows throughout a home, office, retail store, or restaurant. Some of the best areas to use frameless windows include a kitchen or bar area.
Homeowners who opt for this customizable window solution appreciate interacting with guests from the kitchen without having to go outside. If the kitchen isn't connected to an outdoor dining or entertainment area, there are still plenty of reasons to go frameless.
Being able to take in a view without pesky borders is an experience to behold. These frameless systems also work well in bedrooms and living areas for the same reasons.
In the case of commercial properties, having a customizable window solution that goes beyond the traditional paneled slider windows or double-hung windows can instantly elevate a tenant, patron, or guest's experience.
Frameless Glass Doors and Windows for the Home
With Cover Glass, you're completely in control of the look of your windows. Choose from a variety of colors, including:
Clear
Gray
Green
Light Blue
Dark Blue
Bronze
In addition to choosing the color of your glass, you can also choose track colors. Other options include adding a reflective coat or fully recessed tracks. The benefit of a recessed track isn't only about creating a clean and modern aesthetic.
By avoiding raised tracks, you can also help prevent people from tripping. Even without the concern of an accident, many of our clients opt for recessed tracks because it can be inconvenient to constantly step over the raised lip of the track.
As a bonus, our frameless glass windows function exactly the same as our doors. This means that you have three ways to operate them:
Have the glass fully open

Only open a single panel

Open each of the panels partially to create air gaps
Frameless Glass for the Kitchen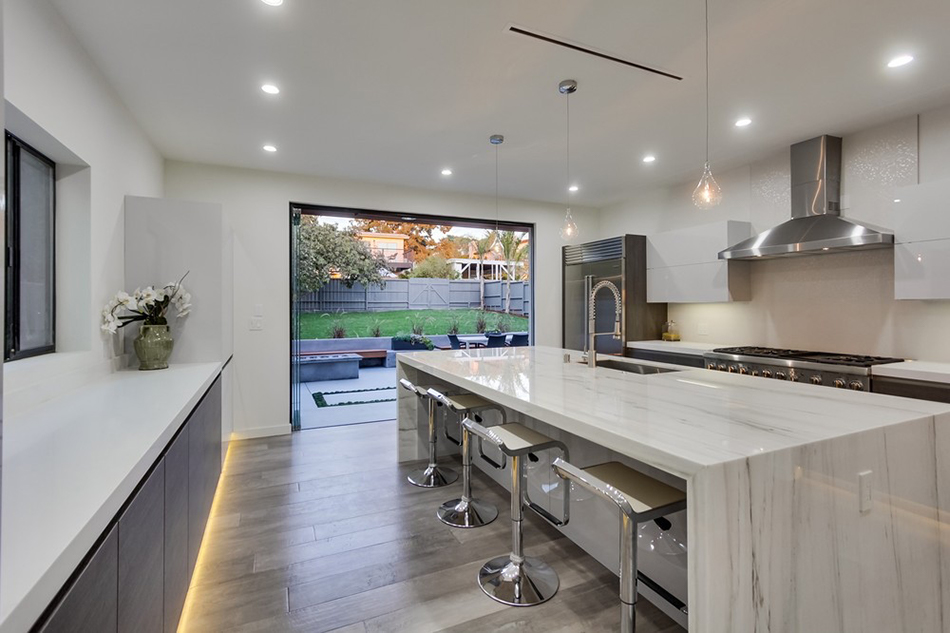 The kitchen is the heart of the home. It's where everyone tends to congregate during parties and family functions. By having frameless glass in the kitchen, you'll be better able to interact with guests and family members if they're outside. You can even create a pass-through window to save yourself or your guests from making endless trips between these two areas.
In addition to having unobstructed views of the outdoors, frameless glass also lets in more natural light. You'll bask in the golden hour without having to flip a light switch.
Frameless Glass for the Bathroom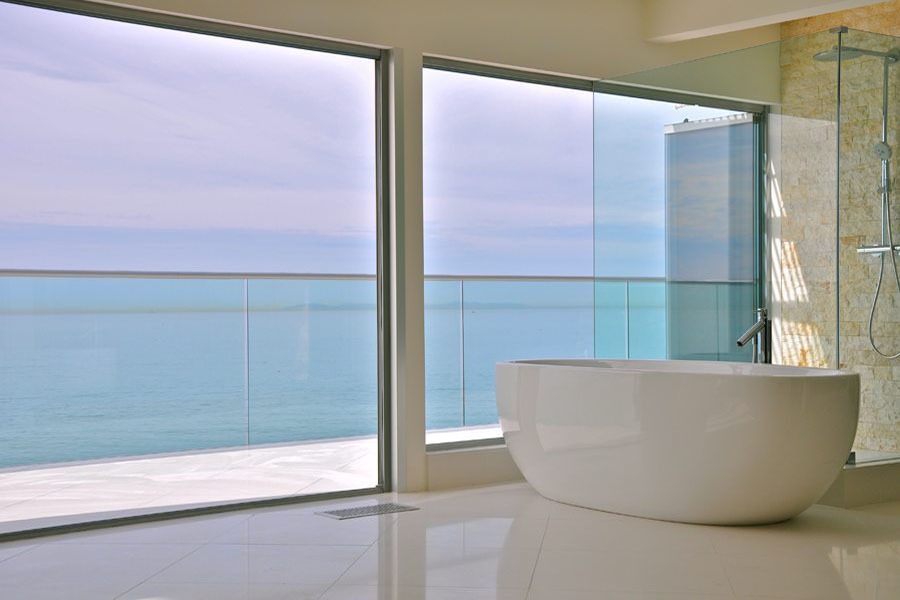 The bathroom is one of the most common places for residential frameless glass doors. Many homeowners have opted for frameless glass shower doors. This option is sleeker and more modern than beveled doors or a shower curtain.
Plus, the effect of the clear glass can make your bathroom feel larger. And the lack of seals around the edges makes it easier to clean.
Frameless Glass for the Bedroom
Whether your bedroom features a stunning ocean view or something more mundane, you'll benefit from the lack of frames on your windows. The effect that removing these barriers has is that you'll feel like there's nothing physical between you and the great outdoors.
Frameless Glass for the Living Room
As homes have evolved from closed floor plans to open floor plans, the use of frameless glass has become ever more popular. One of the biggest benefits of frameless glass doors in a common living area is that it instantly modernizes the space without needing a major remodel.
Depending on your preferences and budget, you can choose to retrofit your existing windows with a frameless system. This subtle difference can have a massive effect on how you appreciate your space. You'll notice that the room feels larger and brighter instantly.
You can also choose to combine a smaller wall of windows into frameless sliding glass doors that open up to the outdoors. This effect is much more dramatic, and it can make your home look brand new!
Frameless Glass for an Indoor Pool/Hot Tub
This frameless glass configuration is the ultimate in luxury. By incorporating frameless glass sliding doors around an indoor pool or hot tub, you can fully appreciate the view while being protected from the elements, including bugs and pests. You'll feel more private and secluded without blocking visibility.
Frameless Glass for a Walk-in Closet
By swapping out your regular closet door for a frameless glass option, you'll give your bedroom an instant makeover. Removing an opaque door in favor of something transparent will make the room feel larger, and it also gives you the ability to showcase your style (and organization skills). If the interior of your closet is a thing of beauty, why not show it off?
Patio and Balcony Enclosures
Do you find yourself not spending as much time as you'd like on your patio or balcony because it's too drafty or feels exposed? A glass enclosure around this space allows you to experience the outdoors without worrying about wind, rain, or cold temperatures.
Benefits of Residential Frameless Glass
This contemporary style has both functional and aesthetic benefits:
Brings the Outdoors In
Whether your patio or balcony is attached to a bedroom, kitchen, or living room, there's a good chance that you're not using it to its full potential. Sliding glass doors that stick or screens that fall off their tracks can make the handful of steps it takes to cross that threshold an unpleasant chore.
By installing large windows or doors that slide seamlessly, you'll find yourself getting a breath of fresh air whenever the weather is cooperative.
Or, simply open up the doors while you go about your business inside. Your home will feel larger and more open, and by merging the outdoors with the indoors, you can move freely between the two spaces.
Better Entertaining
The ability to "bring the outdoors in" takes entertaining to a whole new level. First, you can dramatically increase the amount of space available for your guests. You'll also be able to create distinct areas for a variety of activities. Enjoy al fresco dining while making it ultra-convenient for guests to move between inside and out. The only risk is that your visitors might never want to leave!
Ventilation
With traditional sliding doors and windows, you really only have two options: open or closed. With frameless glass, on the other hand, the possibilities are endless. In addition, to open, closed, or partially open, you can also create air gaps by having each of the panels slightly open. This configuration allows you to let in a natural breeze without fully exposing your home to the elements.
Increases Property Value
A frameless glass window or door system can have a positive effect on property values. The transformation can be quite dramatic, turning a drab and dreary room into a bright and open space. Frameless glass tends to instantly modernize and upgrade a property, which naturally leads to higher property values.
Instead of taking a gamble on a paint job or kitchen upgrade, which might not suit every buyer's tastes, few (if any) people would take issue with the improvement that comes with frameless glass.
Modernizes a Home
Child Safety
Kids are naturally accident-prone, which is why having a frameless glass system with recessed tracks can be a lifesaver (and also prevent stitches). Instead of having to pay attention to the protruding lip of traditional sliding glass doors, your little one can move about freely without being tripped up.
In addition, the Cover Glass system has advanced safety and door locking features to ensure safety
Protects Your Furniture
Traditional windows can let in tons of UV light, which can fade and discolor furniture. The UV rays can also fry your television and other electronics. Cover Glass offers customers the option to use Low-E glass to limit UV light. In addition to protecting your assets, this type of glass also works to keep your home cool.
Modernizes a Home
Today's modern homes are minimalist, with open spaces and lots of light. There is no better way to capitalize on this trend than by installing frameless glass. This solution ticks all the boxes on a modern home. Show us a sleek and contemporary home, and they'll most likely have at least one frameless glass system.
Frameless Glass Windows and Doors for Commercial Spaces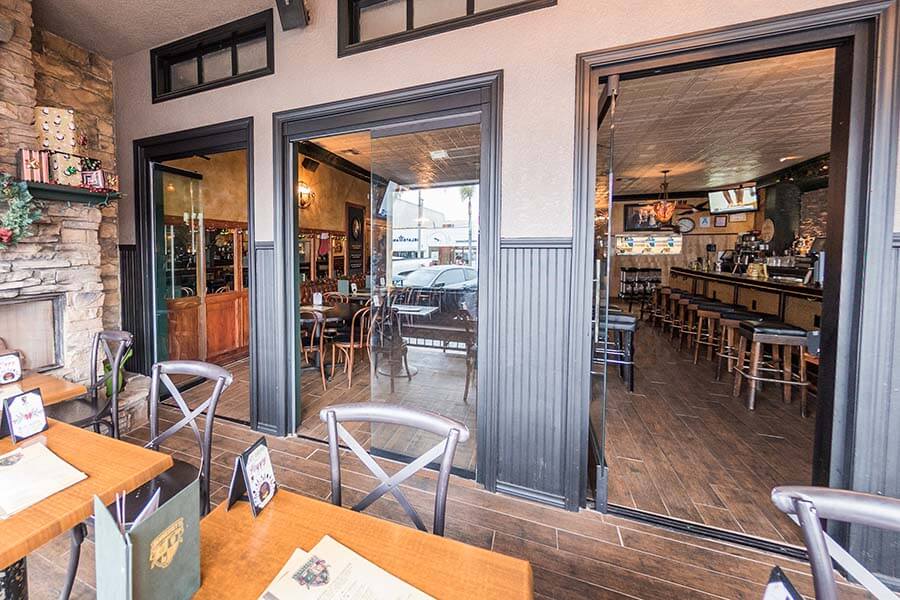 Businesses are turning with increasing frequency to commercial frameless glass doors and windows. They provide visibility, showing off stylish interiors. They can also be more inviting or expand a business's square footage by utilizing outdoor space.
Frameless Glass for Restaurants
Incorporating frameless glass can dramatically transform a restaurant because it creates seamless indoor and outdoor dining. Restaurant owners and staff can choose to connect the two dining rooms by opening the glass, or they can create a distinct partition by closing the doors.
It's advisable for restaurants to choose recessed lower tracks to eliminate the need to step over a barrier when moving from one area to another.
Frameless Glass for Hotels
Hotels are also well-suited for frameless glass options. Frameless glass can be incorporated at the entrance to create a welcoming environment that also looks clean and modern. This type of glass can also partition lobby areas, banquet halls, and meeting rooms.
And, last but not least, adding frameless glass shower doors or a sliding glass partition in the bathroom are options to elevate the guest experience.
Frameless Glass for Offices
Frameless glass in an office environment can boost productivity while giving businesses a way to modernize the interior without spending a fortune. The glass can serve as office partitions, which is a massive upgrade from cubicles. Frameless glass partitions also increase visibility and maximize natural light.
Offices can also use frameless glass for standalone conference rooms and offices. The best part is that the systems can be reconfigured, so you don't need to knock down or build any walls if you have staffing changes. Cover Glass frameless systems can be rearranged and relocated with ease.
Frameless Glass for Bars
With frameless glass, bars can create private VIP areas, section off patios, or set up a bar system where patrons can sit outside and be handed food and drinks through a window while the bartender is inside. This type of system allows for maximum efficiency and an optimal customer experience.
Frameless Glass for Country Clubs
Country clubs can benefit from frameless glass in areas like their restaurants, bars, shops, locker rooms, and more. Because country clubs cater to an elite clientele, it makes sense that they would also want the latest in architectural design.
Benefits of Frameless Glass for Businesses
Both new construction projects and existing businesses can realize several benefits from using frameless glass, such as:
Enhanced Security from Break-Ins
Cover Glass is five times stronger than traditional glass, and it's virtually unbreakable. The secret to this strength is our manufacturing process that takes two pieces of tempered glass and includes an industrial lamination in-between.
When a wannabe burglar tries to get into your business, they'll be shocked and dismayed when they find out how tough it really is!
Optimizes Commercial Square Footage
The overall effect of frameless glass is that it eliminates a wall. This allows you to expand your square footage to the outdoors. Instead of relying on swinging or sliding doors for entry and exit, which take up space, you'll probably find that you have more usable space by eliminating the barrier between different areas.
Increases Natural Light
Our glass is designed to let in as much natural light as possible while blocking UV rays. And, if you opt for floor-to-ceiling windows and doors, you'll have even more light. With more light, you can reduce your reliance on artificial light.
Saves on Energy Costs
Using less artificial light is one way to cut energy costs, but it's not the only one. Our frameless glass systems create a weatherproof seal that keeps wind and rain out. This superior insulation can also translate into lower heating and air conditioning bills.
Further, our Low-E glass serves to keep out the strong UV rays of the sun, keeping your interior cool and comfortable.
Indoor / Outdoor Experience
If your business is located in a temperate climate, you'll most likely want to take advantage of the beautiful outdoors. Restaurants, bars, and offices can benefit by utilizing outdoor space and creating a magical outdoor environment.
Blends in Beautifully with Any Space
By its nature, frameless glass is unobtrusive. You won't see any frames, borders, or unsightly barriers. Instead, you'll feel like the indoors and outdoors are one and the same.
Glass Door Opening Combinations Explained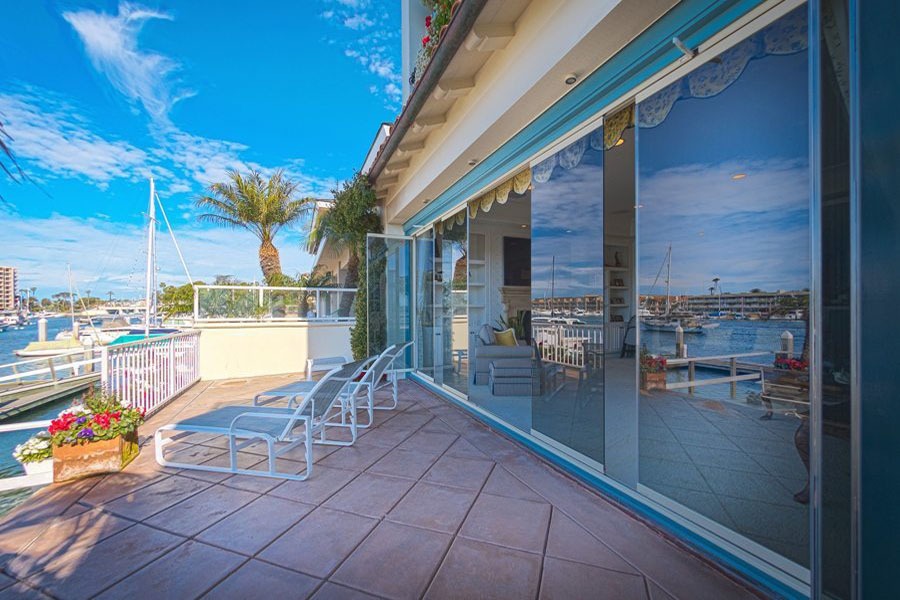 Earlier, we alluded to the different ways you can configure your glass systems depending on your preferences, the weather, and how you're utilizing your space. Let's dive deeper.
1. Completely Open
As the phrase suggests, "completely open" means that you've fully opened the glass doors. When you completely open your glass doors, the panels stack one on top of the other, so they're out of sight, and you have unfettered access to the outside.
Completely open means that the indoors and outdoors have no barrier, and you can move freely between both areas.
2. Partially Open
When you choose to have your frameless glass partially open, it means that you've transformed your glass into something that resembles a traditional door. You're still connected to the outside, and you don't have to open or close any doors to go between the spaces.
Another benefit is that you can decide to open or close any panel, so no one will ever be in the way or have to move to allow someone to leave.
3. Air Gaps
Creating air gaps allows you to ventilate your home by having each panel partially open. The overall effect is that you get a lovely breeze into your home without letting in dirt, dust, or wind.
4. Closed
Naturally, you'll also be able to fully close your glass doors or windows. When the doors are closed, you can also lock them. It's your choice whether you choose to lock the doors from inside or from both the inside and the outside. This option is ideal when you want maximum security, but you still want to see everything outside.
Discover Your Ideal Space
Frameless glass systems are the epitome of contemporary architecture, and they are as beautiful as they are functional. If you're involved in a new build or looking to upgrade your existing windows, contact us to request a quote.