Look through a handful of restaurant reviews, whether that's on Yelp or from an expert critic, and you'll see one word come up time and time again: ambiance.
It's an integral element for any restaurant and just as important as your menu, staff, your website, and other things you typically plan out way in advance. A well-thought-out design is key to standing out in an already-crowded industry and can turn your restaurant into the talk of the town.
Keep reading as we explore the world of restaurant interior design and how you can make a memorable impact on your customers!
tasteful, Intentional Lighting
One of the best ways to establish your ambiance is through your lighting, so this is key if you want to improve your restaurant design. A low-lit dining room tucked away from a busy street, for example, gives off a very different vibe from an airy and open concept that sits right next to a bustling beach boardwalk. Which one would you choose for a romantic date on a Saturday night, versus a relaxing day with your friends on a Saturday afternoon?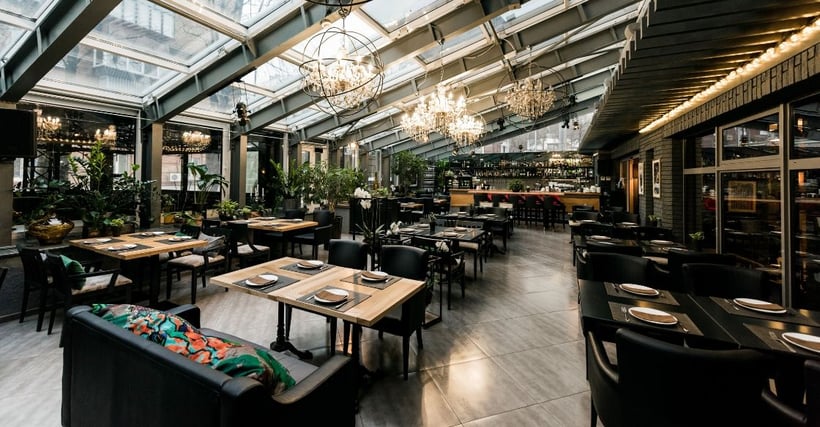 For the former, you'd likely look into beautiful chandeliers or modern-concept light fixtures that give off an intimate vibe. For the latter, large frameless sliding glass doors will contribute to a fun vibe! Think carefully about the mood that you want to set. In most cases, offering lots of natural sunlight will lead to better moods, making people feel great eating at your restaurant (and keep them staying a while!).
Statement Art
Whatever you do, don't leave your walls bare! Showing off your personality and restaurant vibe with your decor is key. Again, you'll want to think about the mood you want to set.
Going for a trendy feel? Consider typography as decor, such as marquee letters, bold graphics, and custom quotes or phrases. Want to transport customers back to the 1960s? Old-school neon signs are big right now, too.
If you're on a budget, you could also reach out to local artists to see if they'll share art in exchange for wall space. Then, your restaurant can double as an art studio as they peruse local art with the opportunity to purchase pieces they love! Some restaurants rotate artwork on a monthly or basis, so it's always new and fresh.
Also: don't forget your restaurant's exterior design! Consider commissioning a local artist to paint a show-stopping mural on the side of your building or creating a one-of-a-kind sign to attract attention from passersby.
Plants & Greenery
Indoor plants are definitely having a moment right now! One of our favorite restaurant interior design trends for 2020 is an environmentally conscious design, and adding beautiful plants that boost your decor and purify the air is a great way to do this. You can pair this with an open patio or balcony, or bring nature inside with a living plant wall that really makes a statement. As we pointed out in the restaurant trends article linked above, it also makes a perfect backdrop for all the Instagram photos your customers will be dying to take and share!

Bring the Outdoors In
Speaking of open patios and balconies… restaurants with outdoor seating will always be on-trend! Depending on the location of your restaurant, you can offer excellent people-watching or a gorgeous view to go hand-in-hand with your menu.
Outdoor seating is a popular option for summertime as the temperature heats up. Of course, here in San Diego we have perfect weather year-round, so it's definitely worth considering if you can make it work!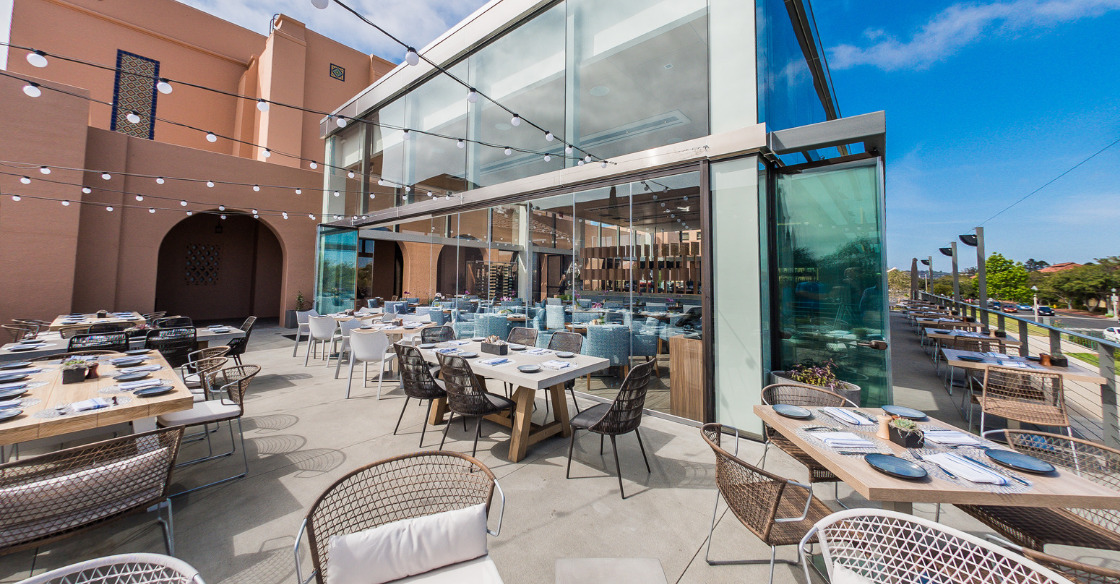 Here at Cover Glass, we can help you create a beautiful indoor/outdoor dining space with frameless doors. This not only helps you enhance your square footage and create multifunctional space for your restaurant, but you can also close the doors if it's a bit chillier out.
Go Open Concept
Don't have an outdoor space? That's OK! Opting for an open concept design in your restaurant can offer the same airy, open vibe.
Some ideas include:
Make the kitchen itself part of the decor — let customers have an insider look into how their food is being prepared

Offer a sneak peek into your wine cellar or whiskey tunnel, especially if alcoholic beverages are big on your menu

Provide communal seating, such as with large picnic tables, to encourage mingling and larger parties

Pick Bold Colors
The colors you choose for your walls and decor can definitely make an impact when it comes to your restaurant interior design. It can be integral to your brand, as well as the mood you want to set inside your restaurant. Case in point: when you think of big yellow arches and pops of red, what restaurant chain do you think of? Yep, McDonald's! You want that same kind of brand recognition the moment your customers step into your restaurant.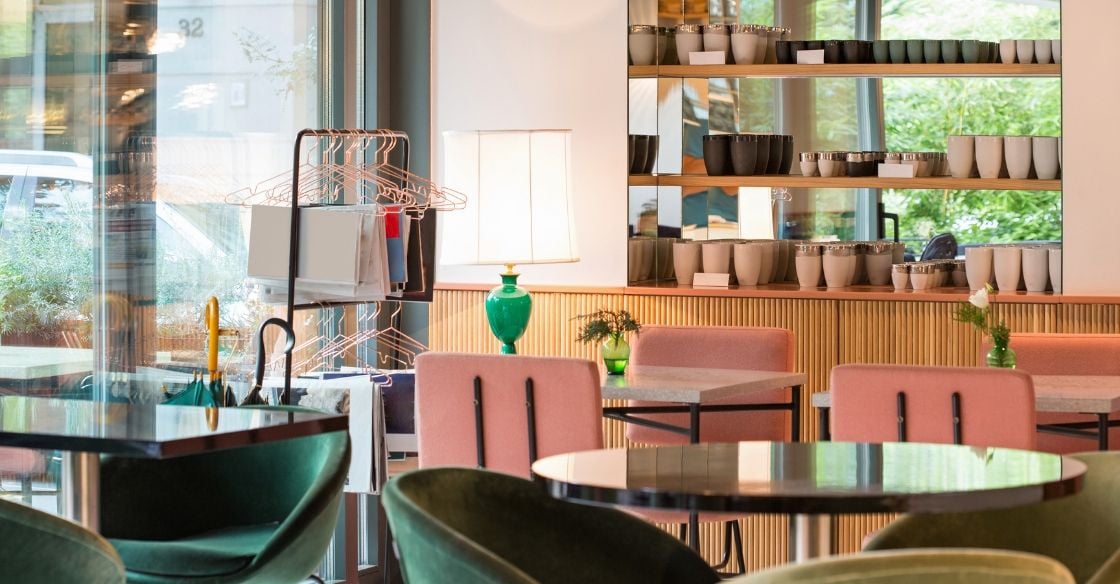 There's a ton of research out there when it comes to color psychology, as well. Colors can make your customers happy and even make your restaurant look more spacious and open. Whether you go for earthy, eco-conscious tones or an Instagram-worthy pastel scheme, your customers will remember how your restaurant made them feel.
A Note on Keeping Customers Safe During Covid-19
Lastly, it's important to note the current conditions right now and how your restaurant might be affected. Covid-19 has changed many things, and how consumers can dine is one of them.
In general, many areas are recommending that consumers stick to outdoor spaces if they do want to visit a restaurant, as the natural ventilation makes it a bit safer than enclosed spaces. You also may need to revamp your floor plan to allow for greater distances between tables, or to create safer barriers for your staff. The same goes for indoor seating if your area currently allows it.
Of course, you'll want to keep up to date with current guidelines and mandates from your local government, as things are changing quickly and by the day.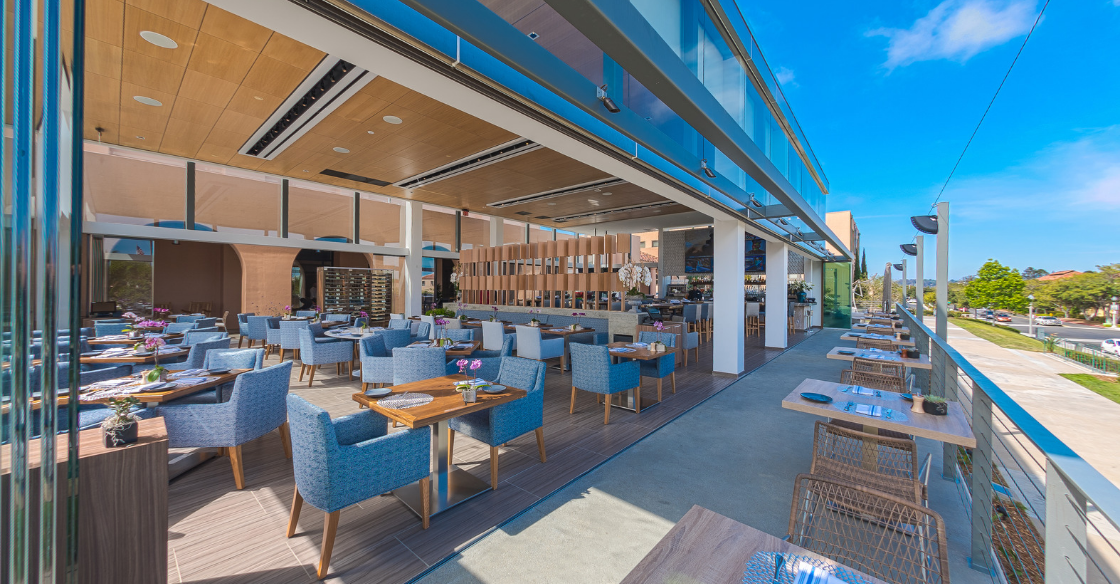 We're Here to Help
Ready to revamp your restaurant interior design? At Cover Glass, we can help you plan out your restaurant concept using our beautiful frameless sliding glass doors, creating an open space that your customers will love. View our gallery of commercial projects for inspiration, schedule a showroom visit, or request a consultation and one of our friendly reps will be in touch.