Newport Beach, which lies in the coastal center of Orange County, is your quintessential SoCal beach city. This town is known as an eclectic mix of fun-filled beach life and high-end lifestyles characterized by yacht-lined harbors and ocean-front luxury mansions.
For architecture lovers, even just walking down the street in Newport Beach is entertaining as almost every home is eye-catching and unique. Here are 4 stunning waterfront homes in Newport Beach:
The Balboa Beach House
Built in 1988 by the late legendary Canadian architect, Arthur Erickson, the Balboa Beach House is an architectural treasure.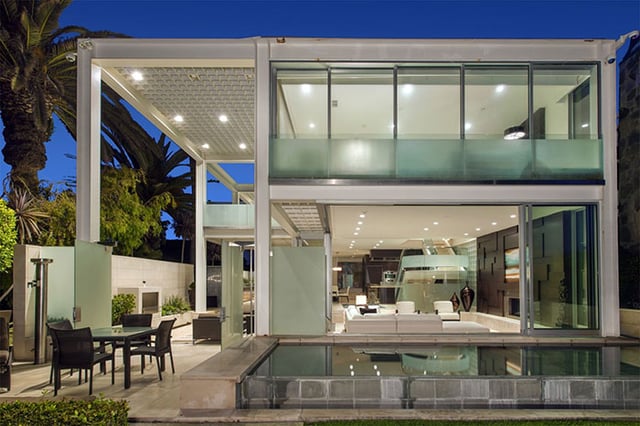 This contemporary steel and glass two-level home occupies a sprawling area of 4000 square feet, and comprises a kitchen, family room, and a large living room which include areas for dining, entertaining, and lounging on the lower level, and five bedrooms on the upper level. The main level patios are extensions of the interior living spaces, and are separated by sliding glass doors which, when fully stacked, leave corners and walls open.
Vista Nobleza, Back Bay
This home sports a contemporary design by Gonterman Construction. It features a modern kitchen, living space and three bedrooms. The living space is designed as an open plan that extends into a view of the Back Bay, with the two spaces delineated by frameless sliding glass doors by Cover Glass USA.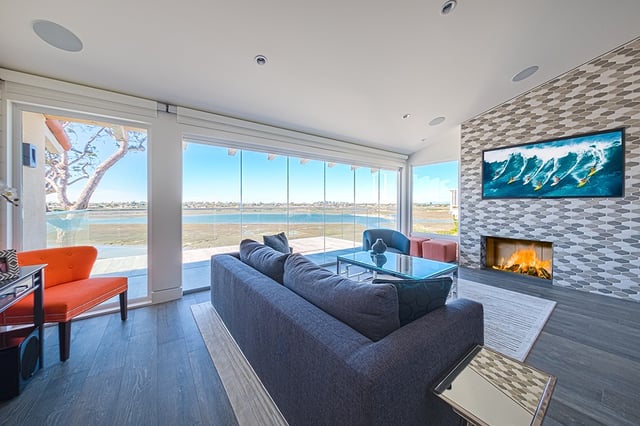 The interior décor of the house is a palette that includes multiple hues of blues and greens, with splashes of orange to complement the landscape of the home's picturesque location.
Via Lido Soud Residence
This beachfront home on the Lido Isle overlooks the yacht harbor of Newport Bay, which offers a gorgeous view from the living room. The space opens out to a tiled patio that leads down to the marina. Cover Glass USA's frameless sliding glass doors stack on both ends to create a blended interior/exterior world.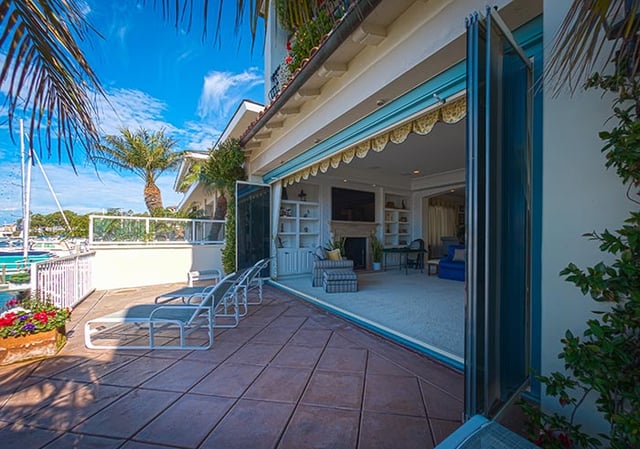 The open floor plan of the living room that extends onto the patio creates an airy feel that is perfect for entertaining. See more indoor-outdoor living room concepts that are sure to impress.
Horton, Newport Beach
This family residence in Channel Place, Newport Beach has three bedrooms and three bathrooms. The open living space, featuring hardwood floors and a cozy fireplace, opens all the way to best enjoy the view. The living space benefits from the natural light streaming in thanks to sliding frameless glass doors.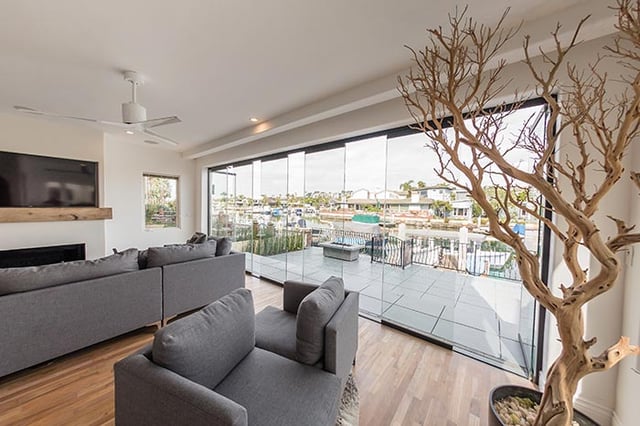 Newport Beach is home to hundreds of gorgeous beachfront properties. This is just a tiny selection of what this beautiful town has to offer. If you enjoyed this peek into Newport's finest houses, feel free to check out out some more luxury waterfront homes.
If you're ready to experience Cover Glass for your Southern California home, contact our Southern California Cover Glass distributor today!
To see more breathtaking homes featuring contemporary glass designs, visit our gallery.