Your living room is the central space of your home: it could be the main gathering area for your family or perhaps, it's where you usually receive guests. Whatever its purpose, you'll need to distinguish it from other areas in the house, making it a natural gravitating point for people; you can do that by planning and decorating it in a way that's aesthetically pleasing, but more importantly, practical.
Here Are 8 Essentials of a Perfectly Decorated Living Room
1. Arrange Furniture around a Focal Point
Arranging furniture requires the most planning in the living room. Ideally, you want your seating arrangement to have a focal point. It can be anything that you and your family or guests gather around.
See how the furniture in this room is oriented towards the large LED flat screen mounted on the wall and the electric fireplace below.
2. Flexible Seating
Your seating space should accomodate a minimum of 4-6 people comfortably. At the same time, you should also leave enough space for additional seating should you need it.
This living space uses two sofas sitting perpendicular to each other, which seat 5 people. The third side is either left open or filled with two leather rolling chairs for additional seating.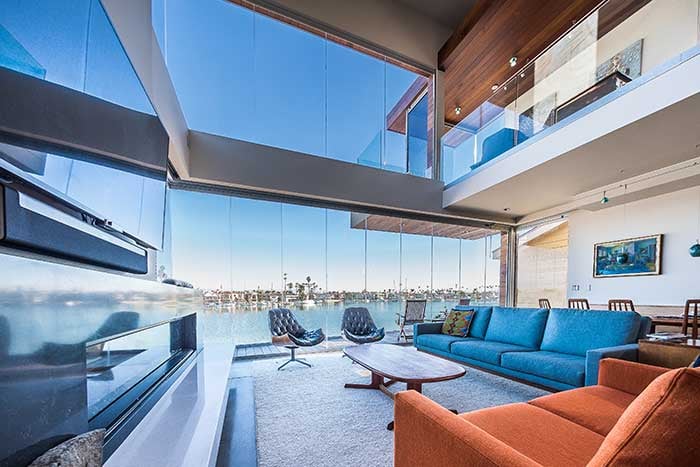 3. Centerpiece
Your coffee-table should be large enough for those around it to reach comfortably without having to get up. At the same time, it shouldn't crowd the space, leaving no leg room or cramping the easy flow within the room. For aesthetic value, try contrasting the coffee table with the surrounding furniture. A simple wooden coffee table with steeply rounded corners offsets the brightly-colored straight-edged sofa-sets.
4. Defined Areas
Area rugs define space, so their size is of paramount importance. If the rug is too small, it can make the room look disorganized, especially in open-plan living. Ideally, you want all your furniture to fit within the space, or at the least, the front legs of all your furniture should lay over the rug. In open-plan spaces, area rugs are even more important, since they delineate the various designated spaces instead of walls. Here, the beige area rug clearly defines the living room from the dining space.
5. Lighting
The lighting in your living room can be a combination of natural/ambient, task and accent lamps. Ambient lighting illuminates the whole space, task lighting focuses light on specific work areas, and accents highlight specific areas of the space. In this open-space plan, natural light flooding through the frameless sliding glass doors of the deck provides the ambient lighting. Here the room is flooded with natural light all through the day, and at night, the space is lit by overhead ceiling lights and the lights from the dining space.
6. Artwork
Don't leave your walls empty: it will make your living space feel incomplete. Depending on the type of space you have, you can arrange a number of pieces together in a photo grid or wall, or arrange them in a single row. A single artwork piece can also be used as the focal point over a mantle.
Here, the art pieces form the backdrop to the sitting space, and are lit by the hanging lights over the dining table.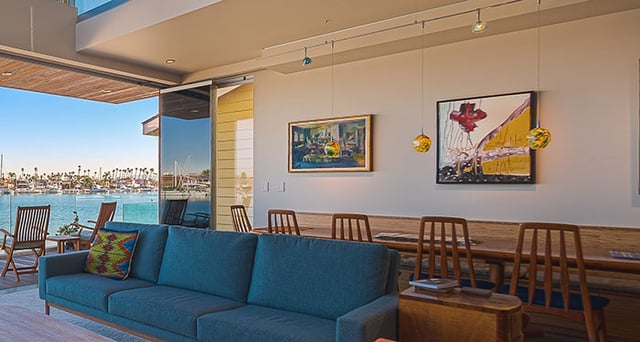 7. Easy Flow
Since your living room is one of the busiest rooms in your home, traffic flow should be a key factor in determining its arrangement. This means, it should be easy for people to move in and around without bumping into furniture. Open-plan rooms are popular, especially because they're conducive to easy traffic-flow.
8. De-Clutter
Less is more when it comes to decorating your living room. Overdoing the furniture and décor can take away from the elegance of the room, and make it feel claustrophobic. A simple, minimalist arrangement actually has positive effects on your mood and your health: cluttered and crowded rooms can inspire feelings of anxiety and gloom. The furniture in this room, offset by the ceiling-to-floor deck windows and minimalist décor gives a freedom vibe.
Decorating your living room can be fun, yet challenging. It all comes down to deciding how you're going to use the space, and planning the best way your furniture, appliances and décor can complement that purpose.