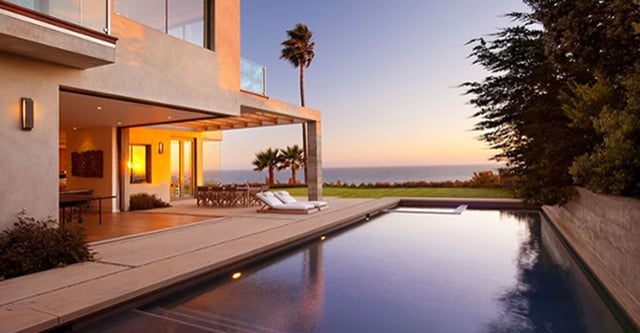 As winter begins to loosen its grip, leaving in its wake a slowly blossoming spring, it elicits in us our inborn instinct to heed the call of the great outdoors.
And, for today's homeowners that translates to outdoor living spaces that allow them to indulge in the joys of nature, within the confines of their own home.
Today's energy-conscious homeowners, with the aim of reducing their dependence on artificial sources of energy indoors, are highly invested in converting their outdoor spaces into spaces for entertaining, cooking, and even, family time. Here are 10 outdoor living concepts that homeowners are incorporating into their homes today
1. Blended Indoor-Outdoor Living Rooms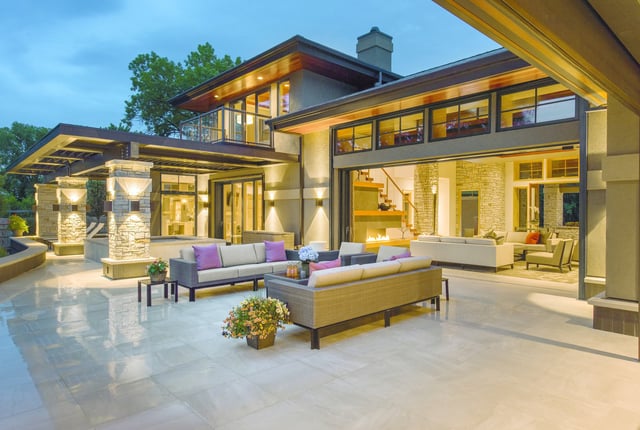 Also called blended living spaces, homeowners essentially make their outdoor space an extension of their living room. The two spaces - living room and the outdoor space - blend seamlessly into each other, separated by sliding glass doors or walls. The floor of the living room extends into the outdoor space, giving it the illusion of being one contiguous space. The décor in both spaces also mirror or co-ordinate with each other.
2. Outdoor Dining Spaces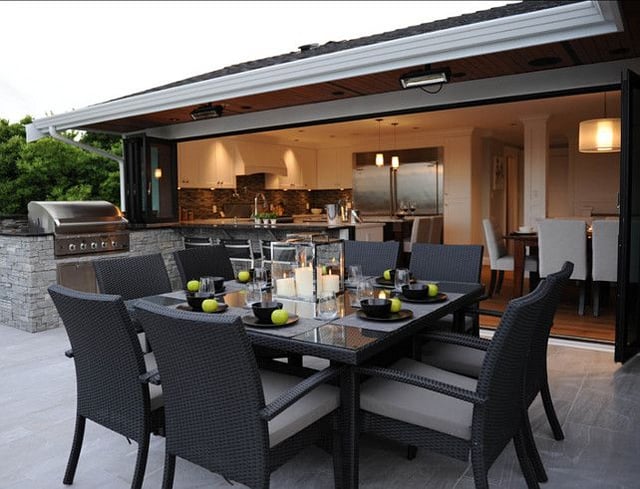 Who doesn't love al-fresco dining?
The experience of sitting out, breathing in the smells of freshly cooked food blending with the smells of pure, unadulterated nature is hard to resist.
Your outdoor dining space can be an extension of your dining room or your kitchen, or both, depending on your house plan. Having your outdoor dining space within walking distance of your kitchen, unless you also have an outdoor kitchen, is just good sense. Depending on where your home is, your outdoor dining space can be used to reflect its surroundings: from wood or cane furniture for a rustic touch, or brightly colored furniture to reflect the colors of the season.
3. Outdoor Kitchens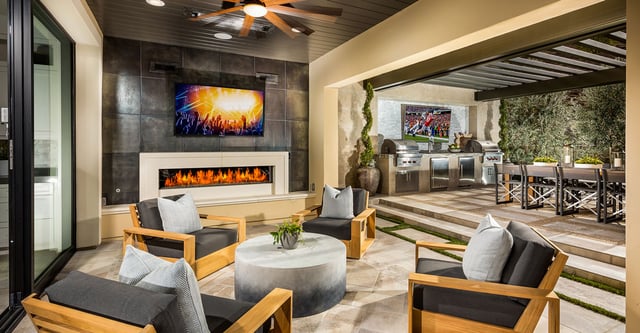 This allows you to take the entire experience outdoors: from a comfy seating/living space, a dining space and a smaller kitchen. The kitchen can be equipped with the basics: proper lighting, an electric stove, a barbeque grill and a sink.
4. Fireplaces and Firepits
Late winter and spring nights can be chilly, even if doesn't snow or rain, especially in regions like SoCal. Including an outdoor fireplace near your seating area or firepit in the middle of it can make the space welcoming and appealing no matter the weather.
5. Pools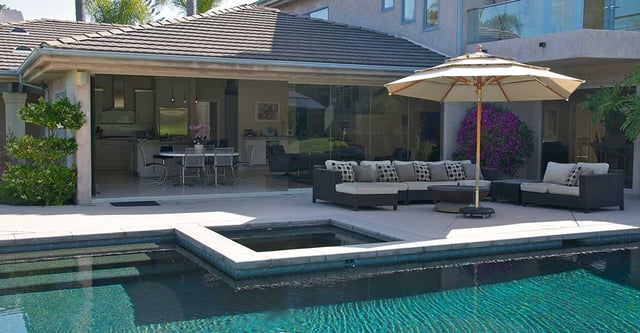 One way to capitalize on that gorgeous pool in your backyard is converting the area around it into an outdoor living space. Or, if you don't have a pool, installing one can add value to your outdoor space. As the weather begins to turn warmer, there's nothing you and your guests will love more than a chance to soak the heat away.
6. Comfy Seating Spaces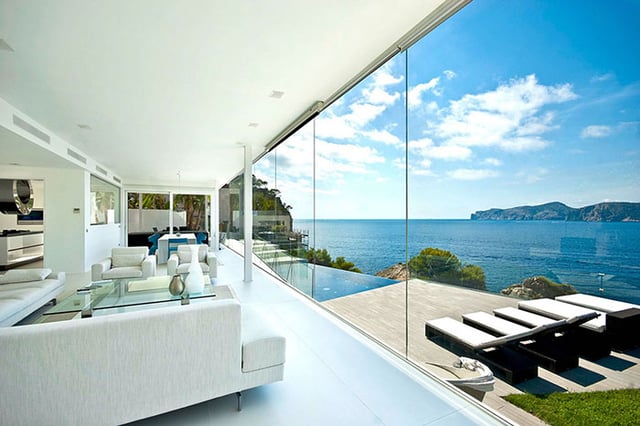 No matter what you use your outdoor space for - whether it's for hosting and entertaining dinner guests or simply planning a meal with your family - the way you plan the seating in the room is important. Since there are no defined spaces in the outdoor space, your seating and furniture will help delineate those spaces.
For starters, you don't want your chosen seating to distract from the natural beauty of the outdoors, while at the same time, you want to factor in practicality in choosing the type of furniture that can last long in outdoor settings. Likewise, if your space includes both living and dining spaces, then you need to think about cohesion between the two spaces - allowing for enough walking space between the two areas.
7. The Right Shading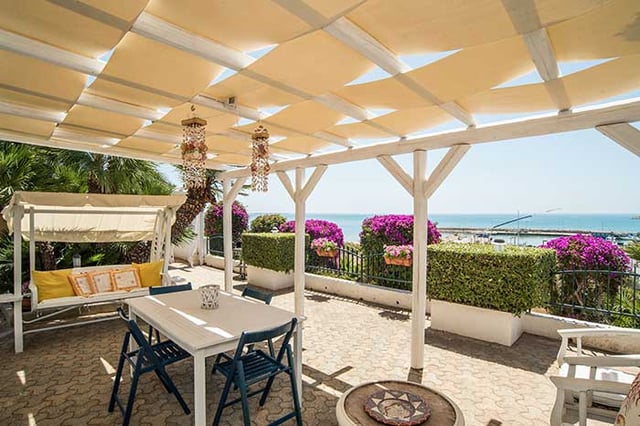 Enjoying the outdoors can be fun - as long as the weather cooperates.
So, if you don't want a bout of hot weather or light showers to have you scurrying for the indoors, you need to make sure that your outdoor space is built to keep the weather blues away. Finding the right type of shade for your outdoor space depends on its layout. The fun part lies in making these necessary elements of the space a part of the design.
From retractable awnings that can be drawn out when the weather calls for it, or pergolas that can be either attached to the house or installed separately, to umbrellas and tiki-shelters, there's a wide range of options you can incorporate.
8. Kid-Friendly Outdoor Spaces
Should we be leaving all the outdoor fun to the adults?
Nope.
One of the easiest advantages of having an outdoor space is the opportunity to keep your kids occupied and engaged outdoors without the hassles that come with open public spaces.
[Get inspired by these family-friendly outdoor living room concepts]
You can convert your outdoor space into child-friendly spaces by adding:
Play equipment like seesaws or mini-slides
Entertainment areas with televisions or gaming screens
Reading areas within distance of the main seating area
The open plan of the outdoor space will also allow adults to always be within eye- and ear-shot of the kids.

9. Lighting Outdoor Spaces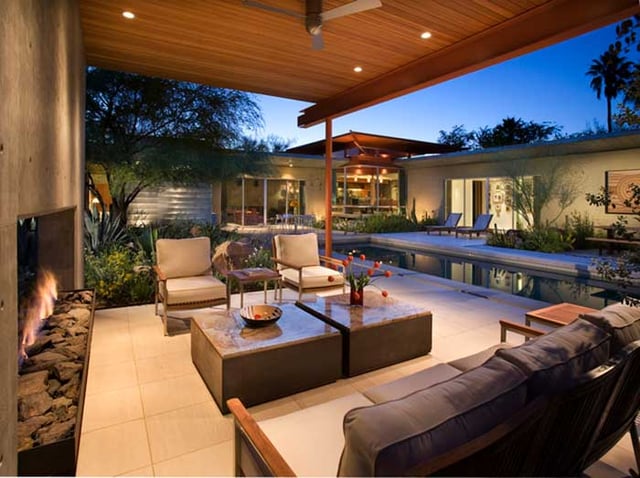 When it comes to creating the right atmosphere and environment within your outdoor space, the right lighting can make a world of difference. When chosen carefully, the lighting can (and should) make your space feel intimate and warm, even though you're outdoors.
Ambient lighting works best for seating spaces, while pendant or hanging lanterns can make a dining space feel inviting. String lights can be used to line the railings or the edges of your deck/balcony.
10. Bring the Outside In
One of the key advantages of having an outdoor space is the ability to enjoy the fresh air coming from outdoors even when you're inside your home.
CoverGlassUSA's sliding glass doors, when installed between your indoor and outdoor spaces, allows you to do just that. It allows you to control the amount of air that comes into your home. You can open yourself completely to the outdoors by stacking all your glass frames to one side or you can create a gap between each pane on the railing/tracks to control how much air circulates inside.
Are you ready to transform your outdoor living room?