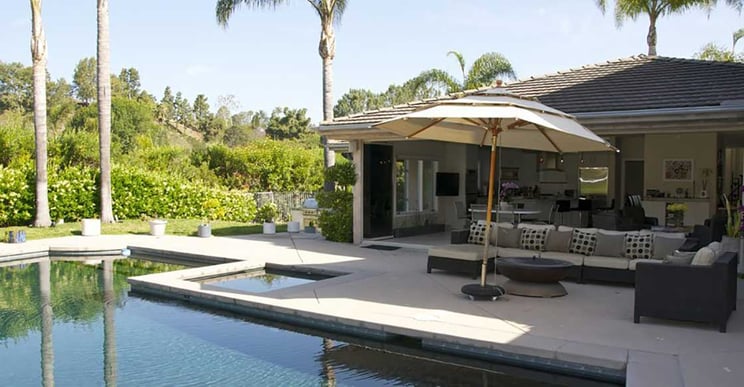 Summertime's here! With temperatures climbing, now is a good time to host a pool party: bring your friends and neighbours together for a day filled with fun, laughter and excellent food.
Whether you're hosting a large party for adults and kids, or hosting a party for a small intimate group of friends, you'll need to make sure your guests have a grand time both in the pool and out of it! There's more to setting up a pool party than bringing out those floats, tubes, pool noodles, and pool toys. Here are our tips to hosting the perfect pool party.
The Guest List
As with any party, the guest list always comes first. Decide what kind of party you want to have: whether it's an all-out party or a small gathering of your closest friends, narrow down your guest list. You don't want your space to get overcrowded; therefore, ideally, you want your guest list to be relative to the size of your pool and entertaining space. However, if you expect your guests to drift in and out at any time, you can go with a slightly bigger guest list.
If your party is going to include kids, then you need to ensure you have a safe adult-to-child ratio to make sure that the kids are always under supervision.
Décor
You can add your own personalized touch to your party with your choice of décor. The idea is to give your guests a taste of the joys of summer, distracting them from the sweltering heat and giving them a sense of escape from the daily grind of life. Décor is all about setting an atmosphere.
Here are a few ideas:
If you're going the elegant, upscale route: try a black and white palette for your poolside décor.

Or, you can opt for a vibrant pool theme with popping colors juxtaposed with florals and summer patterns for a large boisterous poolside day.

Set up one or two poolside cabanas where your guests can get away from the sun, with white tenting and striped fabric for draping. Round it off with bright yellow, orange and pink gerberas centerpieces for a striking contrast.
For a South Beach touch, line the pool with blow-up mattresses, pillows and oversized towels instead of lounge chairs.
Or, you can replicate a Hawaiian luau with tiki torches, brightly colored seating, leis and potted plants and flowers for centrepieces.
Lighting
As the sun sinks below the horizon, it's your lighting that will set the ambiance for your party.
For a simple, yet elegant touch, you can string fairy lights or globe lanterns all across your pool, garden, patio and porch.

Y

ou can hang origami or paper lamps finished with colorful ribbons all around the pool area for a colorful, yet elegant touch.

Set up tiki-torches to light up your backyard and along the pathways leading to your house or around the pool.

You can also invest in floating light globes that you can scatter on and around your pool.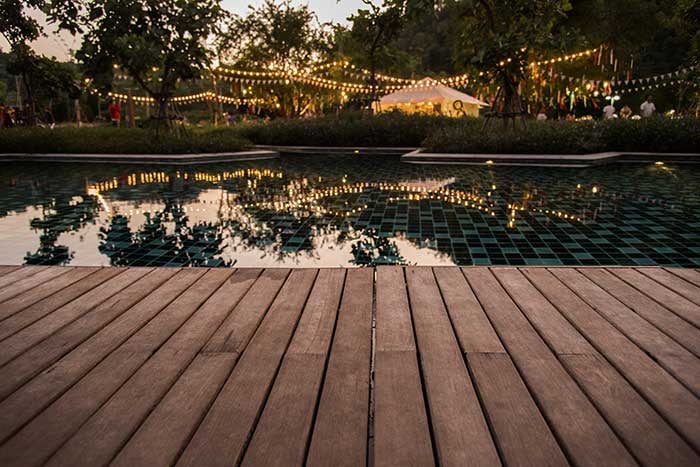 Food and Drinks
As hosts, you'd rather enjoy spending time with attendees than pass around platters of pupus. Hire a caterer and staff, or plan a fuss-free, no-hassle menu: one that your guests can indulge in between dips in the pool. You don't want to weigh them down with cutlery; so opt for a light, savory buffet that includes cheese wheels, grilled shrimps, vegetables, tapenades, mini-jars of honey or jam, and breadsticks or toast.
For the non-meat eaters and health-conscious, you can include options like bowls of roasted nuts, slices of fruits like pineapples, mangoes, watermelons, grapes and cherries, and chips with various dips.
It's also important to keep your guests hydrated all through the party. Therefore, be sure to have plenty of water at hand: stock a cooler with water bottles that your guests can easily help themselves to. Set up self-serve drink-stations offering both alcoholic and non-alcoholic options.
Set up separate stands for the adults and the kids. Set up dispensers for drinks like lemonade, slushies, fruit-juices and iced-teas.
Shade & Safety
Ensure there's plenty of shade for your guests to catch a break from the sun's punishing rays and enjoy activities out of the pool. You can rent oversized patio umbrellas and pop-up tents for your guests to lounge under.
Your food and beverage stations should also be set up under the shade; fresh fruits, vegetables and dips need to be kept away from the sun to prevent them from getting spoiled.
When you're hosting a party for both children and adults, safety should be a top consideration.
Give your pool a thorough check:

ensure that diving boards and slides are secure, and that there are no trip hazards around the pool. During the party, tell your guests to keep a close eye on the children.

If you must have music, play it from inside your house to avoid drowning out the sounds of splashes and any cries of distress.

Keep all the windows and doors of your house open: you'll be able to keep an eye on the pool even from inside your house.
To err on the safe side, hire a lifeguard from the nearest lifeguard center to oversee the party.
Set up a sunscreen stand: insist on your guests applying it before venturing out near the pool, and re-applying it after they step out of the pool.

Keep a basic first-aid kit stocked with the basics always at hand. And a tub of aloe-vera to treat those unfortunate to get burned.
With a spot of clear-headed planning and creativity, you can throw a party that will keep your neighbors talking about it for a long time, leaving them hankering for the next pool-side bash you'll throw.
Other articles of interest:
Create the Perfect At-Home Oasis