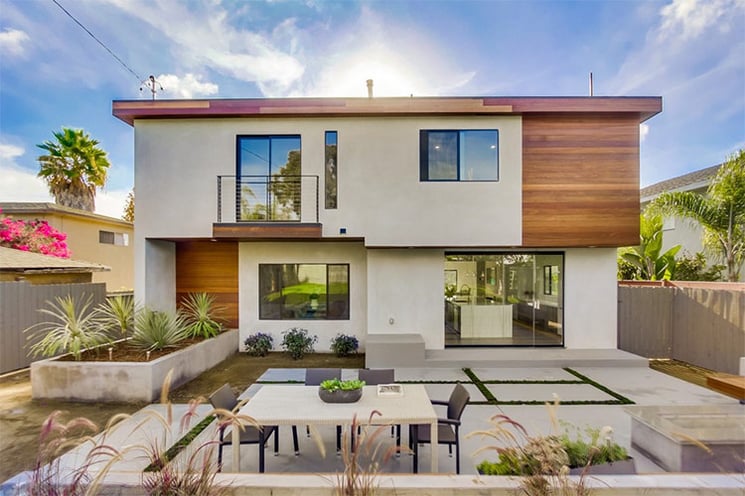 Having frameless folding doors that slide away, means we are able to welcome the outside into our homes. The transition space allows us the luxuries of indoor and outdoor living. Sunrises and sunsets are more vivid as they become a more permanent scenic view. Geography affords us the perfect weather and temperatures for al fresco dining and lounging.
Imagine the conveniences of connecting the interior with the exterior. Dining outdoors helps minimize mess dragged indoors. The kids can rush up from the pool to eat without dripping all over the newly polished floors. And in the evening when the stars come out, we can imagine we are dining in some exotic space where holidays continue forever.
Al Fresco Dining in Southern California
Patio Furniture
Begin bringing together your al fresco dining experience by choosing sturdy, weatherproof patio furniture that complements both your lifestyle and home design. If you are able to leave it standing, go for heavier cast-aluminum or finished wood chairs and tables that can withstand wind and other weather-related elements. If you want to stack your patio furniture away in the evening, consider high grade recycled plastic. Don't forget to add colorful, comfy cushions to complete the picture. Keep in mind that sunlight has color bleaching properties, so be sure to store these away when not in use for added longevity.
Outdoor Dining and Dishware
Sometimes we may forget the tablecloth outside, and have it caught by unexpected rain after a delicious relaxing meal. Shop around for a nice vinyl outdoor tablecloth to match the overall color scheme and perhaps opt for real linen napkins for an added touch of luxury. This makes cleaning up quick and painless after an al fresco meal. Just toss all the soiled items in the wash and hang dry. Investing in separate dishware for outdoor dining and indoor dining helps eliminate the hassle of cleaning and preparation. With all items stored in one place for the purpose of al fresco dining, there's no more worrying whether you'll have enough plates or cups to entertain. Plus, outdoor dishware tends to be more durable and can take the added stress and jostling accompanied with patio dining.
Patio Lounge Accessories
Add to the ambience by adding accessories to brighten up your patio space. Colorful umbrellas and canopies help provide a cooling shade space. A vase full of fresh cut flowers, a convenient and chic bar cart, or bright outdoor dishware can bring more light and personality to the lounging experience. Swinging hammocks, tiki torches, and ambient music can really get you in the mood for relaxation. What spaces do you crave while on vacation? Implement these elements into your outdoor living spaces and create your own paradise.
Read: 4 Trends in Indoor Outdoor Transition Spaces
Outdoor Mood Lighting
Let your inner artist loose when soft evening light comes. Hang paper lanterns from trees, canopies, umbrellas, or the patio awnings. Decorative candles can add an intimate feeling and certain mixtures can help keep mosquitos and other bugs at bay. Moreover, when evenings get cooler investing in a fire pit or standing heaters keep activities outdoors long after your al fresco meal is over.
Perhaps you are already dining al fresco on your patio on summer afternoons and balmy evenings. Possibly, you have french doors from the sitting room to the patio, with a transition point you have to remember to step over.
Now close your eyes and let your imagination do away with the french door and the walls on either side of it. In your mind's eye, replace them with frameless glass sliding doors, that vanish against either sidewall at a touch.
Read: Outdoor Living Space - Welcome the Outside In
◊◊◊
Experience the difference. Choose Frameless. Choose Cover Glass USA.
Cover Glass USA serves the Southern Californian region, including Malibu, Calabasas, Santa Monica, Newport Beach, San Diego, Santa Barbara and other beautiful cities.