If there is one thing about Arizona everyone can agree on, it is that we love our weather. Our year-round access to vitamin D and Instagrammable desert scenes confirm that life as an Arizona resident is truly unique and not something to be taken for granted.
You know that as a homeowner in Arizona, outdoor living spaces are essential — whether you're a fan of entertaining large groups or you're more into creating a solo space for recharging (or perhaps a bit of both!). But it's also important that the area is usable and well thought out, given our hot summers and cold winter months. In Phoenix, for example, temperatures in January can drop to 43°F, while those in the lower desert valleys can even see temperatures fall below freezing. Yikes!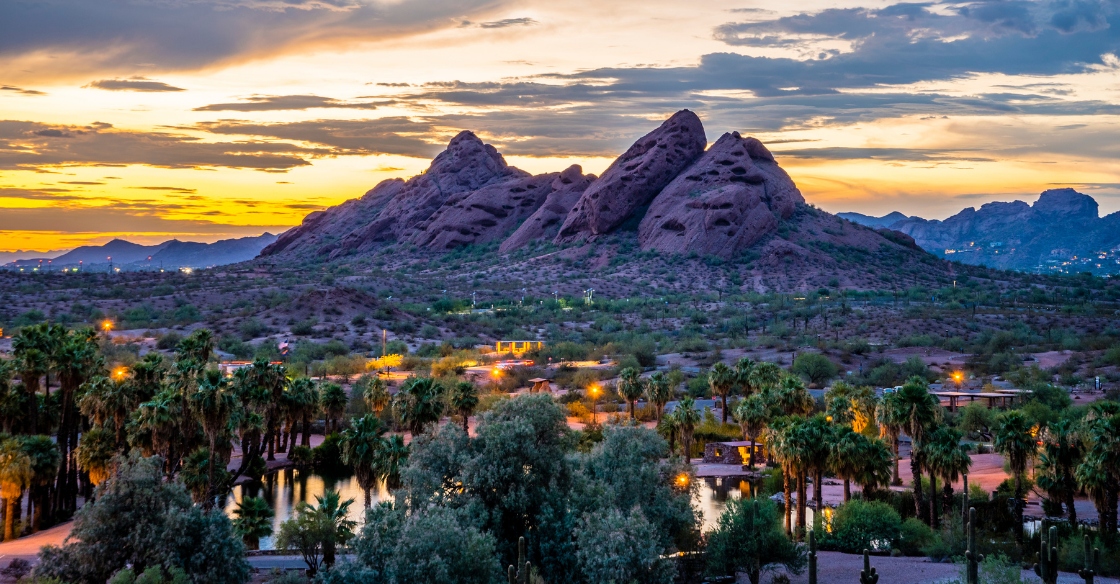 With the right modifications, however, you can enjoy outdoor living (close to) year-round. Keep reading for a few of our key tips.
1. Make it an Extension of Your Home's Interior
Our first tip is to blend the inside and outside of your home, creating an inviting outdoor living space that is beautiful and functional.
Depending on the space you have available, this might mean a few stunning decor items on your small patio or a large area that almost acts like a second living room. Either way, the objective is to make the design of your outdoor living space just as comfortable as the interior of your home.
Ideas for small spaces include:
Hanging strings of lights or adding tiki torches to create a low-lit and enchanting atmosphere
Strategically placing beautiful plants around the patio to add greenery, or a brightly-colored vertical garden to add visual interest
Mimicking the architecture and/or your interior design style with your outdoor vibe, whether that's colorful Aztec-inspired decor or a modern chic feel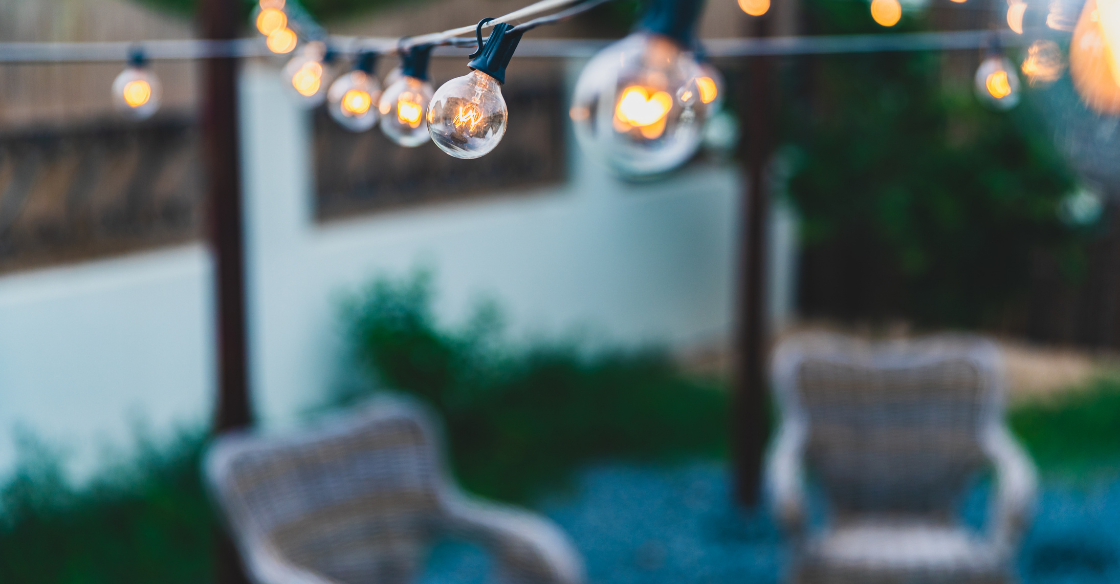 Larger outdoor living space ideas include:
Adding a splash pad for kids and pets to cool off or decadent misters to keep the adults comfortable
Incorporating an outdoor kitchen to expand your dining options
Including an outdoor fireplace or fire pit
Installing artificial turf to develop your landscaping (without adding to your water bill)
Designing a lighting plan with brighter lights where people will dine and low voltage along walkways or flower beds
Defining paths to go from one area to the next easily
Using the terrain to create levels and add texture
Adding built-in seating to make the space look more intentional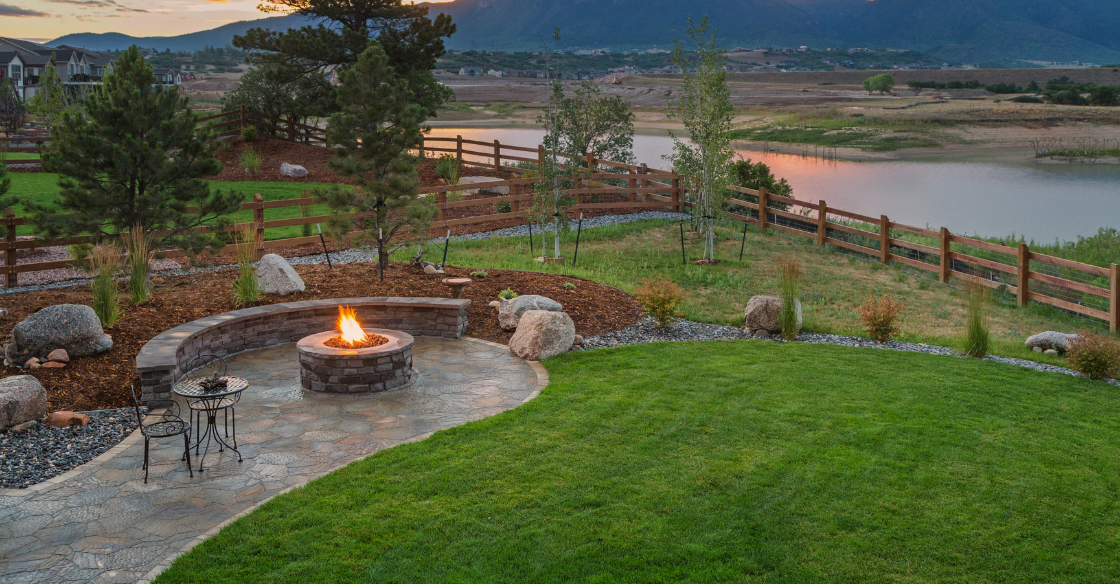 2. Physically Connect Your Indoor and Outdoor Spaces, If Possible
As you're designing your outdoor living space, it's also essential to make it easily accessible! Your layout will define what's possible here, but don't be afraid to think outside the box. Frameless glass doors can connect your kitchen or living area with your patio. This allows you to enjoy an expanded sense of space when open but stay comfortable with an invisible sound barrier that protects you from rain, wind, hot/cold temperatures, intruders, and objects when closed. These kinds of dual indoor/outdoor spaces are very popular right now and can even increase your home's value.
Frameless glass can also help you take advantage of a gorgeous setting, whether you've got a serene desert view or a bustling city view from your Phoenix high-rise.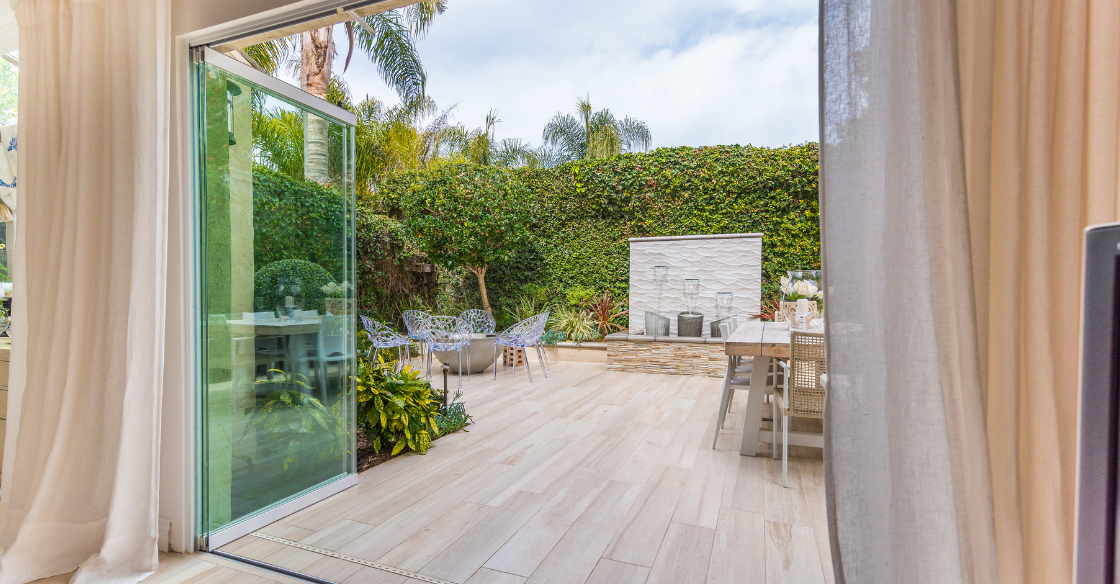 3. Make it Usable - All Year Round
It's also important to think about the furniture you're using to ensure it can endure the elements. This includes the hot Arizona summers as well as temperature drops in the winter, depending on what area of the state you're in. This can be a tricky hurdle for homeowners attempting to move their indoor vibe outside.
Here are some of the best materials for outdoor furnishing:
Synthetic resin
Teak
Cast aluminum
Wrought iron
Steel
Plush fabrics
Rich wood furnishing
Wood-beamed ceiling
Exterior frameless glass doors
Also, don't underestimate the value of shade to protect not only you and guests, but also your home. An outdoor living space with the added benefit of shade will mean you can spend more time enjoying the outdoors and taking advantage of that fresh Arizona air.
Options for shade include:
Contemporary canvas shades installed over your lounge or dining area
Tall plants along the perimeter of your outdoor living area (make sure to select something

drought-friendly

for our desert climate!)
A classic patio umbrella
A pergola, ramada, or gazebo
No one knows your home better than you, so feel free to get creative and tap your inner interior design guru to create the most relaxing, sun-protected outdoor experience.
4. Consider Your Lifestyle
Lastly, your outdoor living space should not be treated differently than the rest of your home. Consider your needs, overall space, how often you entertain, and what activities you might be doing outdoors. Here are a few more options:
Grilling area
Playground
Swimming pool
Zen garden
Vegetable patch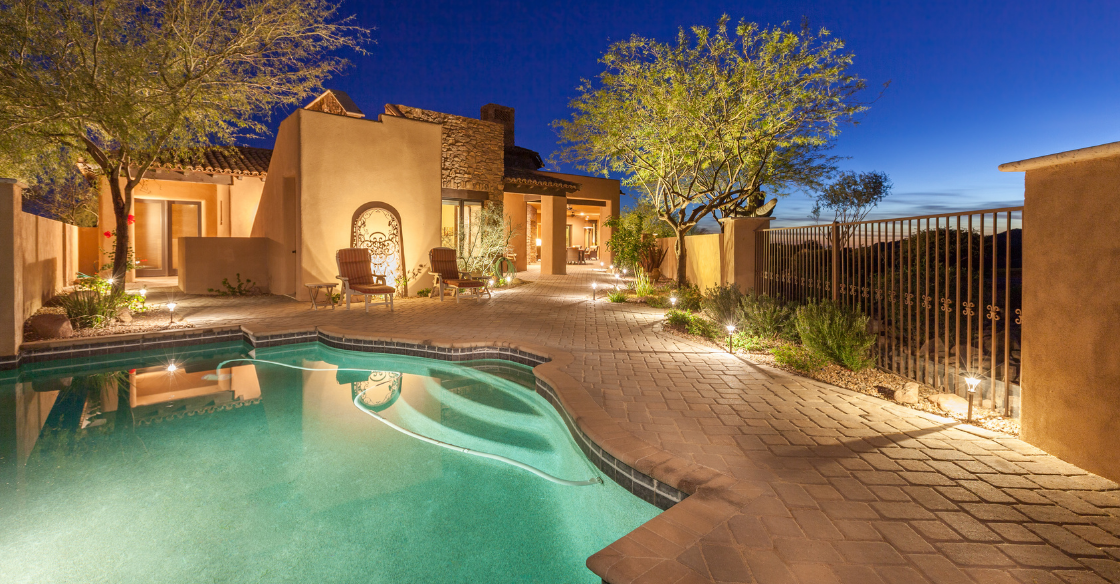 Elevate Your Outdoor Living Space With Cover Glass
Ready to create your dream home environment? With frameless sliding glass doors and windows from Cover Glass, you can design a stunning indoor/outdoor living space that makes the most of everything the Grand Canyon State has to offer. If you're interested in learning more about frameless glass options in Arizona, contact us today. From opening up your frameless walls to let the breeze roll in on a hot summer day to experiencing wide-open views of the beautiful Scottsdale skyline, Cover Glass' luxurious frameless folding windows open up a world of architectural possibilities.
Request your custom quote today, and we'll be in touch!