Beauty and comfort are the hallmarks of a welcoming outdoor space, but you'll want to go the extra mile with entertainment options and luxury amenities that take your yard to the next level.
If you want outdoor rooms that make your home the preferred hangout for family and friends, here are just a few additions that could make your outdoor living space the envy of the neighborhood.
Entertainment Options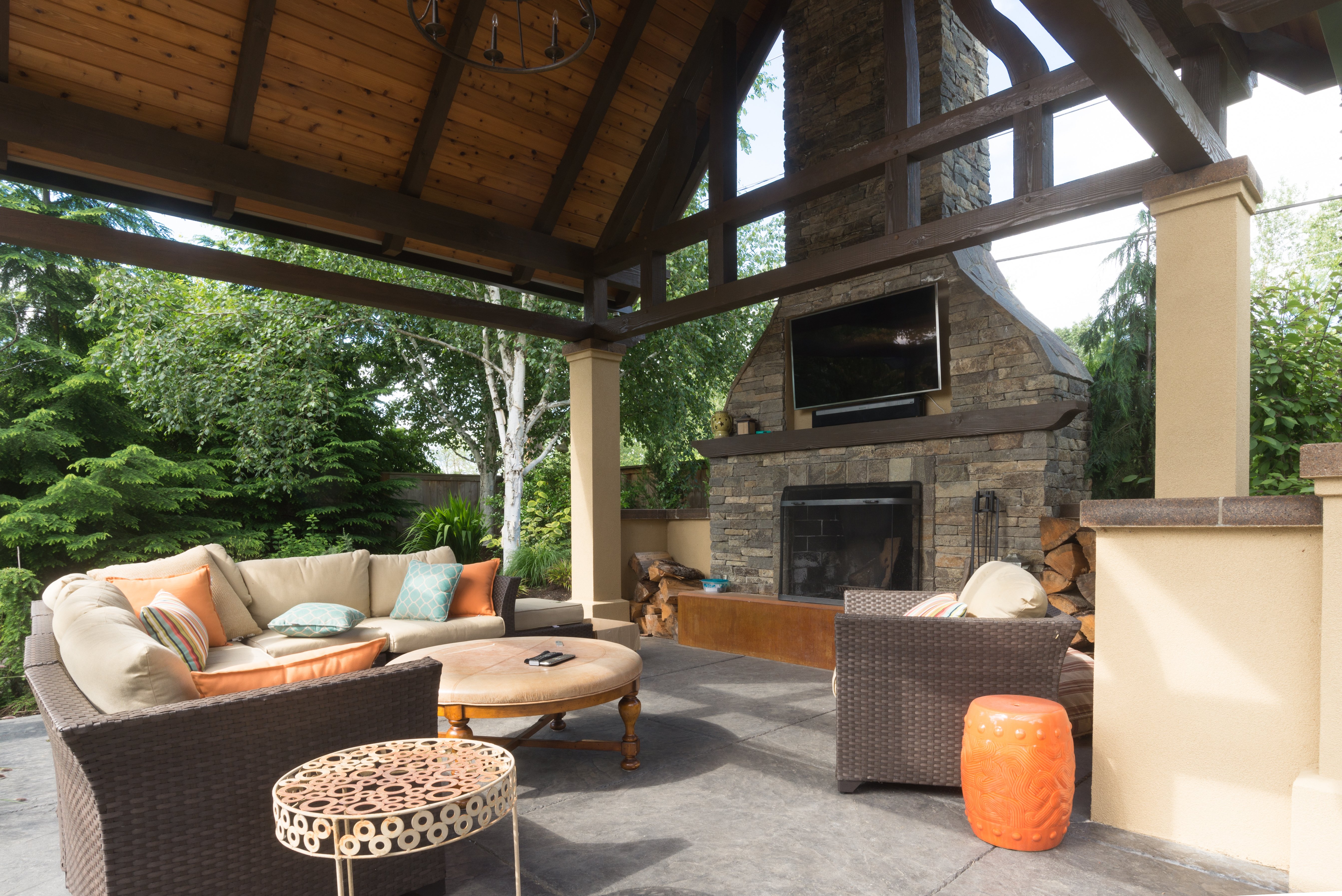 An outdoor patio, complete with a sitting area and/or outdoor dining room, is a great start for entertaining in your backyard. If you want to create a dynamic entertainment area, more like an outdoor living room, you might want to consider adding a flat screen TV.
If you have a covered patio area, the addition of a mounted TV and premier sound system could transform your exterior room into a prime location to watch sporting events or whatever show you find to replace your weekly Game of Thrones get-together.
Focal Point Fire Feature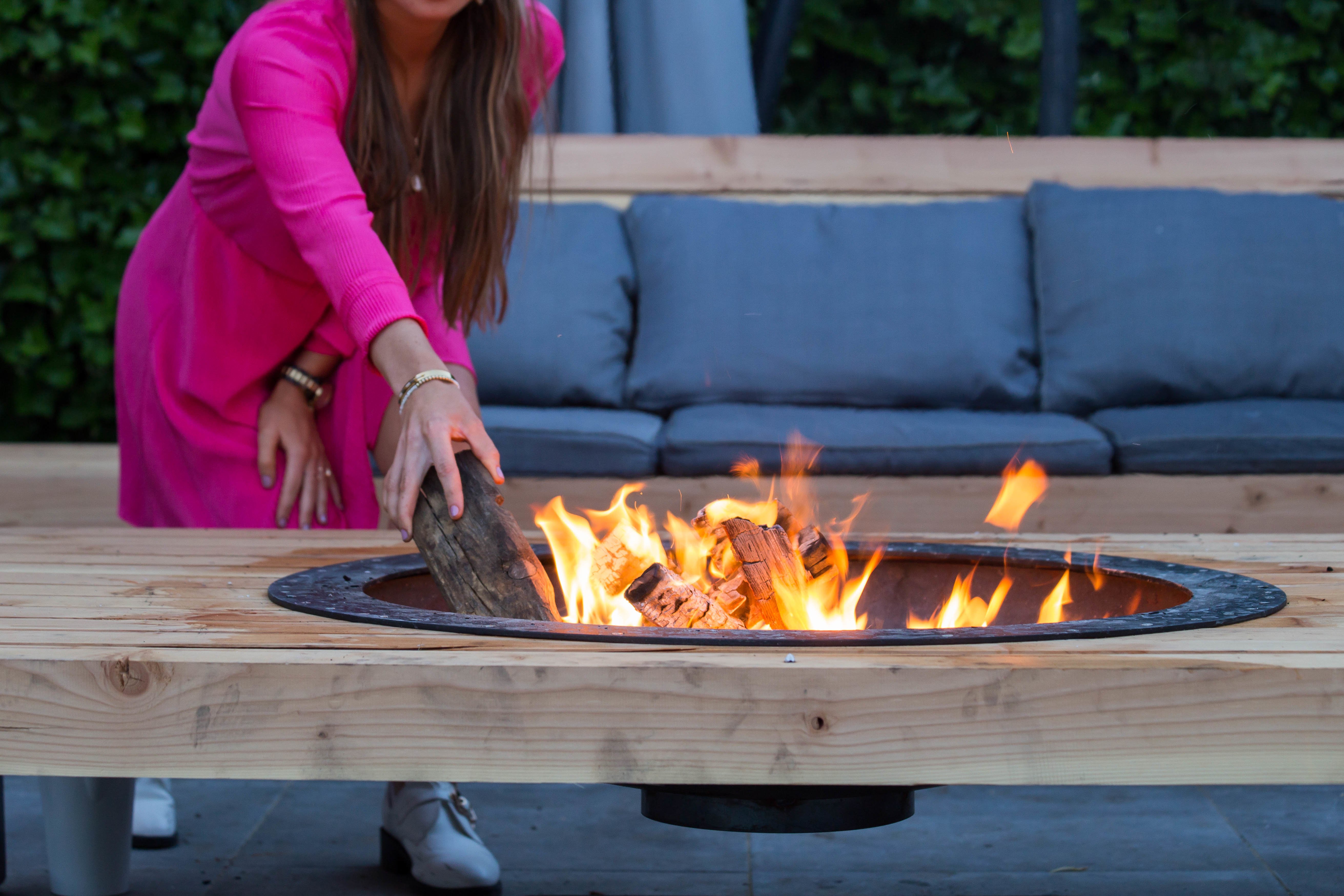 Installing an outdoor fireplace or fire pit is an excellent means of creating both a visual focal point and a gathering spot in your yard. When evenings grow cold, a fire feature provides both light and heat to keep your party going. When you add seating areas, complete with cushy throw pillows for comfort, this is sure to become the most popular area in your yard.
Outdoor Kitchen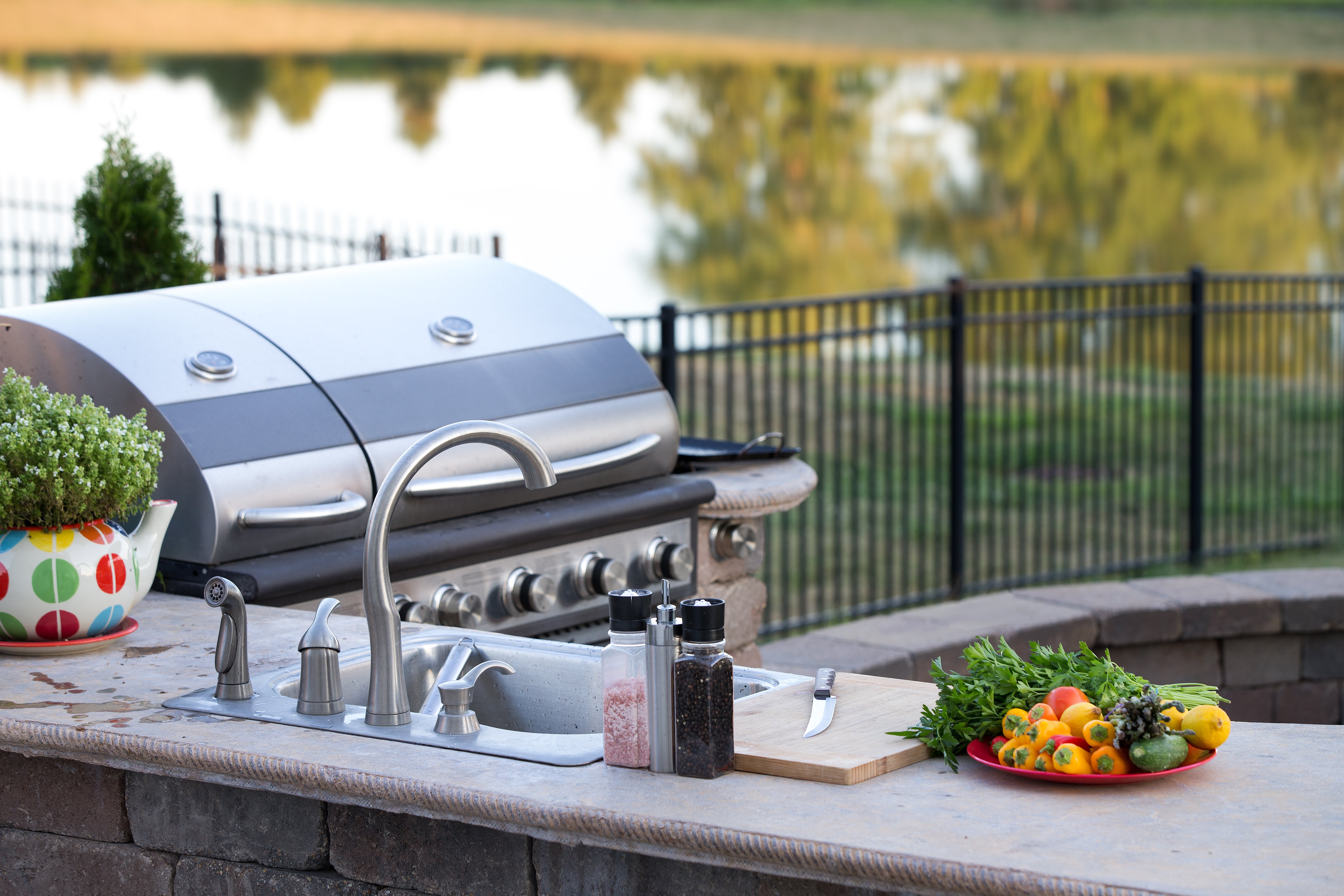 It's not uncommon for homeowners to install dining areas and grills in their backyard spaces, but if you're looking for an upgrade that expands your opportunities for outdoor entertaining, you might want to consider the benefits of installing an outdoor kitchen.
This addition comes at no small expense – you can reasonably expect to pay what you would for an indoor kitchen renovation if you want to add cabinets, counters, cooking surfaces, and appliances, and perhaps a bit more if you need to cover your outdoor patio to protect your new kitchen area.
That said, if you spend all summer hosting backyard soirees, complete with plenty of culinary treats, having a gourmet outdoor kitchen will save you the hassle of transporting food and dishware between the house and the yard, and allow you to interact with guests while you cook, rather than being stuck inside, away from the party. If you've already got an outdoor living room, why not a kitchen to complement it?
Landscaping

There's more to creating inviting outdoor rooms than adding seating, a coffee table, or dining spaces. You want to make sure the actual outdoors is featured prominently, otherwise you might just as well spruce up a room inside your home. Landscaping is a key element, and you'll want more than a healthy, lush lawn for kids to play on.
Working with a landscaping specialist, you can find the perfect arrangement of shrubbery, shade trees, and flowering plants to add visual interest, depth, color, and privacy screening to your yard.
The cost will depend largely on existing landscaping and your vision for your outdoor space, but with the right flora in place, you'll have the attractive outdoor oasis for entertaining all summer long, and beyond.
Water Features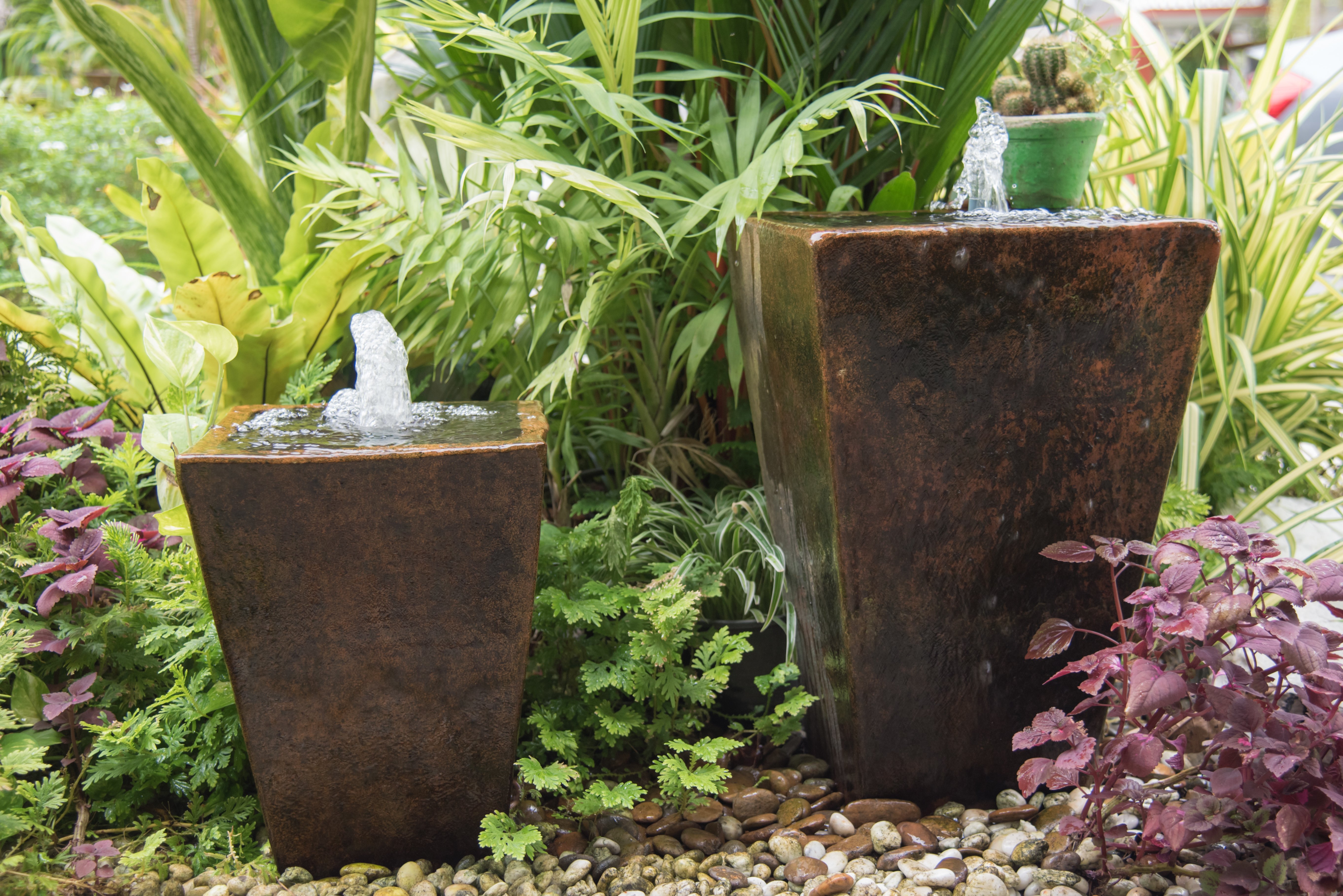 Creating a serene escape from the demands of daily life in your own backyard starts with adding greenery, comfortable seating areas, and useful entertaining features like a dining table, but you'll want a space that appeals to all the senses. Once you have fragrant plants and fire pits for heating and light after dark, the next step is to consider the sounds that will complement the sights in your yard.
This is where water features enter the picture. Whether you add bird baths, fountains, a pond, or a water wall next to your outdoor dining room, you can imbue your space with the soothing gurgle of running water, adding ambience that makes your outdoor living space more inviting.
Hammocks and Lounge Seating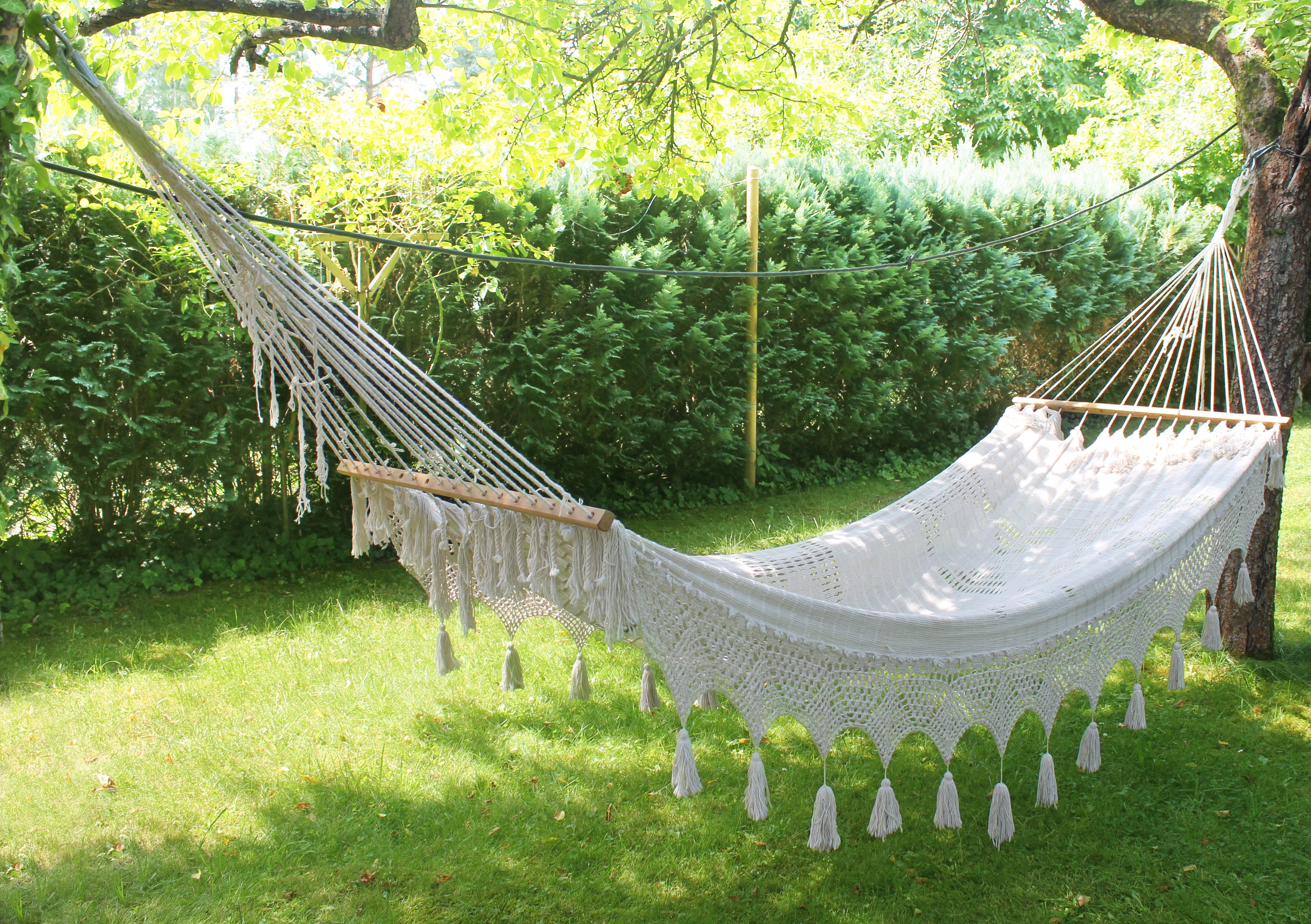 You want your outdoor space to be as welcoming as possible, and this means creating a relaxing vibe. Including plenty of plush seating and lounge areas is a must. For example, you could create a sitting area punctuated by a coffee table, throw pillows and blankets, and shading for both daytime and nighttime use.
Installing string lights overhead or an outdoor fireplace (or both) helps your space seamlessly transition for use after dark when your shindigs outlast the sunlight. You could also add outdoor gliders or string hammocks between sturdy trees if you want to increase lounging opportunities.
Mood Lighting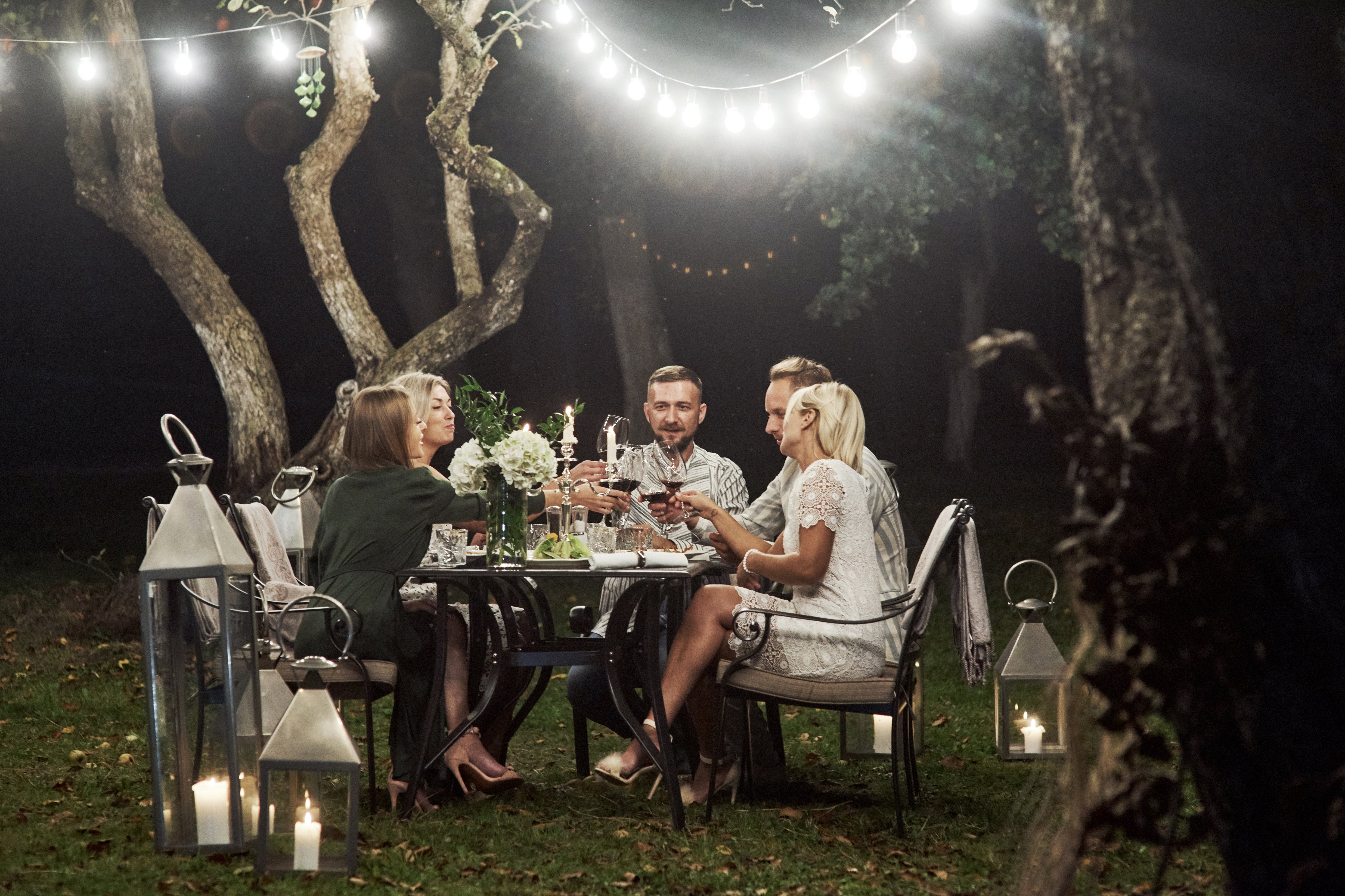 Landscaping and furniture are the foundations of any outdoor room, but you can't forget about functional extras like lighting. Your kitchen surfaces and outdoor dining area could benefit from pendant light fixtures, and you'll definitely want pathway lighting to avoid trip and fall incidents in the dark.
However, you might also want to install outdoor lighting that adds ambience. String lights can create a festive atmosphere while fairy lights turn your yard into an ethereal wonderland after dark. You can even create faux moonlight through the branches of trees with the right lighting fixtures.
Indoor/Outdoor Living with Frameless Glass Doors
If you're not keen on the expense of creating outdoor kitchen or dining areas that mirror the rooms in your home, an affordable, practical, and aesthetically pleasing alternative is to open your home to the outdoors, allowing existing interior spaces to seamlessly transition to your gorgeous yard. With frameless glass doors, you can virtually extend your indoor rooms into your outdoor spaces, putting natural lighting and stunning landscaping on full display.
In addition to enjoying unimpeded views of outdoor vistas when frameless glass doors are closed, you can open them to the elements to multiply entertaining spaces, weather permitting. For those that love the great outdoors, frameless glass doors provide the perfect opportunity to revel in the marriage of indoor/outdoor living.