Frameless glass doors can make a stunning addition to your home, with the ability to elevate your style, create a more functional and multi-purpose space, and even add value to your home.
Many homeowners use them to design an indoor/outdoor entertaining space, taking advantage of backyard verandas and uninterrupted balcony views. But there's no need to stop there! Keep reading as we explore how to incorporate frameless glass doors and windows all-around your home.
Bedroom
First up, consider your dream master bedroom. Your bedroom should be a true sanctuary, designed for both relaxation and energy as you wind down at night, get that valuable beauty sleep, and gear up for the day the next morning.
Glass walls and windows can be used in many ways in the bedroom, depending on your room's layout and features. If you have an attached patio or balcony, the obvious choice is to install large windows and/or doors that let in tons of natural light or allow you to open the space up when the weather permits. Letting that natural light in during the day provides tons of health benefits, helping your body and mind wake up and even warding off seasonal depression.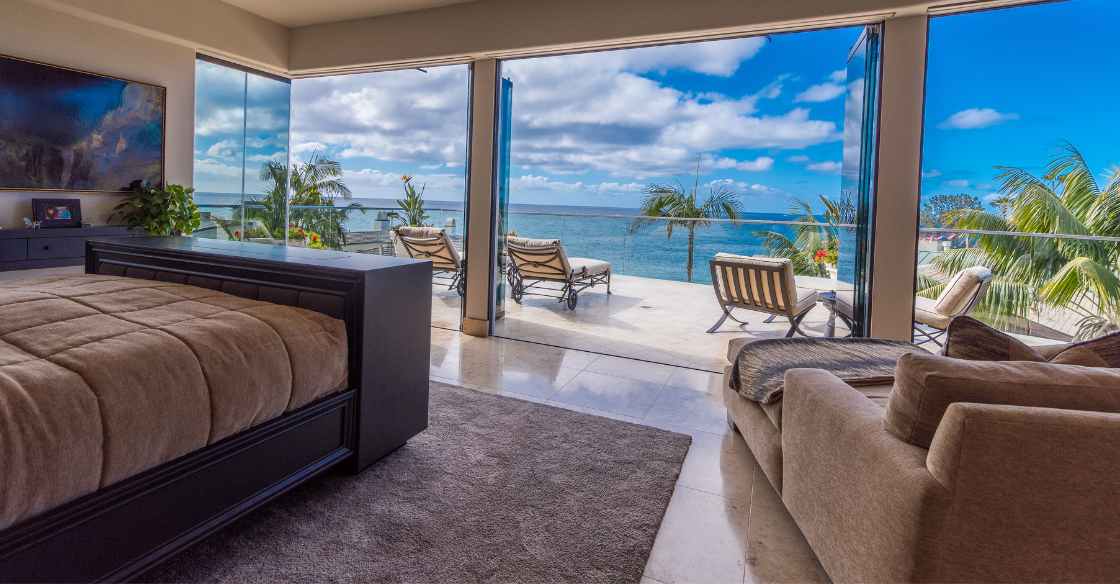 Other creative ways to incorporate glass include:
Using a glass partition wall to divide areas of a room, creating separate "nooks" or private spaces for siblings sharing a room
Use glass for closet doors, which allows for more reflected light and makes smaller rooms look even bigger
Create transitions between the bedroom and master bathroom without closing it off, establishing a bright and airy vibe
Add a skylight to bring more natural light into a darker bedroom
Living Room & Family Room
These days, most homes are built with an open concept in mind, allowing for better traffic flow, more efficient entertaining, and more natural light. It also offers a good amount of flexibility, as many homes see multiple families moving in and out over the years. Without a strict layout, families can choose how to use (and decorate) the room as they see fit.
Incorporate frameless glass doors and windows into your living room and/or family room will open the space up even more, and it will never go out of style. This can be as simple as retrofitting window openings to install frameless windows—ensuring both beauty as well as weatherproofing—or larger-scale projects like turning two standard windows into beautiful French or frameless sliding glass doors.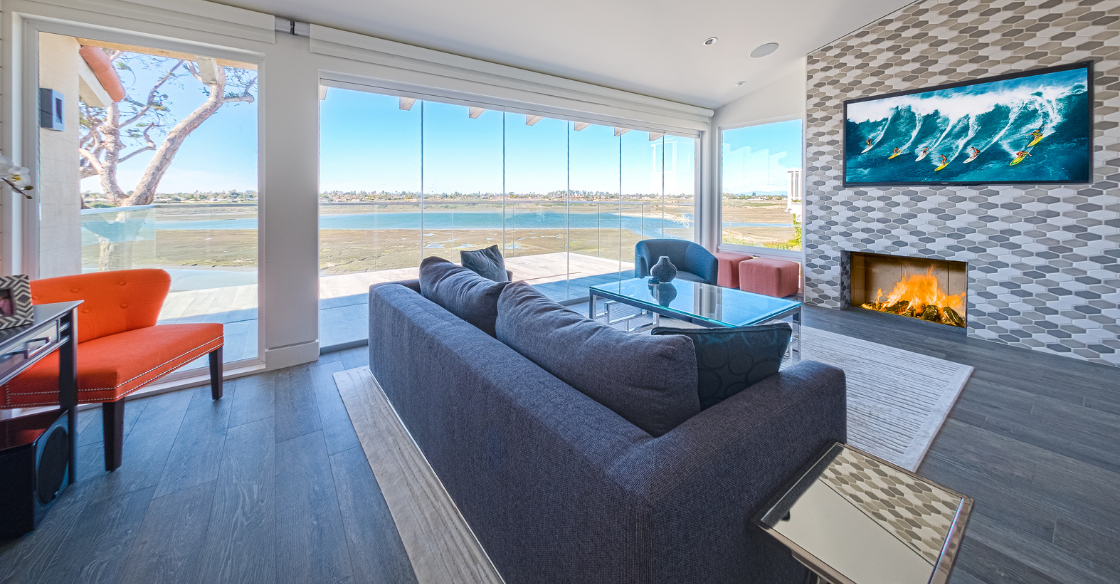 The best part is that you can make it truly your own as you work on your design. Are you a natural hostess who wants a luxurious and breathtaking environment for your guests to enjoy? Do you want to open up the space to better keep an eye on your kids? Are you looking for a more modern upgrade to your home's original architecture? Frameless glass doors and windows allow for all of these goals and more; you can choose the right windows depending on the style you're going for, and select the perfect doors for the functionality that works for you and your family.
Bathroom
Imagine coming home from a long day at work and going straight to your at-home spa for some R&R. Frameless glass can help you achieve the vibe of a world-class spa right in your own home.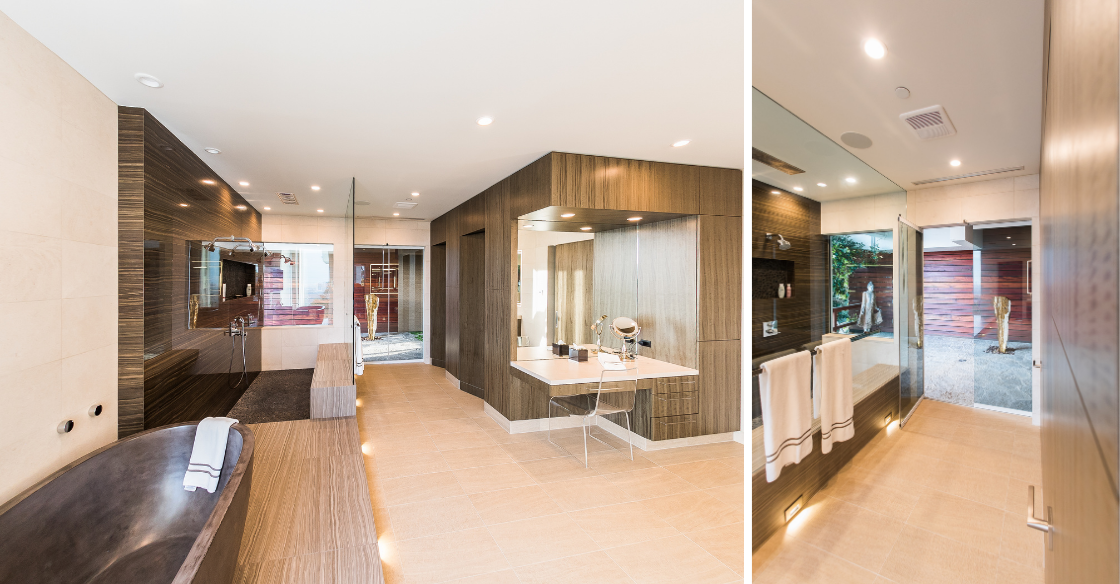 Popular ideas include:
Adding room dividers around the shower or toilet area for a contemporary look
Incorporating large frameless glass windows next to a luxurious freestanding tub, if you're lucky enough to have a (private) view!
Using a full or partial wall of frosted glass in high-traffic bathrooms, allowing multiple people to use the room to get ready while still offering some privacy
Adding larger glass windows for more natural light to come through
Kitchen
The kitchen is another perfect place in your home to incorporate frameless glass windows and doors. Whether you're dividing the room for better functionality or want to create a seamless indoor-outdoor entertaining space, there are tons of opportunities to flaunt your interior design style.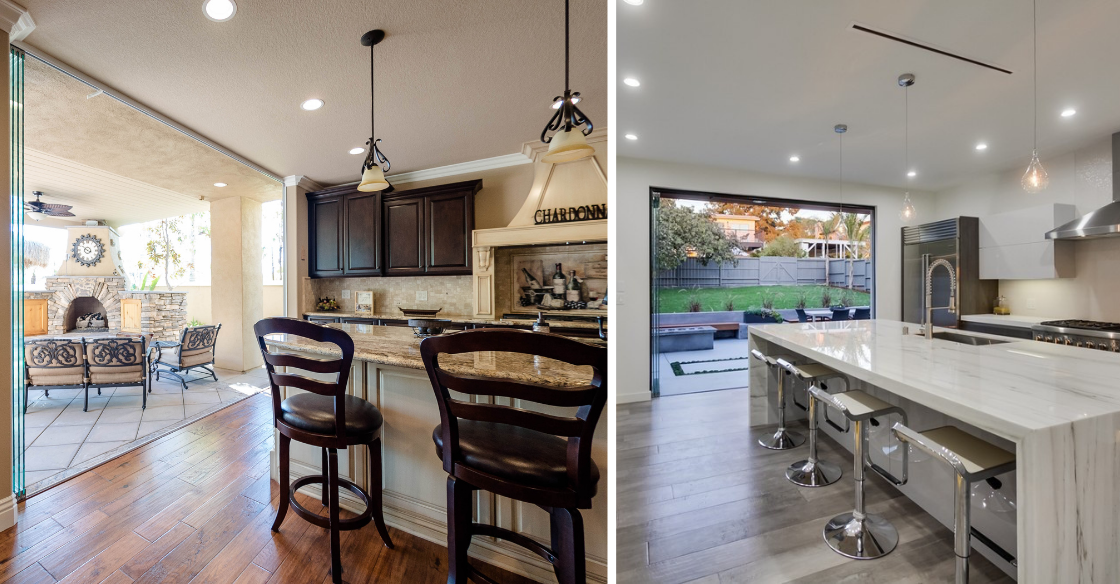 Here are just a few of the ways you can incorporate glass into your kitchen:
Use as dividers to separate a breakfast "nook" or bar area
Create a totally separate area within the kitchen, like a mini home office, if you've got the space
Split an open-concept kitchen with the next room (e.g., living room or family room) without the visual distraction of a full wall
Redefine your entertaining and dining options with frameless sliding glass doors that allow you to fully open the space (al fresco dining, anyone?)
Design With Cover Glass
If you're building a new home, incorporating frameless glass doors and windows is a no-brainer. But even for homeowners with existing dwellings, retrofitting the perfect design is easy with Cover Glass.
With our new Cover Glass USA Visualizer, architects, businesses, homebuilders, and homeowners alike can truly visualize how their frameless sliding glass windows and doors will look in a space. Users can choose images from the Cover Glass library or upload their own photos, selecting from the various options (including the color of the glass, the color of the tracks, hardware, and more) to choose the perfect design. Give the Cover Glass USA Visualizer a try today!
Ready to get started with your project? We can't wait to work with you. Request your free customized quote online to get started. We'll get back to you within 1-2 business days.