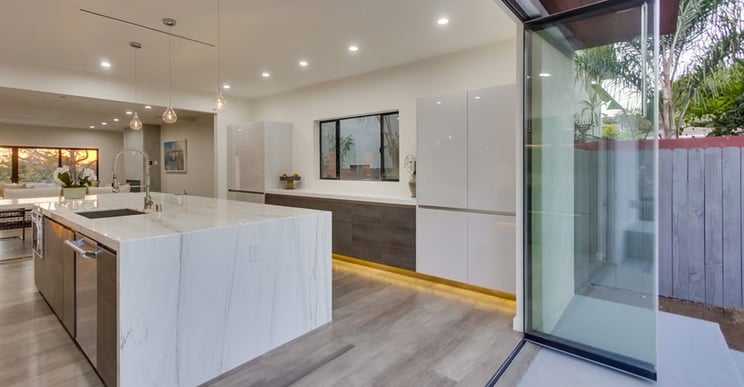 In the course of the evolution of the modern kitchen, it has gone from being a secluded utilitarian room that was used exclusively for cooking to a room with immediate access to both living and dining spaces. The open plan design has its roots in the concept of "cocooning", a term which refers to a desire to retreat into a safe, cozy space to escape the daily grind of life.
This involved creating a unified space where families could do everything together: spending more time, even while cooking or cleaning. This means the walls came down: dividing barriers no longer existed between living and working spaces.
But is the open plan design for everyone? Are you a planning a kitchen remodel? So, how do you decide for or against open plan kitchen? In this article, we'll present both sides to you, and we'll have you decide.
First the Pros:
Removes isolation
By breaking the divide between the living space and the kitchen, you are still engaged in your family's activities while you're cooking or entertaining. Instead of having to make your way to another room to talk to people, you can do so right from the comfort of your kitchen.
Better illumination
An open plan allows for better illumination owing to the natural light that will come flooding in from the living and dining rooms, which generally have larger windows. This also makes for a highly energy-efficient plan that relies more on natural lighting than artificial lighting.
Spaciousness
This plan evokes a sense of spaciousness even in restricted spaces, since there are no walls to restrict it. It allows for a better distribution and positioning of kitchen appliances and equipment.
Easy flow
The open plan allows for easy flow in and around the room. It increases freedom of movement and creates more visual space. It also makes it easy to move appliances or other things around without being restricted by obstacles.
Togetherness
With the barriers removed, the family can easily communicate and interact, even if they are across the space. Parents can keep an eye on their children while they're engaged in doing their homework or other activities.
By knocking out the dividing walls between the kitchen and living rooms, you can make the space feel larger and roomier. With the help of a good kitchen planner, you can come up with practical, yet beautiful open-plan spaces.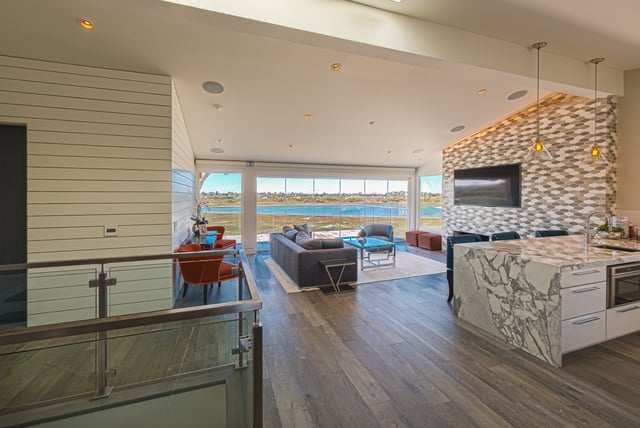 With that said, the open plan does have its share of drawbacks.
Now the Cons
Associated costs
The associated costs of removing walls, rewiring, plumbing and other work has to be considered; not to mention the costs for labor for designers, constructors, plumbers, electricians and other involved resources. An open plan rework will require a significant budget, and so it's up to you to decide whether it's worth it.
Reduced privacy
This is merely a flip-side to the open nature of the room. Since the kitchen is open to view, it'll be difficult to conceal any mess or untidiness that results from the activity in the kitchen. So, you'll need to be prepared to either be OK with people seeing your messes or be ready to deal with the mess as soon as you can.
Smoke, smells and noise
With the open plan, you'll have to deal with smoke and the smells that can waft through the entirety of the room. Some homeowners may not mind the smells of cooking, but there are those who can't stand them. Likewise, the noise emanating from your kitchen appliances can be a distraction. However, there are definitely ways to deal with them: by using sound dampening appliances and smoke extractor.
Can There Be a Compromise?
If you really want an open space design, but are leery of its drawbacks, is there a middle ground? Yes! You can opt instead for a flexible plan by installing frameless sliding glass doors between the rooms. This will allow you to be flexible in the way you use the space, choosing it to be completely open or semi-open - or fully closed - depending on when you're using it.
For instance, while cooking, you can keep the doors entirely closed or semi-closed to create the required screen for the smells and the smoke; however the glass doors still won't isolate you from. At other times, you can keep the doors wide open to gain full advantage of the open design. If you choose to go with the flexi-space, you can go with CoverGlass USA's unique frameless sliding glass-doors to add value to your home.