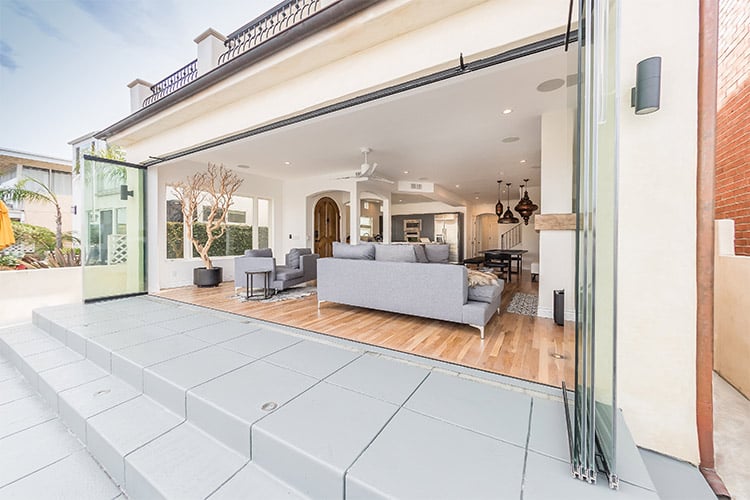 Today's homeowners are energy conscious and are often on the lookout for options to minimize their dependence on artificial sources of energy in their homes. One such option is maximizing the usage of natural light in their homes. Natural light, in addition to its proven health benefits, can also infuse a sense of happiness, warmth and vibrancy in a home. There are a number of ways to enhance the effect of natural light in a home, and it all begins with your doors and windows. Here are 7 modern door and window designs to bring that natural light streaming into your home:
1. Bay Windows
Bay windows present an ideal option for those who wish to maximize their space without altering their floor plan. In addition to bringing in natural light from different directions, bay windows create a sill or alcove which can be used in ways that are only limited by imagination.
2. Skylights
Nothing says energy-efficient like a well-placed skylight that floods the room with natural light and offers excellent ventilation throughout the day. Skylights can also brighten up dark, small spaces like stairwells and even maximize privacy in rooms like the bathroom, where windows don't work.
3. Frameless Sliding Glass Systems
In addition to opening your home up to natural light throughout the day, sliding glass doors and windows highly are energy efficient. They can fit seamlessly into any home design. They also save space, since they don't use hinges, so they can be used to maximize the usage of small spaces.
Read: 3 Features of Our Frameless Sliding Glass Doors That Optimize Your View
4. Dormer Windows
If your home's exterior is dominated by roofing, then a dormer window is the ideal way to create additional room in the space. Dormer windows, in addition to adding architectural value to your home, can allow ample natural light to filter in, and in turn, allow you to maximize the effectiveness of the space created by the windows.
5. Stacked Awning Windows
Awning windows pivot on hinges mounted on the top or bottom and can be used in multiple configurations to add flair to your home design. They can be stacked in various configurations and combinations with casement windows to create unique, modern designs.
Read: How to Bring Modern Luxury and Style to Your Home
6. Corner Windows
Corner windows are an element of modern home design that was popularized by famed architect, Frank Lloyd Wright, who wanted to "let the light in from new directions". The corner window can add a contemporary aesthetic to your home's design, provide a panoramic view of the outside and effectively brings natural light into the room. It's ideal for the kitchen, study or even your dining area - rooms that can require the maximum lighting in your home.
Read: Office Productivity - More Effective Work Habits
7. Clerestory Windows
Clerestory windows are usually installed just below the roof and are ideal for spaces that need natural light without compromising privacy. Since they are designed to follow the roofline, they can add a modern or traditional aesthetic to homes in a number of different ways.
Finding the balance between design and function is a key aspect of home design. Doors and windows, in particular, can serve that purpose efficiently; especially if they maximize the use of natural light without compromising their basic functions of safety and protection.
Up Next: Remodel Your Living Room - How to Optimize for Function and Design
◊◊◊
Experience the difference. Choose Frameless. Choose Cover Glass USA.
Cover Glass USA serves the Southern Californian region, including Malibu, Calabasas, Santa Monica, Newport Beach, San Diego, Santa Barbara and other beautiful cities.