Many homeowners never even consider frameless glass doors.
This is often not due to anything inherently wrong with sliding glass; rather, it comes down to some common misconceptions. Let's clear up a few misunderstandings you may have to ensure that you make an informed decision.
1. Sliding Glass Doesn't Match My Home Aesthetics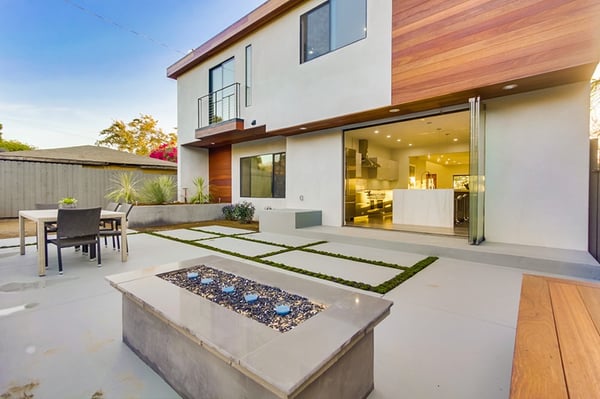 Some homeowners feel that frameless glass is better suited to a different style of living space than their own. Actually, this is never the case, as folding glass can work with any decor: traditional, contemporary, whimsical — you name it. This is because glass door systems are highly customizable.
For example, with Cover Glass, you choose your:
Glass color — Standard color is clear, but we also carry light gray, light bronze, blue glass, green glass, and a reflective bronze.
Track color — Standard options are white, black, bronze, and silver, but you can request any custom color you want.
Panel size - Systems can be up to 9′ 2″ tall; there is no minimum height, but we suggest a minimum of 2′ 6″ H.
2. Folding Glass Doors Doesn't Fit My Home Structure

In other cases, homeowners are less concerned about style and more worried about structure. However, a customizable top-hung system will work in virtually any situation.
For one thing, you should note that panels stack to one side in a glass wall system. You choose where they stack according to what is most convenient for your home. This may be inside or outside and to the left or to the right.
In addition, there's the fact that folding glass doors can fit any opening — in terms of both size and shape. You can even install folding glass doors in a curved opening.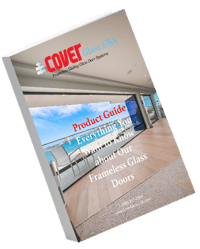 3. Moving Glass Doors Are Difficult to Operate
It is true that bottom-rolling sliding doors can be difficult to operate. They require significant pressure to push open. Plus, they can even become stuck when they are installed on an uneven surface or if dirt builds up in the bottom tracks.
Top-hung systems, on the other hand, are smooth and effortless to open and close. In fact, the ease of use will mean that you are more likely to use your outdoor living spaces. In addition, there are four variations to open and close the doors (completely open, partially open, air gaps, and closed). These will further enhance indoor-outdoor living in your home.
4. Opening Glass Walls Won't Protect My Home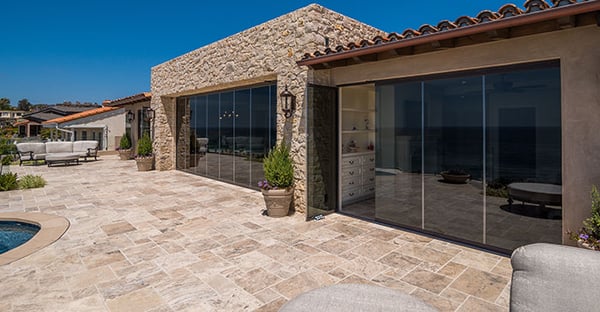 Another major misconception is that opening glass walls won't provide protection for your home. In reality, folding glass doors protect your home in multiple ways.
First, the strength of the glass provides door security..
Some sliding glass systems do come with standard glass. However, when you choose a Cover Glass system, you receive glass that is five times stronger than average and practically unbreakable.
In addition to peace of mind in regards to breaking the glass, the same qualities that lead to this strength mean that the glass is soundproof. This leads to a more comfortable environment in your home when the doors are closed.
The second way opening glass walls will protect your home is through a secure locking system. Unless you choose otherwise, your opening glass walls will only feature a lock on the inside.
With top-hung folding glass doors, you have even greater security, as it is impossible to pry or lift the panels out of alignment. Plus, unlike bottom-rolling systems, the glass cannot jump the tracks. This protects you against potential forced entry and strong winds.
Another safety feature just of top-hung systems is the recessed bottom track. The lower track sits flush with the floor, meaning there is nothing to step over and no tripping risk. This also creates a seamless transition from the inside of your home to outdoors.
Finally, there is weatherproofing.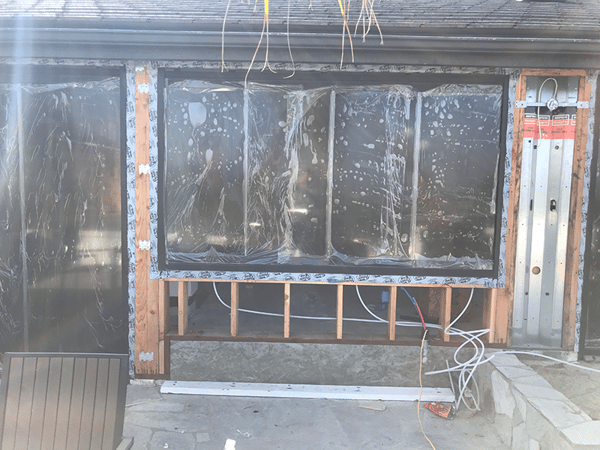 Moving glass walls systems can withstand any conditions due to a combination of sealing and drainage. Water slides down the glass without entering your home. It then enters the bottom track and leaves through either weep holes or drainage pipes, which can head in any direction — wherever it makes the most sense for your home.
When you take all the above into account, it is clear that there are no limitations for top-hung folding glass doors, only for bottom-rolling systems. With a top-hung glass wall, you can customize almost every element. You can make the doors as unique as your home, to best match your style and preferences.