Located on California's sunny southern coast, Newport Beach conjures up images of palm tree flanked white-sand beaches, charming ferris wheel dotted piers and a lovely boat-filled harbor. Which is why Cover Glass was tasked with making the most of one Newport Beach home's enviable locale. For a little interior design inspiration, this month's project spotlight showcases a home that has been transformed by frameless glass doors.
Next Level living room
Many times windows go overlooked when thinking about room design, but they shouldn't be. There's no better way to transform the look and feel of your space, than with a window redesign. That's exactly what the owners of this lovely house in Newport Beach, California did. They swapped out the smaller, boxed-in windows and replaced them with Cover Glass' frameless sliding glass doors. The result? A lighter and brighter living room. The new frameless sliding glass doors are the perfect compliment to the clean lines, modern furniture and open floor plan of this home.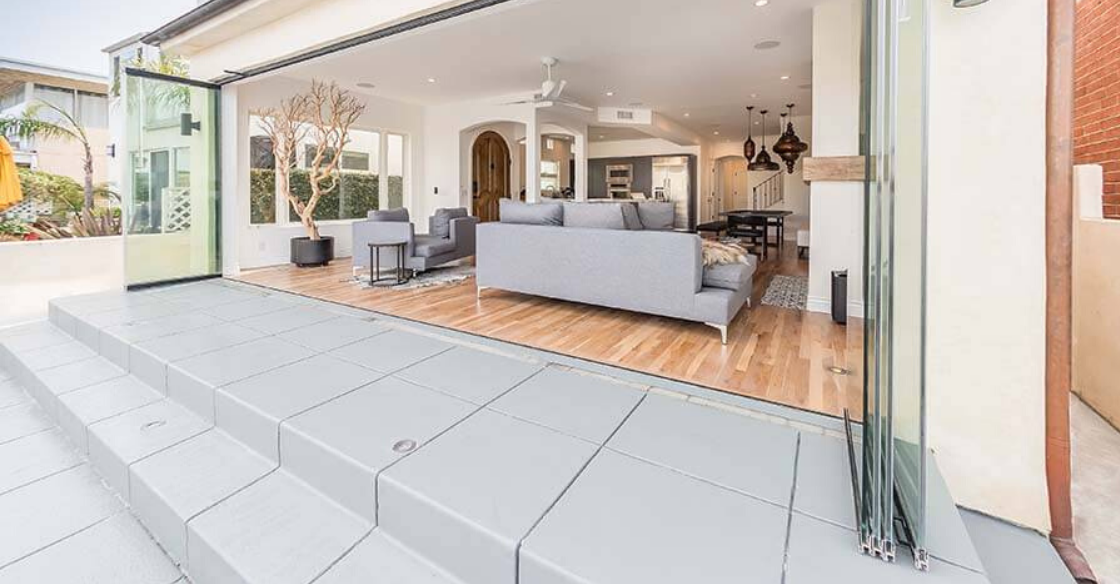 The talk of the neighborhood
It's hard not to compare your house to your neighbors, so why not make it stand out from the rest? Gone are the typical bulky, framed windows, revealing an airy, streamlined design that makes this home the jewel in the neighborhood's crown. Increasing curb appeal (or in this case, harbor appeal), through small changes like incorporating frameless folding glass doors into your home instantly also makes its value skyrocket. It's a win-win.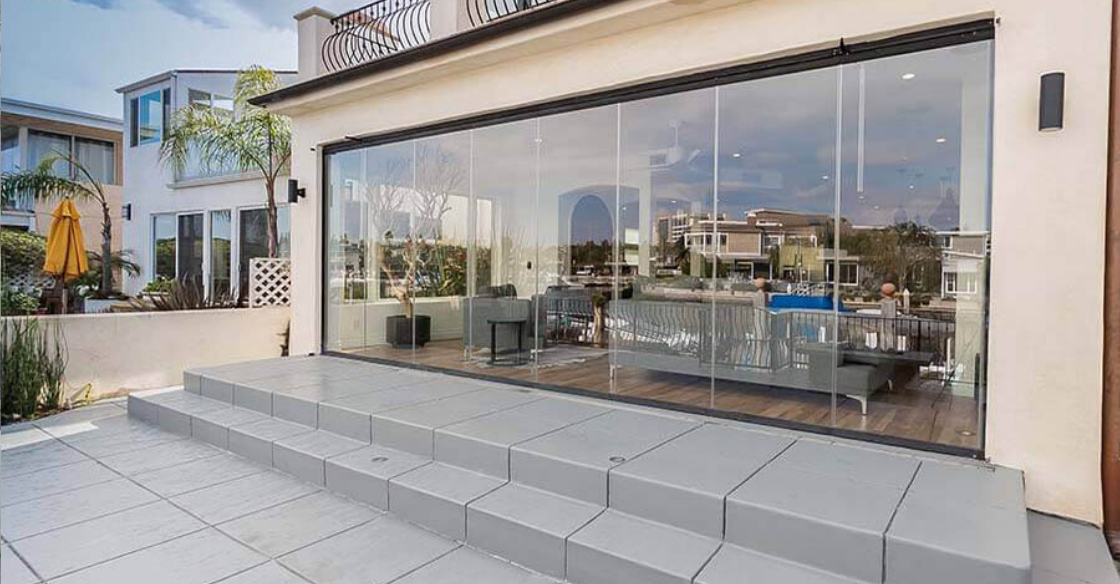 Easy Breezy
Frameless sliding glass doors offer the unparalleled flexibility to open or close as many windows as you'd like. Sliding the doors partially open allows these homeowners to enjoy a light breeze and the fresh scent of the salty harbor air. We can't imagine a better way to cool off during a hot day.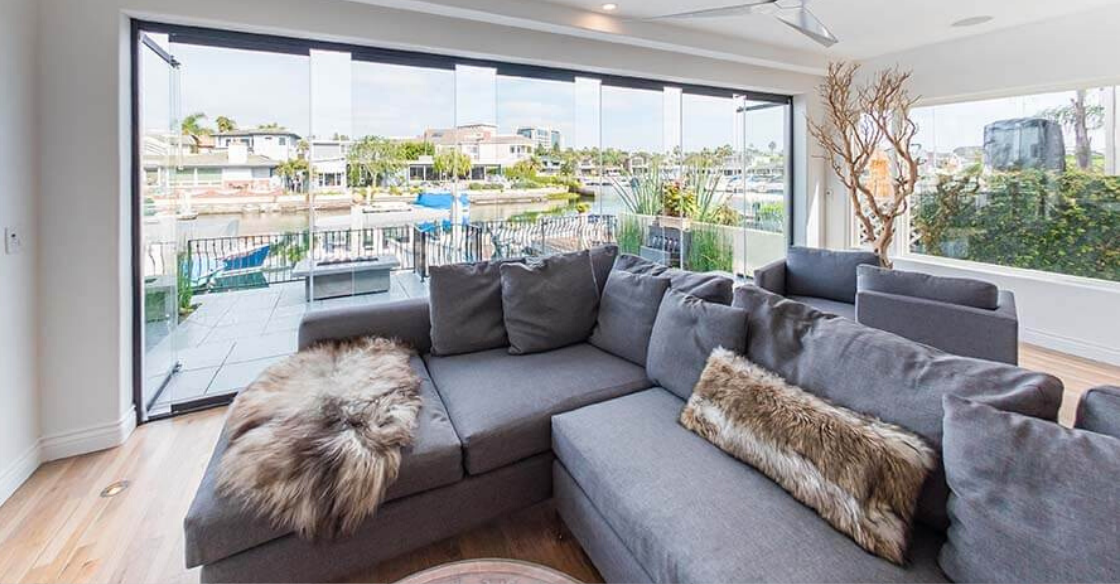 Spectacular Views
No matter if left closed, partially open or fully thrown open, wall-to-wall glass doors present the most incredible views imaginable, and this home's vantage of Newport Harbor is no exception. From the comfort of their plush living room couch, the residents are now able to view boats drifting down the serene harbor canals, wave at friendly neighbors, and spot the menagerie of birdlife that congregate on the waterways.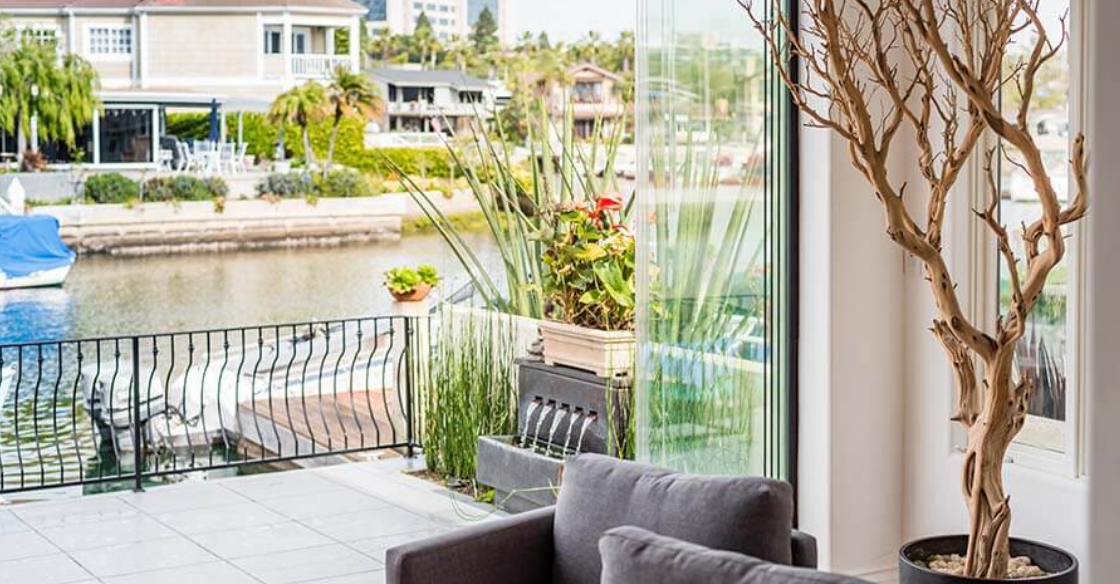 Bring the outside in
Cover Glass' frameless sliding glass doors stack efficiently to maximize space and offer uninterrupted views. This truly is the ultimate in indoor/outdoor living - the kitchen and living room of this Newport Beach house flow directly out onto the stone patio for even more entertaining space. It's the perfect layout for Southern California summer BBQs and crisp fall evenings spent with family around the fire pit.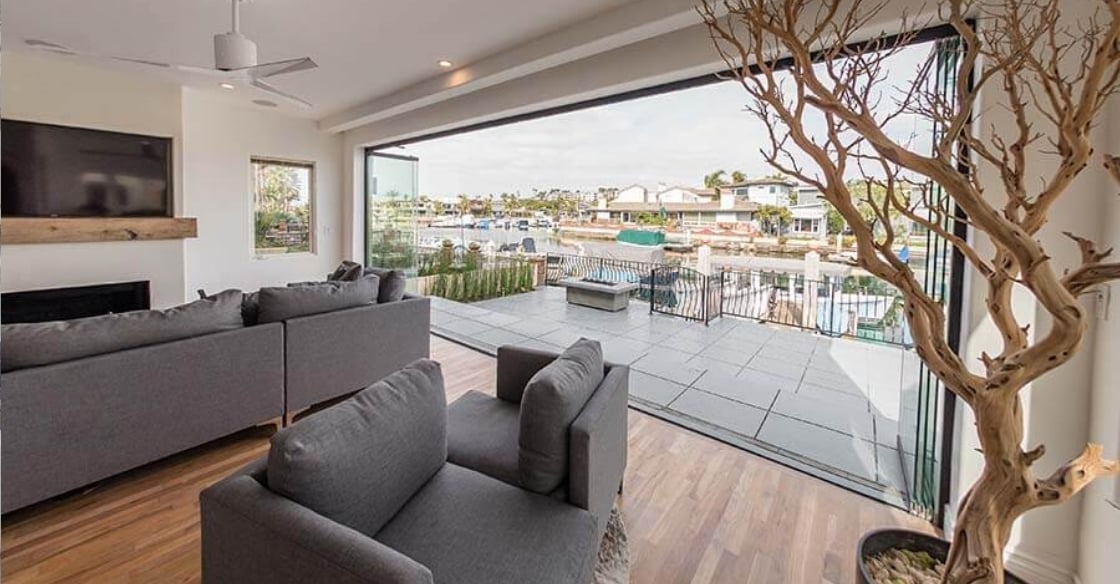 Style and substance
Not only do frameless glass doors look good, but they also come with a laundry list of benefits. They offer safety and security - the panels are 5x stronger than regular glass. As well as energy efficiency - they're made with Low-E glass technology which reduces energy usage and protects from UV rays. Not to mention they can stand up to a myriad of weather conditions - the glass panels are interlocked to protect your property from any moisture, wind or air. This is money saving luxury at its finest.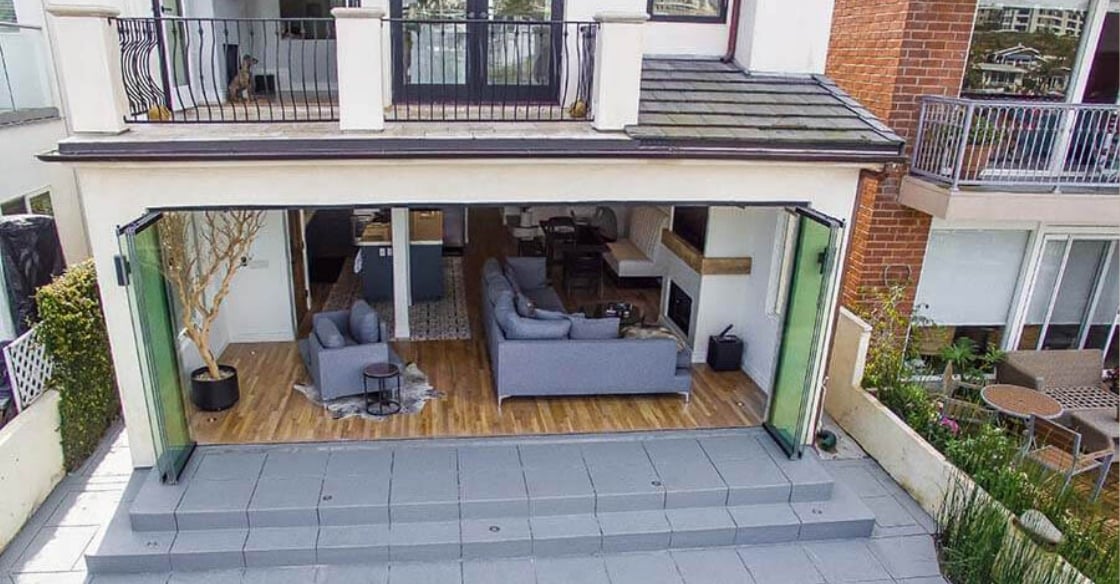 This home's stunning frameless glass doors are just one of the many ways that Cover Glass redefines the living experience. Contact Cover Glass, today, to find out how we can transform your home, your view, and your outdoor space.