Cover Glass presents a new product feature: etched frameless glass panels. Clients submit the design they want — and we do all the rest. The glass has the same integrity and strength as all our other sliding glass products: it's just as wind resistant, waterproof, and high quality.
One of the first properties to take advantage of etched glass is this home in Dana Point.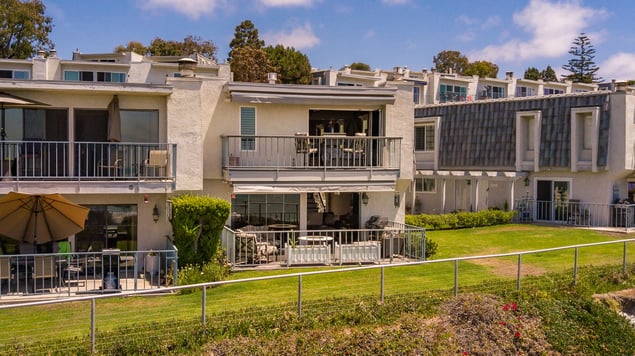 Etching to Frame the View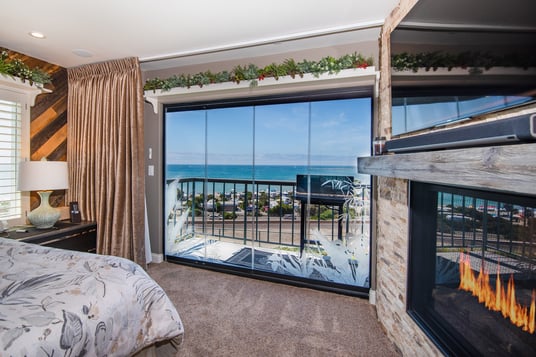 The design of the etching creates a tropical feel, which complements the view from the window. In fact, the etching frames the scenery for a picture-perfect landscape. Plus, the homeowners chose to make the tracks black to match the black balcony railings and create a striking look. These homeowners succeeded in taking full advantage of the amazing views from their bedroom.
Flush Tracks for Optimal Comfort
Like with all Cover Glass sliding doors, the bottom track is flush with the floor. The homeowners can walk straight out of the bedroom to the balcony without the risk of tripping — especially useful if they want to head outside right after waking up in the morning.
More Than Just the Bedroom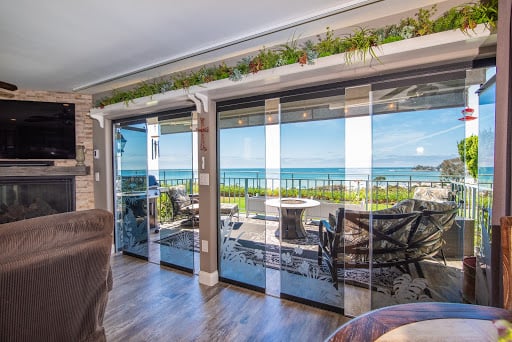 The homeowners decided to take full advantage of frameless sliding glass doors by also installing a system in the living room, leading to an outdoor room. For consistency, this system uses the same design as in the bedroom: the same etching, clear glass, and black tracks.
Creating a Tropical Feel Throughout the Home
Careful choices in terms of decor, materials and color palette enable the tropical theme to continue throughout the house.
Up Close Detail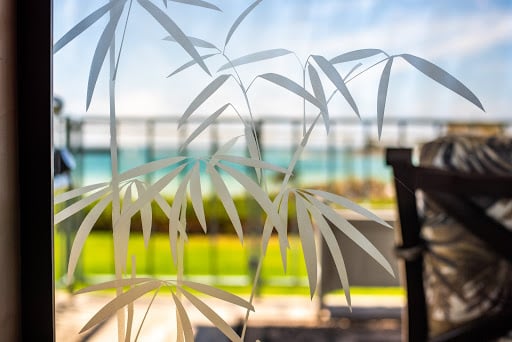 The clear glass allows the etching to stand out. From up close, you can see that the detail is elegantly simple but effective.
Take your glass sliding doors to the next level with etched glass. You'll receive all the benefits of a regular Cover Glass system (including excellent energy efficiency and panels that stack out of the way to maximize space); plus, you'll add another dimension to your home design.
WANT TO EXPLORE MORE STUNNING PROJECTS?