Installing frameless glass doors is an exciting renovation that can breathe beauty, convenience, and functionality into your home. However, finding ways to keep glass doors clean can be quite challenging, especially if you've never dealt with frameless glass systems before.
Dirt, smudges, and grime are much more visible on glass doors than conventional wooden doors. However, keeping your glass doors clean not only improves the look of your home, but it's actually essential to keep the doors functioning properly. The rail on which the doors run tends to collect a lot of dirt, impacting how smoothly the door opens and closes, which can pose safety risks, especially if you have little ones who are prone to yanking on doors.
Here a few tips that will keep glass doors clean, looking pristine, and functioning seamlessly!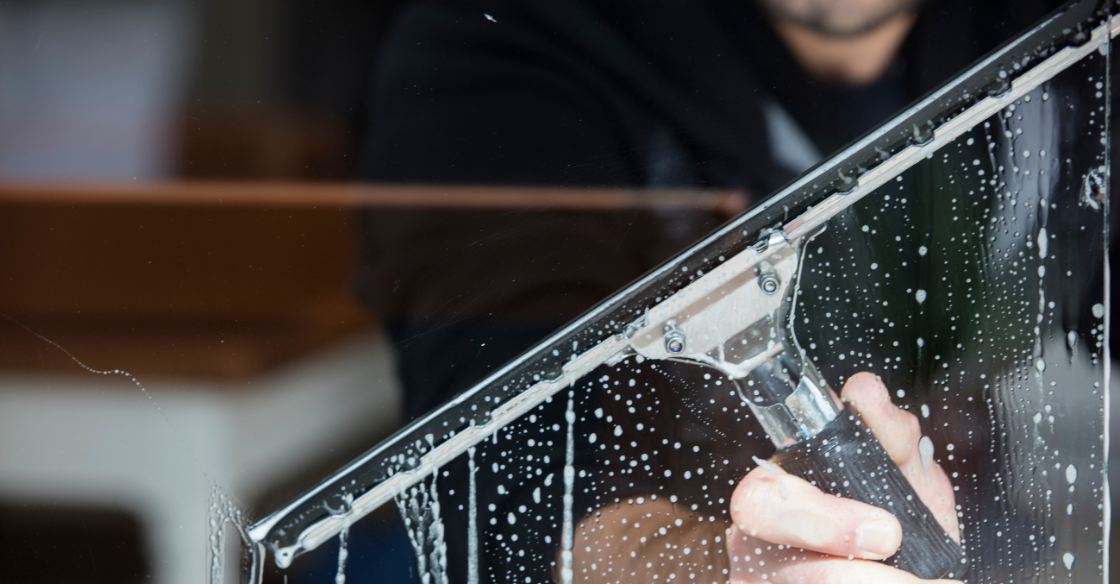 Keep Glass Doors Clean with a Natural Glass Cleaning Solution
Traditional glass cleaners are a solid option for removing smudges and grime from patio doors, but if you are looking for a more natural, chemical-free way to deep clean your windows, you can make your own natural glass cleaning solution at home. To create a natural glass cleaning solution, you'll need distilled water, white vinegar, essential oils, and a spray bottle. Use the following measurements to create your solution and shake well before using:
4 parts distilled water + 1 part white vinegar + 5 drops of essential oil (lavender, eucalyptus, orange blossom, etc.)
Natural glass cleaners not only work just as well as chemical cleaners, but they're safer for you and your family as well.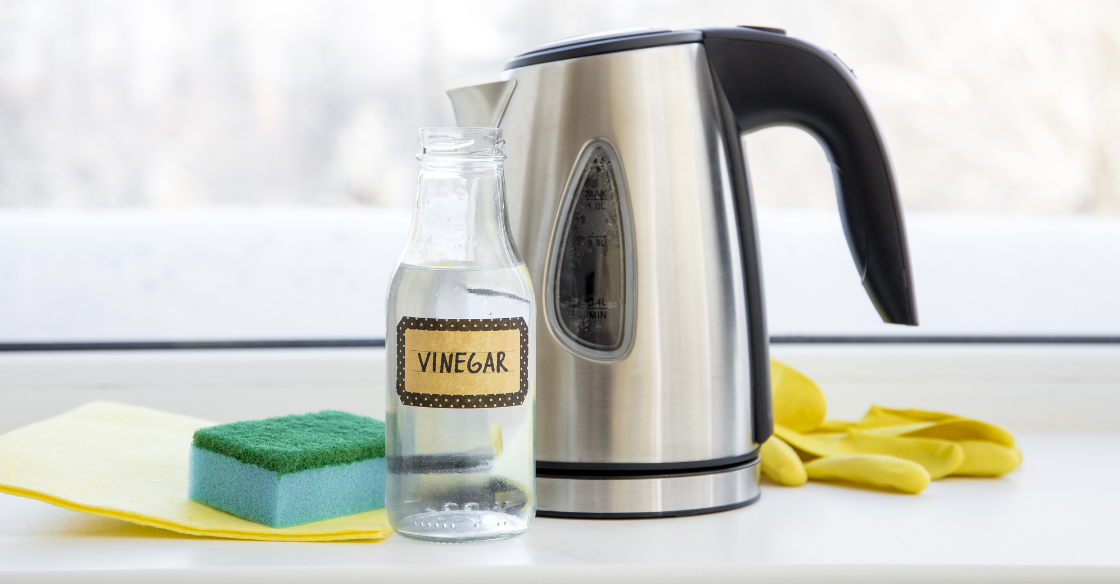 How to Keep Your Sliding Glass Doors Clean
Step 1: Clean the sliding door rails
Sliding door tracks are often neglected when it comes to the cleaning process, but they tend to collect the most dirt and grime, affecting the functionality of your doors. To give your sliding door rails a good cleaning, you'll need the following materials:
Vacuum
Screwdriver
Acetone
Lubricating grease
Toothbrush
Terry cloth towel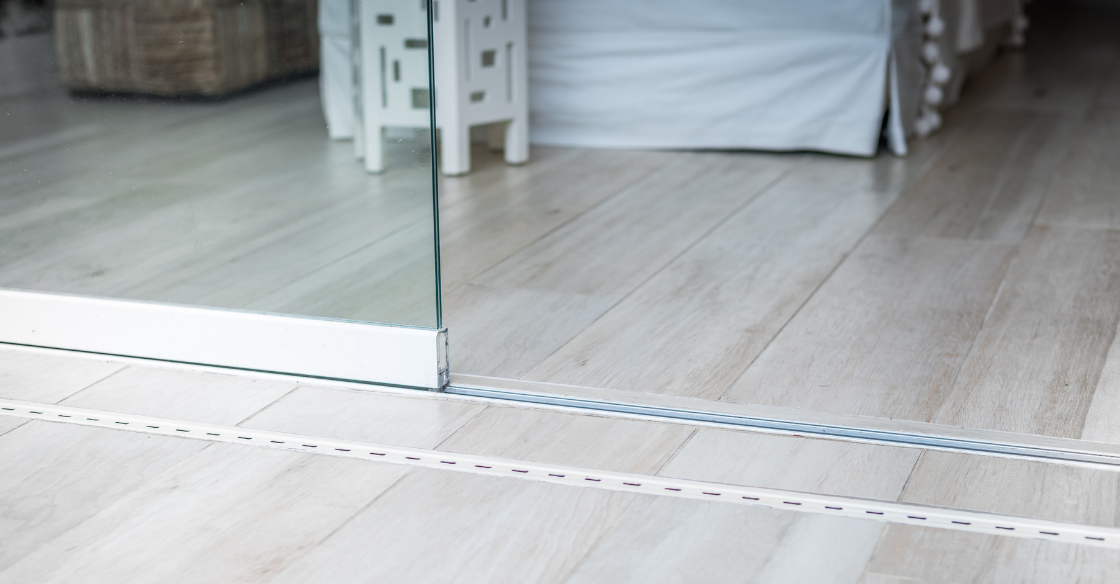 Using a slightly greased cloth to wipe off your tracks is usually sufficient to your sliding glass doors operating smoothly, but if you notice some resistance to movement, you may need to remove the door for a thorough cleaning. Following these steps to safely remove your sliding glass door and clean the tracks:
1. Pull out the sliding door
You can remove your sliding glass doors in one of two ways: (1) grasp the door on each side and lift upwards as you pull it towards your body, or (2) raise the lower rollers off the track using a screwdriver and then pull the door towards you as you lift it upward.
2. Clear out the grime
Using the attachments on your vacuum, remove any dirt, sand, gravel, and debris in the door's track. Dip a toothbrush into acetone and rub the inside of the tracks to get rid of any remaining grime then wipe the tracks with a terry cloth towel.
3. Grease the tracks
After you've thoroughly cleaned the tracks, apply a small amount of lubrication to them and then put the door back in place. Open and close the doors a few times to make sure the lubricant covers all the wheels and tracks.
Step 2: Clean the glass surface
Once you get the sliding door rails nice and clean, it's time to wash the actual glass. You'll need the following materials: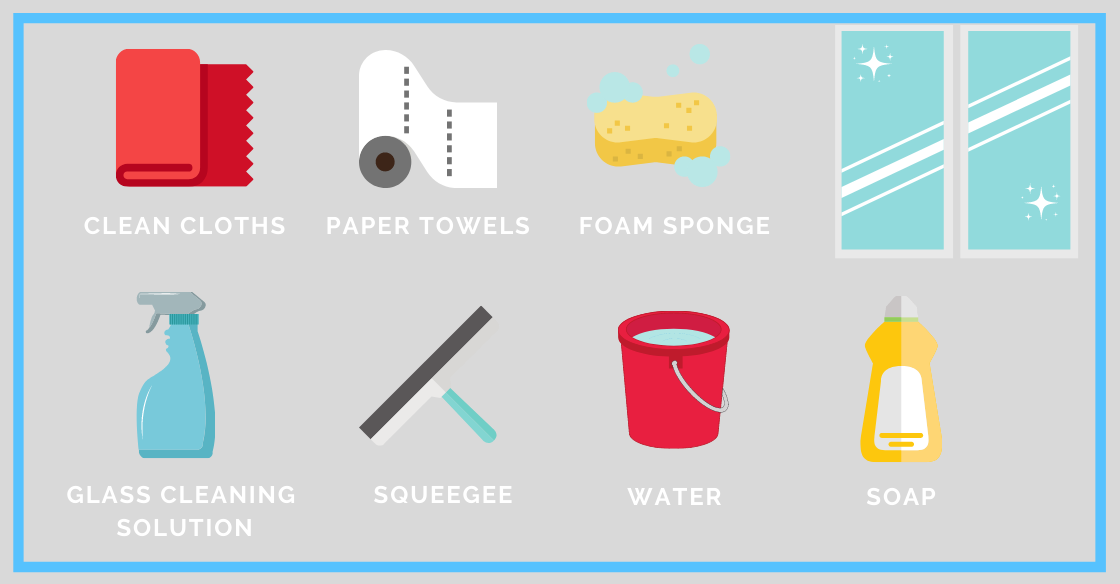 This next step can get messy, so if you live in an apartment building or condo, we recommend laying some rags on the ground below your glass to keep the soapy runoff from dripping down onto your neighbors.
To clean your sliding glass doors you'll need to:
Soak a clean cloth in soapy water and use it to wet the entire glass surface on both sides of the door and let it sit for a few minutes to loosen stubborn dirt
Wipe off the soap & water solution using a clean cloth or paper towels, working from top to bottom
Using a new cloth, foam sponge, or any other gentle applicator, apply the glass cleaning solution to both sides of the door
Once the entire glass has been covered with the cleaning solution, use a squeegee to wipe it off immediately to prevent streaks or blotchy spots
Tip: Instead of using a scraping tool to remove stuck-on debris, repeat these steps as many times as needed to prevent scratching on the glass
Step 3: Disinfect the hardware
Door handles tend to get heavy traffic and usage, which makes them more susceptible to smudges, smears, and germs, so if you have hardware on your sliding glass door, make sure you don't neglect the handles during the cleaning process.
To clean the hardware you'll want to:
Use a damp cloth and warm soapy water to clean difficult spots on the door handles, making sure to clean the inside of the handles carefully
Spray the handles with disinfectant spray and wipe off with a cloth or paper towel
Polish any metal door hardware lightly after cleaning

Looking for More Glass Cleaning Tips?
Finding ways to keep glass doors clean can be a huge undertaking, but it's the best way to maximize their impact and bring stunning natural light into your home. Frameless glass door systems eliminate the need for door frame cleaning, so you focus all your attention on keeping the glass crystal clear.
Cover Glass USA is an investment in your home's appeal and overall value, thanks to premium Finnish engineering built into one innovative, intuitive solution. With its captivating design, and held in high regard by world-class architects, homebuilders, and real-estate developers - Cover Glass USA is a status statement of quality craftsmanship and dazzling beauty.
Visit us through one of our showrooms in Southern California or Austin, TX or request an online consultation to connect with our glass door and window experts to guide you through the best choice for you.
◊◊◊
Experience the difference. Choose Frameless. Choose Cover Glass USA.