Interested in installing frameless glass systems in your home or commercial property, but want to know what it'll look like first? The Cover Glass USA Visualizer is a project planning tool that allows you to see exactly what frameless glass systems would look like and how they will operate in your home from a completely virtual setting. Take a look at this guide to learn how to use our visualizer app to start redesigning your property with frameless glass.

Step 1: Upload a Photo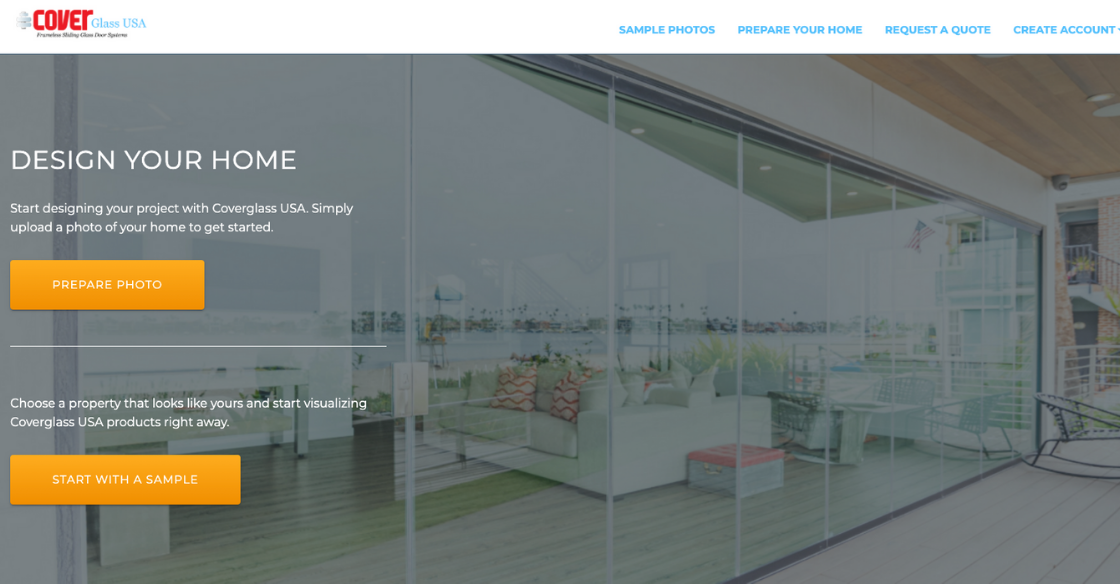 To begin using the Cover Glass USA Visualizer, you'll need to upload a photo of the area of your property you'd like to visualize with frameless glass. We also have about 20 sample photos that you can use to visualize frameless glass systems in bedrooms, living areas, kitchens, patios, and balconies. To use this feature, select a photo that looks similar to your home by clicking the 'Start with a Sample' button.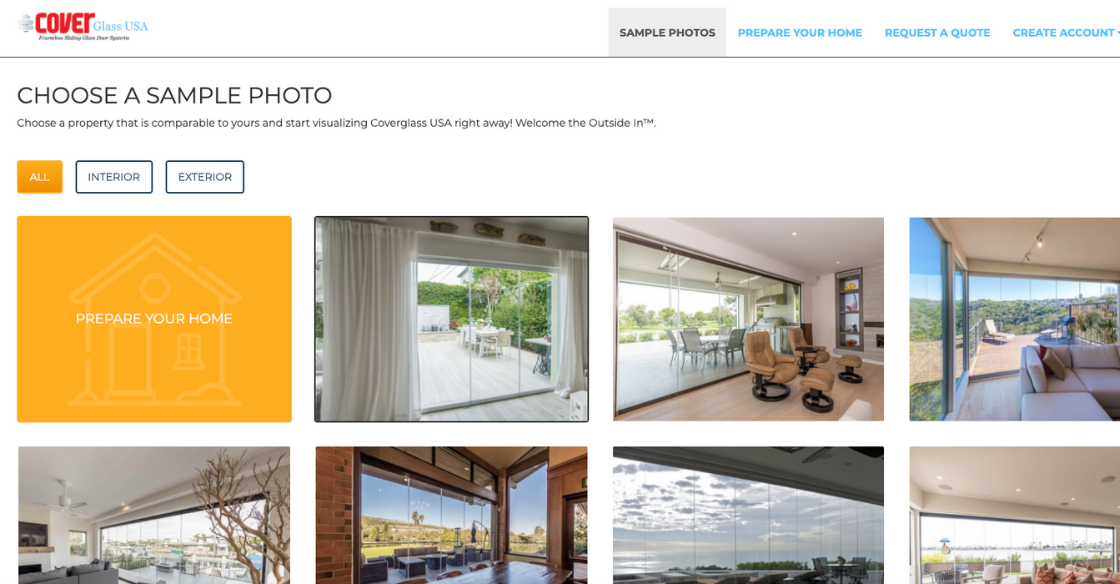 If you choose to upload your photos, click on the 'Prepare photo' button, and you'll be prompted to drag and drop or upload the images of your home you'd like to visualize with frameless glass.
For best results, make sure your image follows these guidelines:
Minimum 1600px wide and landscape orientation
JPG, JPEG, or PNG formats (Cannot accept blueprints in PDF format)
Maximum file size of 16 MB
A clear view of the subject with no obstructions
High-quality image with no blurriness
Once you've uploaded your photo, click the 'Use your uploaded photo' button to begin using the visualizer app.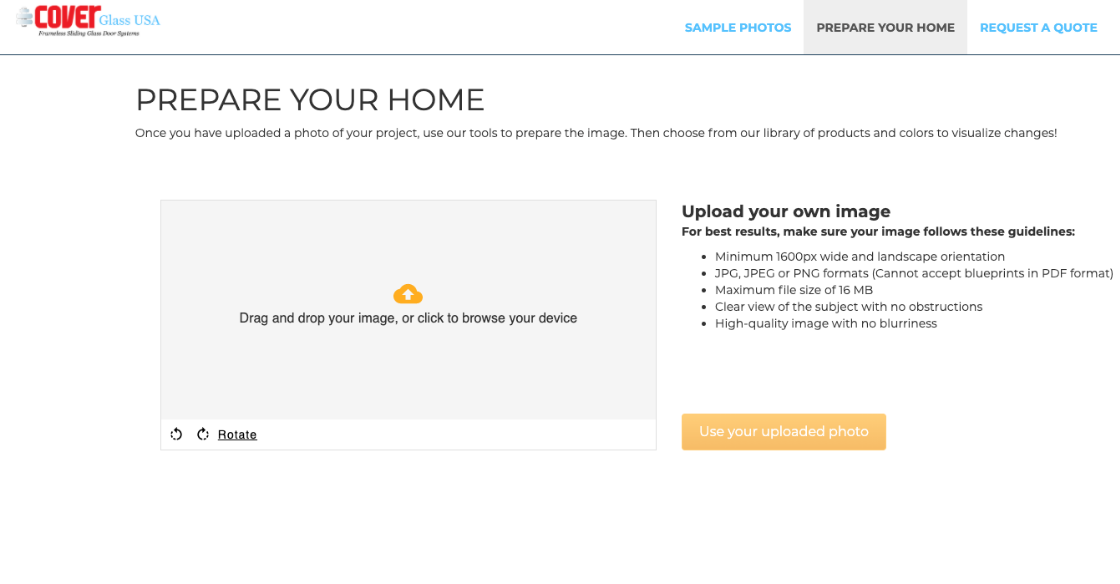 Step 2: The Specifications
After you upload your photo of the area you want to visualize with frameless glass, you'll be redirected to an editing screen where you'll be prompted to answer a few questions about your project. These questions will help set the specifications and measurements of your project to improve the visualizer app's accuracy.
The questions are as follows:
1. What Type Of Project Is This?
Are you visualizing exterior or interior products? Select the option based on the orientation (inside or outside) that you'd be looking at the glass from your uploaded photo.
2. Set The Project Scale
Tell us how large the subject of the picture is in real life. Click or tap on the bottom and top of the opening area to install a frameless glass system to draw a measuring line. You can adjust this scale with actual measurements if you have them.
3. Masking Areas
Here you can mask the areas where you want to see frameless glass in your photo. You have two options:
Mask Foreground: Outline anything that may be obstructing the area where you wish frameless glass, such as trees, plants, furniture, etc.
Mask Frameless System: Input the existing system into the opening by outlining the masking area and dragging the corners to fit the desired space.
Once you've masked the appropriate areas of your photo, click the 'Done' button.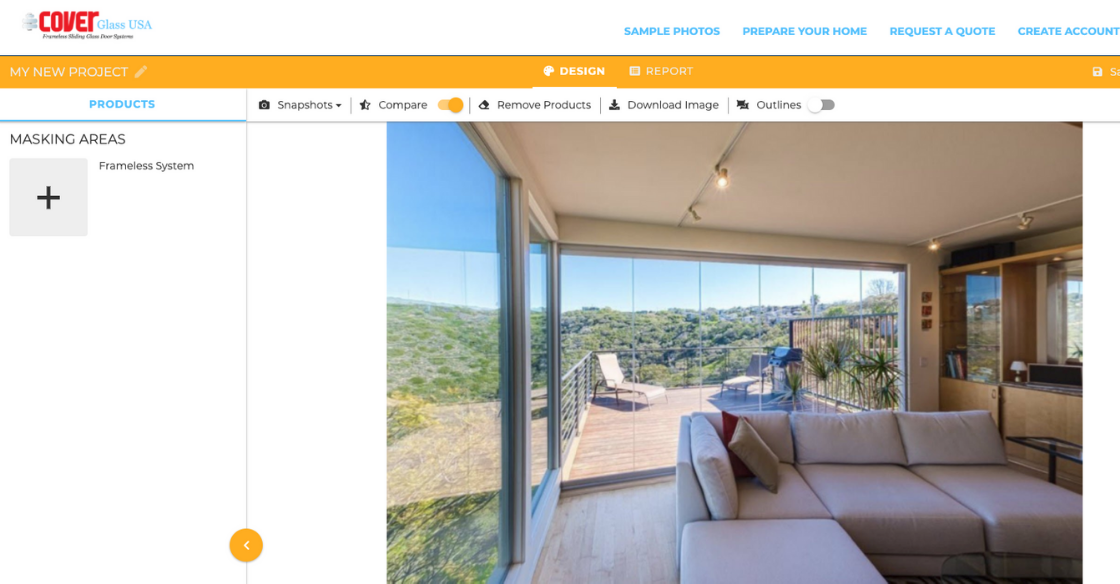 Step 3: Customize Your Frameless Glass System
After you've set your project specifications and selected your masking areas, it's time to customize your frameless glass system. You'll see a screen with your photo, and to the left, there will be a bar with your selected masking areas. Click the '+' button next to one of those masking areas to customize the frameless glass system that you want to visualize there.
An editing window will pop up where you can adjust the configurations, glass type, background view, and hardware, tracks, and side jam color. Once you've customized the frameless glass system to your liking, click the 'Apply' button.
After you click the 'Apply' button, it will automatically put the system you've created into your selected masking area. To see what your system would look like in an open position, go back to the custom settings, click the 'Configuration' tab and select either 'Open-Left' or 'Open-Right'.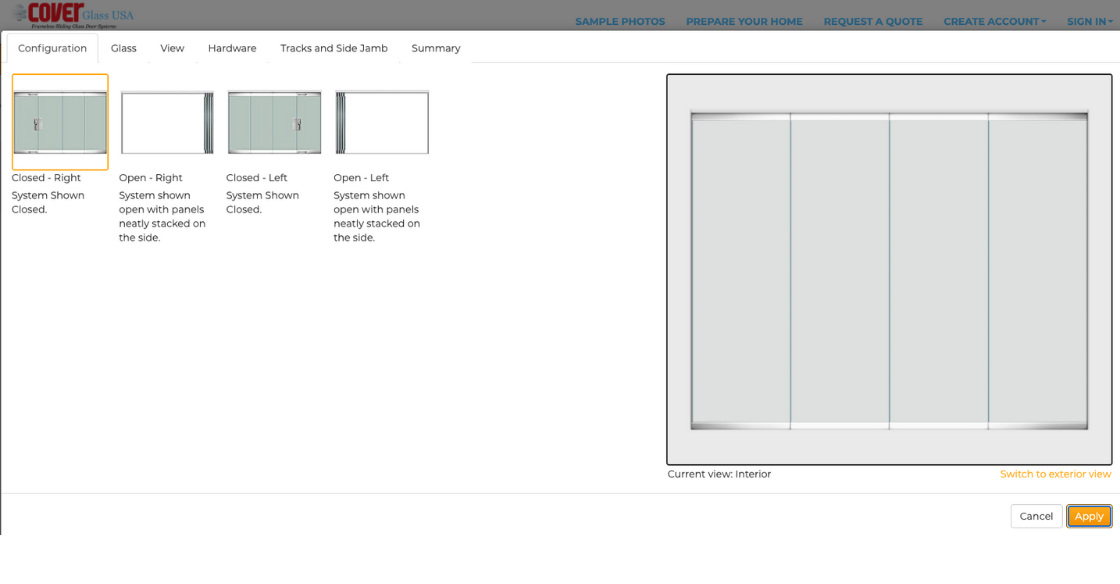 Step 4: Download
Once you're happy with the visualized photo project, you can download the image to share with your architect, interior designer, contractors or paste it to your vision board. To download the image, make sure you're logged in and select 'Download Image' in the visualizer app's top bar. You can also create a PDF report to share with your renovation team by selecting the 'Report' button in the top orange bar.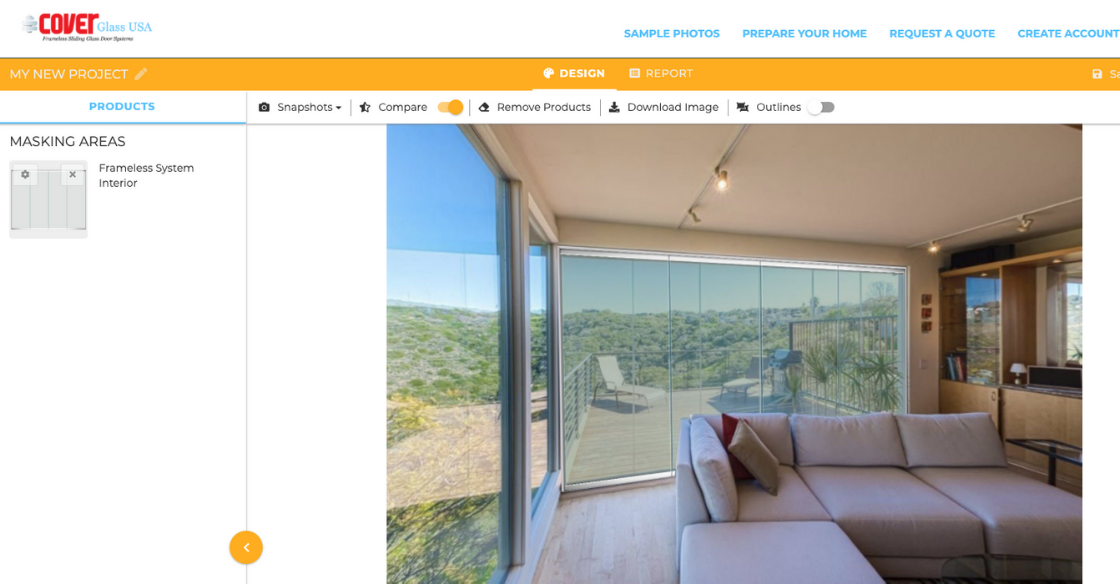 Step 5: Save Your Project
Finally, once you've finished designing your project, you'll want to save your work if you're going to come back and edit it in the future. On the visualizer app's design page, click the 'Save' button in the orange bar's top right corner. Then, once you toggle over to the 'My Projects' tab in the navigation bar, you'll be able to see and edit all of your existing visualizer projects.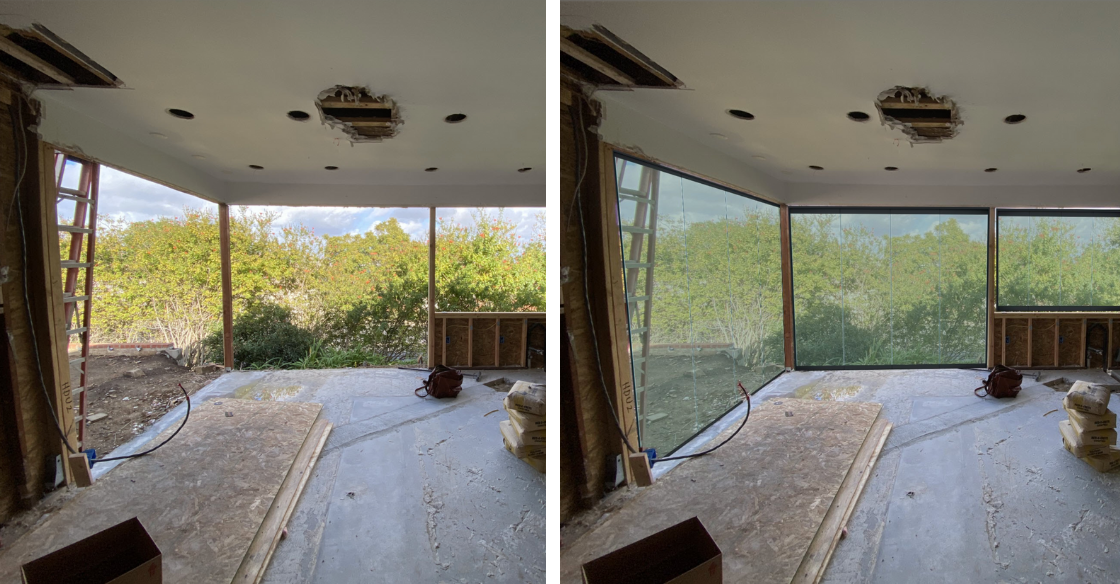 Experience Frameless Glass In Your Home with the Cover Glass USA Visualizer App
In a time where we're all still doing our best to socially distance, home renovation projects can present their fair share of obstacles. Luckily with the help of our Cover Glass USA visualizer app and a bit of patience, we've found some creative ways to help you move forward with your remodeling projects and incorporate the latest 2021 residential design trends into your home this year.
Cover Glass USA is an investment in your home's appeal and overall value, thanks to premium Finnish engineering built into one innovative, intuitive solution. With its captivating design and held in high regard by world-class architects, homebuilders, and real-estate developers -- Cover Glass USA is a status statement of quality craftsmanship and dazzling beauty.
Visit us through one of our showrooms in Southern California, Texas, Arizona, or Nevada, or request an online consultation to connect with our glass door and window experts to guide you through the best choice for you.