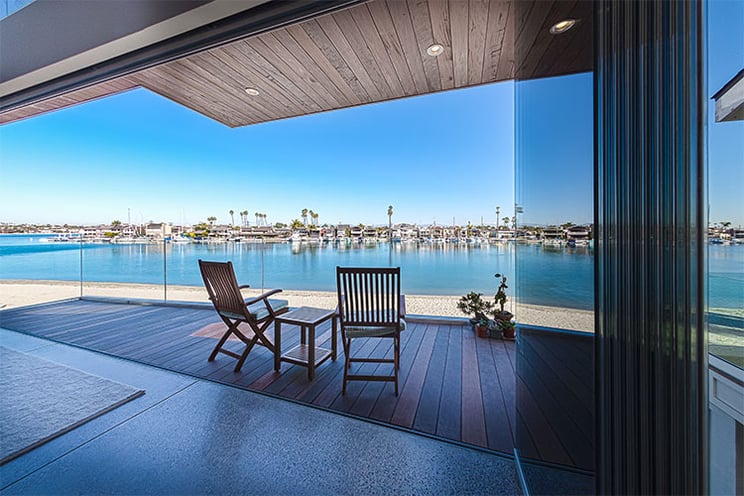 Work stress is one of the biggest killers of productivity — it is impossible for employees to stay focused if they are unable to keep calm at work. As well as encouraging employees to use their own tactics, business owners can use the following ideas to help teach employees how to handle stress at work.
De-Stress Tips for Busy Workers
Enjoy Nature
Even when they're stuck inside, workers should still be given a chance to enjoy nature. Research has found that listening to nature sounds or even looking at pictures of nature can help reduce stress, increase focus, boost mood, and improve productivity. Taking a break of less than a minute to look at calming nature scenes or escape into blissful sound waves can help reduce errors and improve performance.
Business owners can consider sending out links to nature-inspired playlists or photos of relaxing nature settings in a weekly newsletter. You can also Welcome the Outside In™ by incorporating frameless sliding glass doors into your floor plan, essentially bringing the outdoors to your workplace.
Take a Break from Digital Screens
Staring at a screen all day is bad for the eyes and tiring for the mind. Unfortunately, much of work today involves digital screens, which can make it difficult to take a break. However, when employees better organize their day, they can reduce screen time. Share these work techniques with your employees:
Cut out all ineffective tasks spent on a computer or phone from your day. You can waste hours when you spend your time replying to non-urgent emails, becoming distracted on social media, and surfing the web without a clear purpose.
Make a to-do list. When you know what you need to achieve, you can better prioritize and focus on the tasks that matter. You will also finish the work that involves a digital screen sooner. To further reduce screen time, make sure to schedule a few activities that involve no screens, such as discussions with coworkers.
Whenever you're on a break, keep your phone in your pocket. Instead of using your free time to increase your screen time, take a walk or read a book.
Seek Human Interactions
Working alone is often necessary, but it can be lonely. Whenever employees are tackling a task that could benefit from collaboration, managers should encourage them to gather in a space with other workers. Ideally, your workplace will include areas where employees can work together, brainstorm ideas, or just offer help and support. If you have limited space and employees frequently need their own areas, you can create a flexible space using interior glass walls.
Meditate
Meditation is a top way to de-stress at work. Although it can be a solo activity, it is often more effective and enjoyable for a group. A flexible working space is also ideal for group meditation — you can organize a session every day. Using a frameless glass door system, you can form a space in which to meditate for a few minutes and then instantly convert it back into a work area when you're finished. Practicing mindfulness at work can help you de-stress and increase your productivity levels.
Read: Office Productivity - More Effective Work Habits
◊◊◊
Experience the difference. Choose Frameless. Choose Cover Glass USA.
Cover Glass USA serves the Southern Californian region, including Malibu, Calabasas, Santa Monica, Newport Beach, San Diego, Santa Barbara and other beautiful cities.