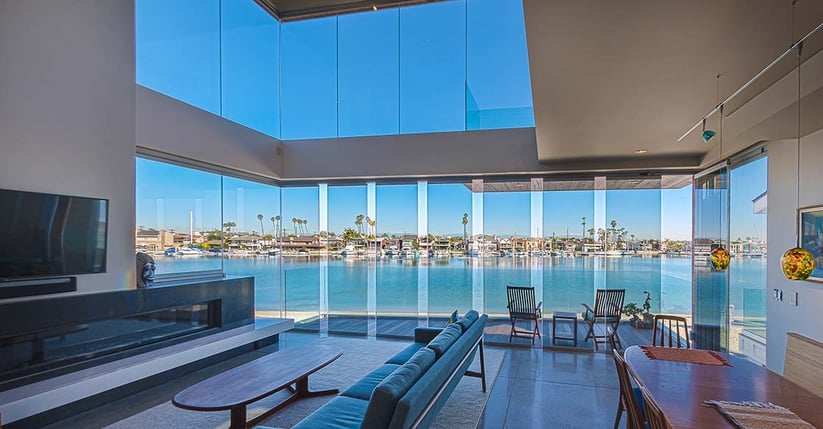 Glass is continuously becoming more common in modern architecture. This is partly due to the improvement of glass insulation, protection, and solar filtration. One of the more exciting improvements in the evolution of glass is Low-E (low emissivity) and the diverse benefits that come along with it.
What is Low-E Glass?
Low-E is a transparent window coating designed to minimize the penetration of Ultraviolet (UV) and Infrared light while allowing the passage of visible light. So, why do we use Low-E on our exterior frameless folding glass doors and windows, and what does this mean for you and your home? Continue reading to learn about the extensive benefits of this new material.
What are the Benefits of USING LOw-E Glass IN YOUR HOME OR ARCHITECTURAL PROJECT?
1. Minimize Ultraviolet Light
UV and Infrared light are not only harmful to you, but are also the cause of sun-bleached carpets, floors, and furniture fabric. The sun's UV rays beat down on your furniture and home interior throughout the day causing it to lose its color and fade. Thanks to Low-E glass, these effects are greatly minimized, ensuring that your home's interior stays beautiful for longer.
2. Save Costs on Utility Bills
Exterior light coming through the windows can be a major source of heat. This is the reason that your home and automobile heat up in the midday sun. Heat streaming through glass windows increases cooling costs and makes a home less comfortable during peak hours of sun exposure. Low-E glass reduces the amount of Infrared light that enters the home, reducing your cooling costs. This way, your home's temperature is more stable throughout the day and night, which means you will be less inclined to switch on the heat once the sun goes down.
3. Visible Light
While tinting windows allows you to reduce the amount of Infrared and Ultraviolet light that enters your home, it also reduces the amount of infrared light that allows you to see. The Low-E coating on our sliding windows and doors allows the passage of visible light to provide beautiful natural light, which in turn reduces your cost for in-home lighting.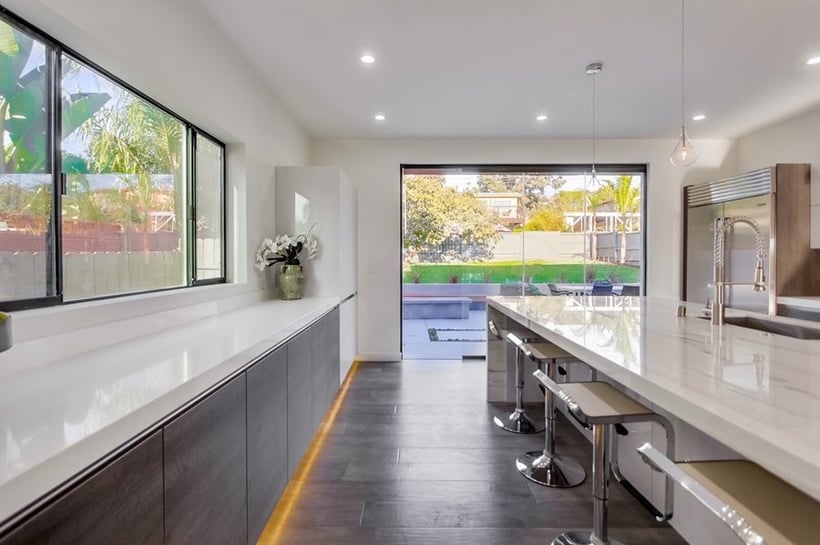 4. Environmental Incentives
Did you know you may be eligible for a tax credit, rebates and or monetary incentives if your home's windows meet Energy Star Requirements? Low-E glass windows are a great way to stay comfortable, become more environmentally conscious, and provide serious opportunities to save money on your next window installation.
5. Reduce Condensation Marks
Low-E glass windows are also great for eliminating unseemly condensation marks that are visibly present during warmer temperatures. When hot air comes in contact with cool window surfaces, moisture is created, which quickly spreads across the entire window frame. Low-E glass windows keep your glass looking clean without the visibility of water droplets due to its ability to reflect unwarranted energy back into the direction from which it came.
From stopping harmful UV rays to reducing pricey energy costs, Low-E glass provides numerous benefits for every home or commercial project. Get a free, custom quote to see how Low-E glass doors and windows can be beautifully and easily included in any new build or remodel.
See our breathtaking low-E glass frameless doors