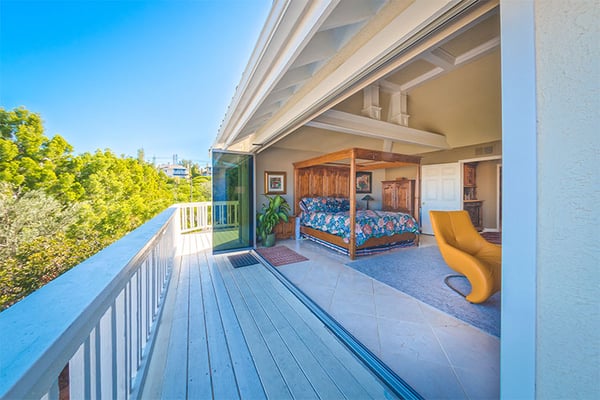 Using sliding glass panels to your home adds new dimensions to your experience of being there. Suddenly, you are able to see the entire view across the room or use the room in a completely different way than before. You open your home up to the possibility of something more. Imagine a seaside or mountain top retreat right in your living room.
Moreover, these ingenious panels slide away easily, with just a little push. This is so much more elegant than heavy wooden doors that can jam tight whenever it is damp outside. Using sliding glass panels instead of metal- or vinyl-framed ones means the end of clunky action and unsightly frames that partly obscure our enjoyment of the full view.
1. Replace Existing Doors and Windows
Take a careful look at your existing doors and windows. You have the perfect workaround for rotting woodwork, rusty metal, and tarnished aluminum when you use sliding glass panels. Tempered glass is durable, low-maintenance, energy efficient, and aesthetically pleasing. Replacing existing doors and windows with sliding glass panels is great option for homeowners who are seeking to cut maintenance and repair costs.
Cover Glass USA features a lifetime warranty on their specially issued glass used for their sliding door and window systems.
2. Reuniting the Family by Installing Sliding Glass Doors
We are more connected digitally than ever before. Shouldn't your home reflect your desire to maintain close, personal relationships with your loved ones? Having the family cook shut away in the kitchen and the kids doing their homework in the den behind closed doors is hardly socially connecting. Consider knocking down a few interior walls and replacing them with sliding glass panels or doors. They are sound proof for times of intense concentration and easy to move when joining rooms and opening up the floor plan.
3. Incredible Outside Views by Using Sliding Glass Panels
Some older houses have their finest views blocked off by solid walls. These are easy to understand given the historic lack of efficient HVAC systems. Nowadays this need is gone and we are free to open up new vistas regardless of the orientation, thanks to Title 24 compliant glass. Imagine the fresh views you would have after installing sliding glass panels that are elegant without any frames.
Read: What is Low-E Technology?
4. Subjective Space in the Master Bathroom and Bedroom
Do you have a dark and cluttered bathroom that could use more light and purpose? Imagine replacing the intervening door and wall by using sliding glass panels instead. This simple project can add intimacy, incredible value to your home, and add delightful new light, function, and style to your life.
5. All Seasons Outdoor Spa With Glass Doors
Do you have a spa or pool out on a covered deck? The simple addition of sliding panels helps you retain heat for warmth and opens up the space to cooling breezes. They are the perfect solution to cutting energy bills and retaining heated water temperatures in your pool or spa.
◊◊◊
Experience the difference. Choose Frameless. Choose Cover Glass USA.
Cover Glass USA serves the Southern Californian region, including Malibu, Calabasas, Santa Monica, Newport Beach, San Diego, Santa Barbara and other beautiful cities.