Competition is fierce for developers trying to sell their builds to a pool of potential homebuyers in Southern California. Gone are the days of people wanting cookie-cutter developments. We've entered an era where unique homes with jaw-dropping features are in high demand. Enter Cover Glass. When building a new home, exterior frameless glass doors are the perfect way to differentiate your next home build from the competition.
Here are the top four reasons why incorporating frameless glass walls into your next build will make all the difference to potential buyers.
TAKE ADVANTAGE OF THE VIEWS
"We didn't invent the view, we simply perfected it." - Cover Glass USA


Your construction site does not need to be overlooking the Pacific Ocean to have a view worth capitalizing on. According to MarketWatch, depending on the magnificence, uniqueness, and scope, a great view can add between 5% to 100% or more onto a home's potential selling price.
Cover Glass' frameless glass windows and doors offer an unobstructed view and provide unexpected benefits to the homebuyer. Whether the view is a small park or bluffs overlooking the Pacific, you want to make sure you are capitalizing on it in a price-efficient way and is a value-add to the home in more ways than one. From relaxing on the couch watching a movie to cooking dinner in the kitchen, your home will feel constantly surrounded by the outdoors with frameless glass walls.
ENERGY EFFICIENCY
Our exterior glass sliding doors and windows are more than meets the eye. All of our frameless glass panels include an invisible Low-E (low emissivity) coating. This hardworking coating reduces the amount of infrared light that enters your home. Simply put, it protects you and your family from harmful UV rays and prevents your home from overheating via sunlight let in through doors and windows.
With Cover Glass' Low-E coated frameless glass panels, you can enjoy beautiful, unobstructed views in the summer without having to crank up the air conditioning (and thus your energy bill.)
Some builders opt for tinted windows when trying to reduce the amount of infrared and Ultraviolet light let into the home. However, specific window tints can actually cause homeowners to need to use more in-home lighting and potentially cancel out any energy cost savings. Exterior doors or frameless windows with Low-E coating give you the best of both worlds: Cover Glass' Low-E coated frameless glass panels can help reduce your electricity bill by still allowing in beautiful natural light.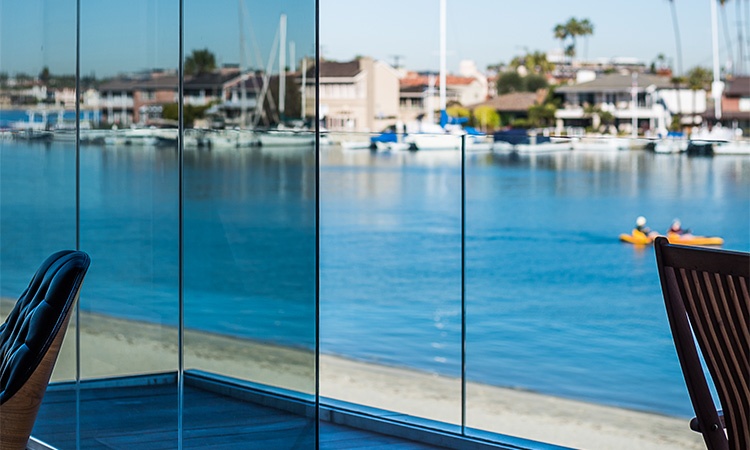 SEAMLESS INTERIOR/EXTERIOR SPACES
One of the major benefits of California living is a carefree, indoor-outdoor lifestyle all year long. Sliding glass patio doors, whether in your kitchen, living room or bedroom, can give you the ability to move seamlessly between interior and exterior spaces. By merging the indoor with the outdoor via exterior sliding glass doors, you can expand the size of your home for social gatherings, creating plenty of space for all of your guests.
The look of floor-to-ceiling, frameless glass sliding doors gives a home a clean, airy feel. The seamless indoor-outdoor feel afforded by large frameless glass windows and doors is a defining characteristic of contemporary architectural style.
If you are a parent, expansive frameless sliding glass doors can give you an obstructed view of your children playing outside and thus some additional peace of mind.

Turn the Corner
Our unique design allows you to utilize frameless glass doors and windows in a variety of innovative ways. They can be customized to match the needs of any room or design style, including:
Counter height systems
Curved glass
Folding glass combination systems
Interior floor-to-ceiling glass walls
And more!
As long as we can seal the channel, we can work with you to customize your sliding glass door design.


When building a new home, don't settle for the ordinary; capitalize on ways to create an innovative home that differentiates your home from the competition. Check out our gallery of commercial and residential projects for additional inspiration, or contact us to get a free quote today!
◊◊◊
Experience the difference. Choose Frameless. Choose Cover Glass USA.