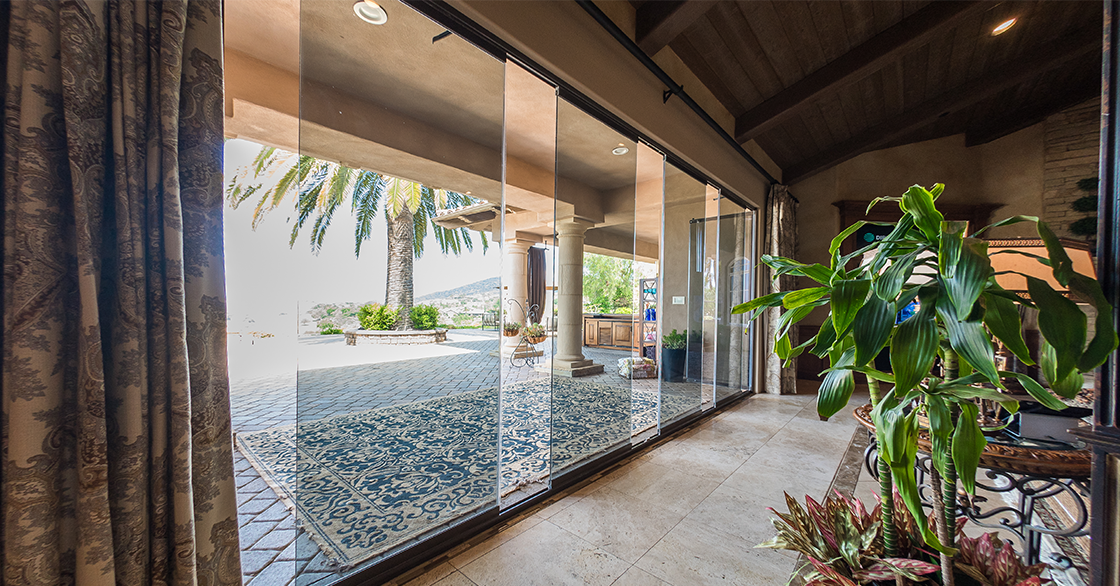 Imagine an entire wall of glass that's a system of frameless doors, allowing you a unique, uninterrupted view of the outside.
Our system is gracing homes in more than 25 countries around the world, and more than 3,000 homes right here in Southern California!
Want to know why?
Here are four amazing features of our Frameless Sliding Glass Doors that might convince you that it's the right patio or balcony door system for you.
1. Our Panels "Stack" When Opened (and Stay Stacked!)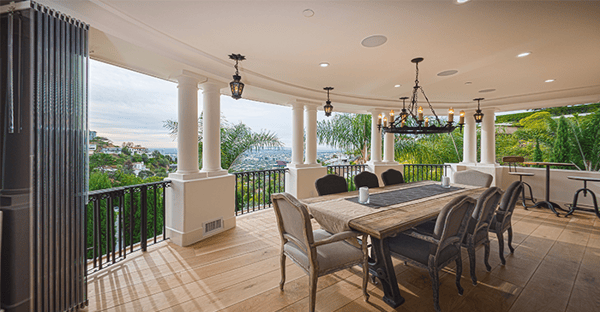 Cover Glass doors slide open from left to right or right to left and stack against one another. Once stacked, powerful magnets hold them securely in place. But here's the best part: When stacked, each panel takes up only 1 inch of space. That gives you much more space for entering and exciting than you'd get with a typical patio door, and it looks sleek and modern as well.
2. Entirely Frameless for a Sleek, Clean Look
No unsightly track and no uneven surfaces are just two of the many reasons you'll love your new Cover Glass System! The recessed track can be flush with the floor, and the upper track can be hidden behind your wall, and because they're also frameless, they create the appearance of a glass wall that you can open and close at will.
3. Low-E Glass Doors
The glass used in Cover Glass systems is stronger than ordinary tempered glass (it's the latest generation of Low-E glass that has been tempered and laminated, with polished edges). It's built to stand up to whatever Mother Nature (or the neighbor's ball-wielding kid) decides to throw at it, too -- even hurricane-force winds. Cover Glass is fully compatible with all alarm systems, and each door locks securely via deadbolt from the inside, so you not only feel safe -- you are safe. (Incidentally, our panels can't be lifted out of their tracks, so there are no worries about an intruder breaking in by merely removing a panel.)
4. We Offer the Ultimate in Flexibility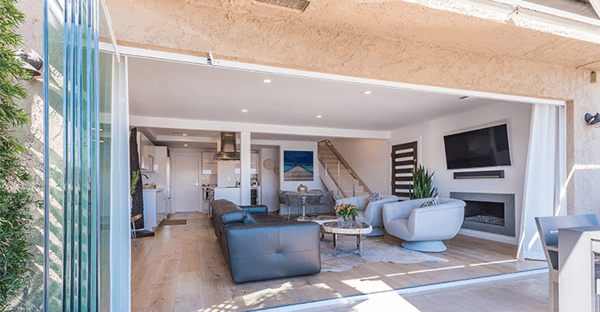 Since you can choose to open one door at a time -- or all of them at once -- you get to decide what works best for you at any given moment.
Need a lot of room for a crowd when entertaining?
Open them all and make passing through a breeze! Feel the need for little fresh air, but would slightly not open any of the doors? Another unique feature of Cover Glass is the inherent ability to ventilate your space naturally. (Since each folding glass door panel slides individually, users can choose to open one or a few panels to create gaps within their system for natural air flow.

And what if you're not looking for a straight line of folding glass doors? What if your space includes some tricky angles? It's not a problem with Cover Glass! Thanks to our unique, flexible track system, your wall of glass doors can quickly turn a few corners.

More Reasons to Love Cover Glass
Open floor plans are all the rage these days, and uninterrupted vistas are one of the reasons for their popularity. Cover Glass enhances an open concept, allowing you to invite nature inside, blurring the line between indoors and outdoors, and making your living space feel even more expansive at the same time. In fact, installing Cover Glass folding patio doors will increase the value of your property!

Another important fact about the Cover Glass patio door system? It's fully approved by the National Certified Testing Laboratories and is California Title 24 (covering building energy efficiency standards), so you can feel confident in both the quality and performance of a Cover Glass System.

Installation is Quick and Precise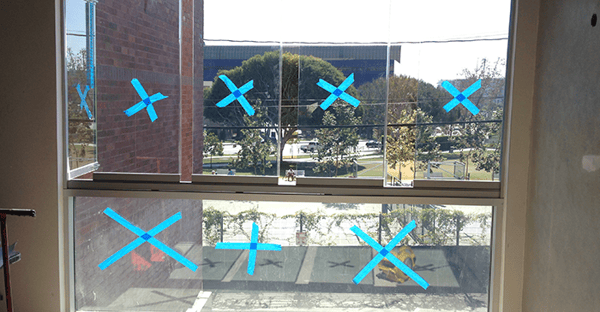 Once you order your Cover Glass frameless door system, it will arrive and be ready for installation in just weeks. Then, our expert installers can install up to 18 feet of Cover Glass per day.
Want to have an accurate estimate on your project?