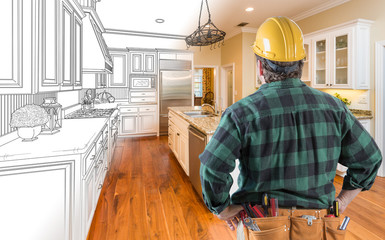 Knowing the 2020 trends for interior design when you're remodeling your home (or even just a room in your home) will not only inspire you — it will also ensure that your property is as stylish as possible. Maximize your home value and appeal for a sale later and create a comfortable living space for your family now.
Nature in the Home
A couple of 2020 trends for interior design have their roots in nature. The first, engineered environment, and the second is organic emotion.
Engineered Environment
The engineered environment is all about transforming discarded items, waste products, and organic materials into something new and useful. This can involve anything from turning recycled plastics into furniture to making resins from peppercorns and salt. Whatever the case, the ordinary course of things is reversed: it is the manufacturing process, rather than nature, that engineers an environment.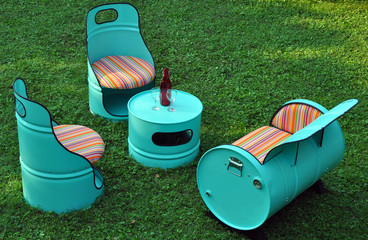 Sustainability has been a significant theme for home design trends over the last few years. Engineered environment goes a step further by combining sustainability with a sense of preserving nature. At the same time, it creates a variety of textures, color combinations, and appearances.
Organic Emotion
Like the engineered environment, organic emotion is about connecting with nature. However, it is also concerned with bringing health and wellness to your home through meaningful planning.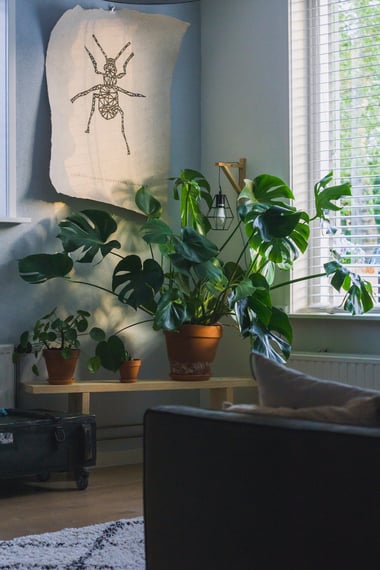 Using biophilia in designs is central to organic emotion. Biophilia refers to the need to interact with nature. In home design, this involves turning everyday spaces into places to relax and where you can take time for yourself — rather than just going through the motions. For instance, this could mean using materials that are warm to the touch in the bathroom.
Colors are also important in organic emotion. The trend favors natural tones: from off-white through browns to gentle golds, blues, and greens. Rather than solids, these colors are layered, streaked, and cloudy.
Remodeling the Kitchen
In the kitchen, we will continue to see a shift toward open floor plans — a trend that began several years ago. Not only does this layout make the kitchen larger, but it also prevents a sense of separation from the rest of the home. As a result, more family members can be part of meal preparation and hosts have more opportunities to mingle with guests at parties. Homeowners with particularly large kitchens will be able to take advantage of another of the 2020 trends: double kitchen islands.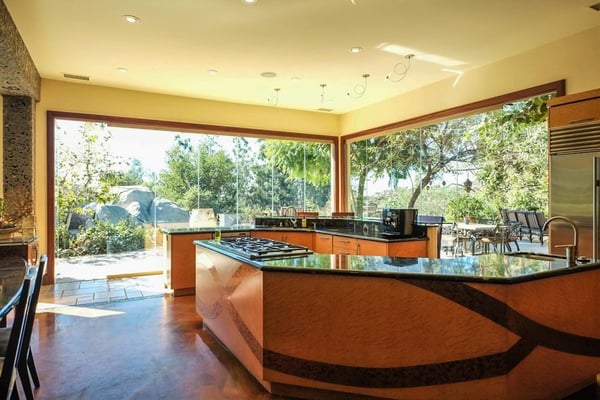 A second trend is handleless cabinets, which create a sleek appearance in the kitchen. Cabinets can have push-open doors or recessed handles. The latter is especially effective when the lining is in a contrasting color and material to the rest of the cabinet.
Creating an At-Home Office
Rather than a full remodel, your plan for 2020 could be to create an at-home office. As more people than ever start working from home, combining living spaces with a workspace is a trend in its own right.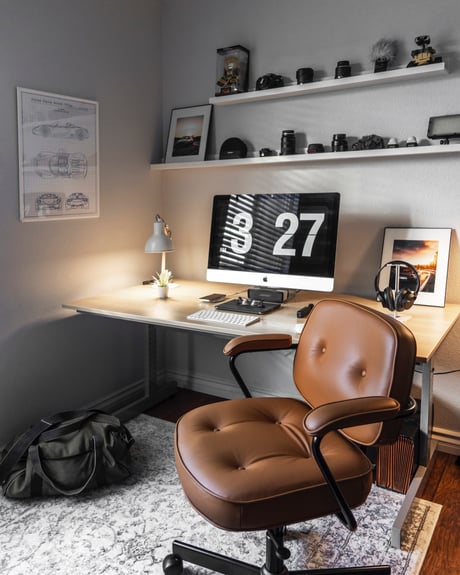 There is a range of considerations to take into account to ensure you effectively separate home life from work and create a space where you can concentrate. A trend specific to 2020 is light-colored floorboards or laminate flooring. These types of flooring provide a calming yet professional appeal. They also bring a sense of spaciousness to the room, which is excellent if your space is on the smaller side.
Colors and Geometric Shapes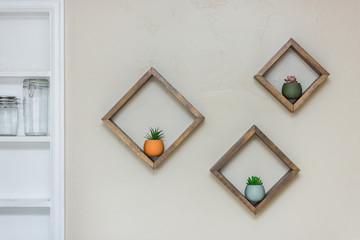 To tie everything in your design together, you need to choose the right colors — and, perhaps, patterns, as geometric shapes are going to be big in 2020.
Neutrals Shades
It is no surprise that neutral tones are one of the 2020 trends for interior design. This is good news if you have done any work on your home in the last few years, as the likelihood is you used at least some neutral colors.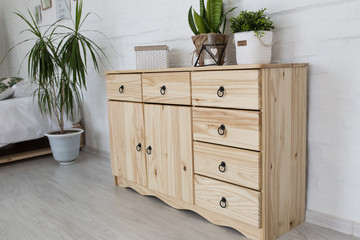 However, there will be a change as to exactly which neutrals are the trendiest. Gray is still a top choice, but preference is moving more toward bone, wool white, and other off-white shades. In general, there will be a shift away from cool neutrals toward warmer tones.
Blues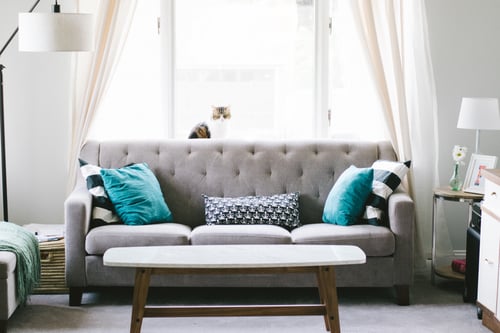 Blue started gaining traction in 2019, and next year it will be even more significant. There will be no more cobalt blue and certainly no powder blue — the tones you'll see will be mostly dull shades that pair well with neutrals. This includes muddy, moody, and sometimes even deep and dark tones. Such shades are great for incorporating into the kitchen, such as for your island (or islands) and cabinets.
Geometric Patterns
Geometric shapes only became mainstream a couple of years ago and are appearing in even more places in 2020. As well as on walls (painted and in wallpaper), they feature on furniture, accents, and lighting fixtures. Some top ways to use geometric patterns include:
On a single piece of furniture in an otherwise neutral room.
On an accent wall with plenty of negative space (white or off-white).
To create an architectural feature like a shiplap, wainscoting, or tongue and groove in a wall.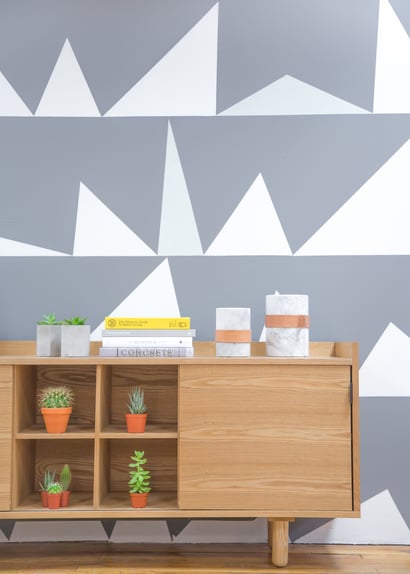 As the modern design is all about streamlined appearances, geometrics need to use thin, clean lines. Plus, you should avoid including multiple patterns in the same room — using too many geometric designs can be overwhelming, which spoils the effect.
Sliding Glass Systems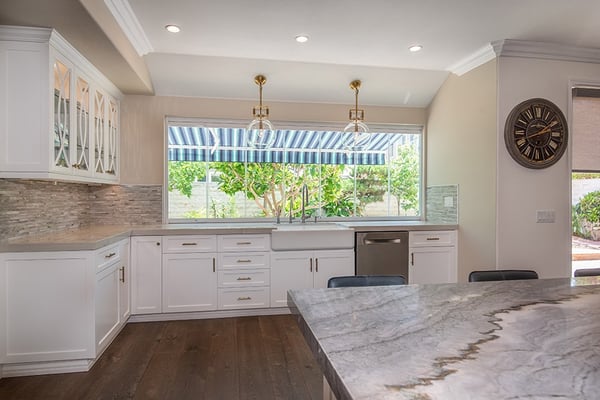 Sliding glass windows and doors can form part of or enhance many of the above 2020 trends for interior design. At Cover Glass USA, we have frameless, top-hung systems that are ideal for both indoors and outdoors.
Connect with Nature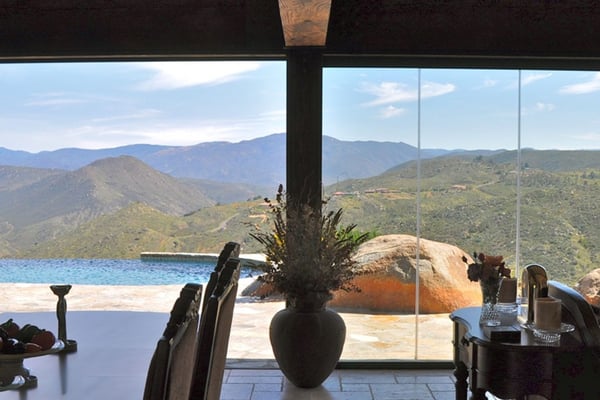 There are more ways to feel close to nature than bringing eco-friendly and organic materials to your interior design — you should also take advantage of nature just beyond your home. Frameless glass doors offer uninterrupted views. Plus, the panels stack on top of each other, out of the way, allowing you to open your home entirely to the outdoors.
Open Floor Plans
Much of the time, having an open floor plan for your kitchen is ideal. However, there may be occasions when you'd prefer something more intimate. This is possible with a flexible space created by sliding glass doors — you can switch from an open to closed floor plan whenever you want.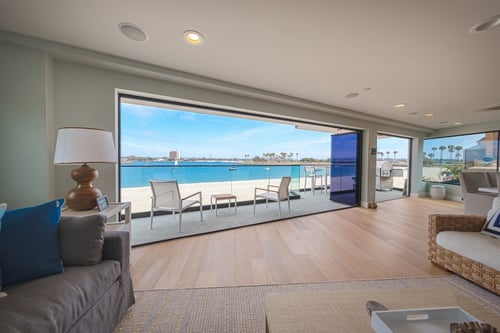 A similar setup could be useful for creating a home office, especially if you don't have enough space to dedicate an entire room to an office. Create a glass enclosure that you can open and fold to the side whenever you want a larger area to use for something else.
Complement Your Color Palette
Sliding glass systems are customizable down to the track colors. Options like gold and black are particularly complementary to the trending colors for 2020.

Trying to ensure you incorporate trends into your home design, all while being environmentally sustainable, can be a difficult task — but Cover Glass USA can help. With Cover Glass sliding doors, you'll enhance your interior aesthetic at the same time as lowering your home's carbon footprint; for instance, our glass is energy efficient and reduces your reliance on artificial light. Request a quote for a sliding glass system made to suit your home.