When planning to improve your living space, one of the best places to start are taking a look at your windows and doors. If you begin here, the next step is to assess the types of options you have for your home.
Since there are many styles and options to choose, we're going to compare and contrast two of the more popular alternatives: top hung glass doors vs. double hung windows.
To make the right choice, you need to know the characteristics of each option as well as the pros and cons.
Top Hung Glass Doors
A top hung glass system utilizes tracks or beams concealed in your ceiling so that it supports the weight of the door beneath. Your property design must allow for this when selecting this door system.
The effortless gliding motion of the door when opening and closing is perhaps one of the main attractions of top hung sliders. This is thanks to the weight-bearing top track that enables a soft and resistance-free motion of the suspended doors. The bottom channel serves as a stabilizer that helps keep the door in position.
Additionally, one other great benefit is the ability of top hung doors to follow curvatures if you prefer a more customized design compared to the conventional 180-degree approach.
If you are in the process of planning your project, it's important to mention these requirements and preferences to your home builder or architect so they can incorporate this in the design and planning phase.
Benefits of Top Hung Systems:
Cleaner appearance to match flooring and design
No tripping hazards
Seamless operation
Can withstand against severe weather and wind
Protects against pollution, dust due
Enhanced thermal and sound insulation
No exterior entry for intruders
Quiet when opening
Easily installed with sliding glass door drainage
But with Cover Glass USA, we take our top hung systems a step further, as all the panels can stack out of the way, and create air gaps to allow a breeze or fresh air to enter your home.
Double Hung Windows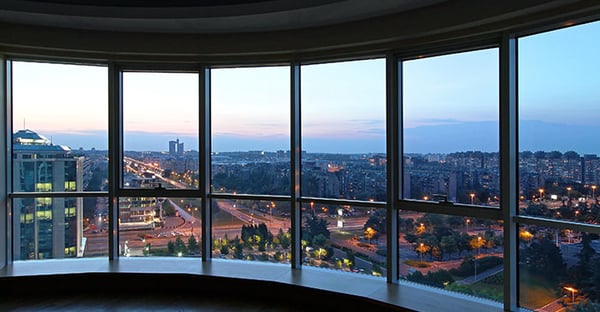 Double hung windows feature two sashes, one on top of the other.
You can open either or both halves of the window, rather than just the bottom sash, as is the case with single hung windows. This is helpful for cleaning the exterior; plus, it allows more air to enter than with a single hung window.
However, there is no way of opening the window fully, like with top hung glass systems.
Benefits of Double Hung Windows:
Ease of cleaning
Low Maintenance
Cooling benefits
Versatile styles
Airflow
Compare & Contrast: Top Hung Systems vs. Double Hung Windows

Aesthetics
Both top hung glass doors and double hung windows enhance the aesthetics of a home. However, with double hung windows, you will have a frame blocking your view, whereas top hung frameless glass doors act as a transparent wall.
Space
Double hung windows do nothing to increase your space, nor even the sense of space. There is always a barrier between you and the outdoors.
Top hung glass doors from Cover Glass, on the other hand, can easily slide out of the way. This is excellent if you want to open onto a patio, balcony, or terrace to create the appearance of a larger room. When frameless top hung doors are completely open, it is not even obvious that they are there.
Flexibility
We already mentioned how you have different open options for frameless top hung systems.
However, their flexibility doesn't end there.
When you choose a design with a recessed bottom track, there is no physical barrier between the interior and exterior. This is particularly ideal for entertaining.
Double hung windows are far less flexible. They are either open or shut, and there's no way to use them to exit your home.
Energy Efficiency
Double hung windows and top hung folding doors can both be energy-efficient, especially when it comes to preventing temperature-controlled air from escaping. For cooling, though, low-e top hung doors are much better, as they allow more air inside, which may even limit how much you need to rely on your AC system.
Ventilation and Light
Both options will increase air flow and natural light, but the effects are much more pronounced with top hung glass doors. When you open all the panels and stack them to the side, light, and air are unrestricted. Furthermore, if you are worried about your home becoming too bright, you can always opt for tinted glass and keep the panels shut on the sunniest days.
Value
The many benefits of top hung folding glass doors add value to your home. They also make your home instantly appealing to potential buyers, reducing its time on the market.
It is clear that frameless top hung glass doors are the winner in the contest. Nonetheless, you need to bear in mind that some top hung doors are superior to others. The top solution for you will be one that you can customize, that features extra-strength, energy-efficient glass, and that uses recessed tracks. You can receive all this with Cover Glass.