Home invasions are a fairly common crime that impacts over 1 million homes annually. According to the FBI, a burglar strikes every 25.7 seconds in the U.S., putting homeowners across the nation at risk. Apart from the physical danger invasions can put you and your family in, they can also leave your most valuable possessions and finances vulnerable to theft and damages. Collectively, victims of property crimes (excluding arson) suffered losses estimated at $15.8 billion in 2019 alone.

Luckily, there are a few precautions you can take to protect yourself from these property crimes. Advances in home security such as camera surveillance, smart security systems, and burglar-proof windows and doors offer homeowners a safe and reliable way to secure their homes from intruders. Read on to learn how to protect your home with Cover Glass and other technologies to keep you, your family, and your possessions safe.

1. Intruder proof sliding glass doors
Home invaders tend to see sliding glass doors as a weak point in their target properties, making it crucial to choose the most secure glass systems. Traditional sliding doors installed with a bottom track can easily pop out of place or shatter when they aren't properly protected, creating an easy entry point for intruders. Securing your glass doors is a simple yet effective way to improve your home security and prevent invasions.
Here are a few reinforcements we recommend to help you secure your sliding glass doors:
Install a deadbolt
Add a strike plate
Upgrade to smart locks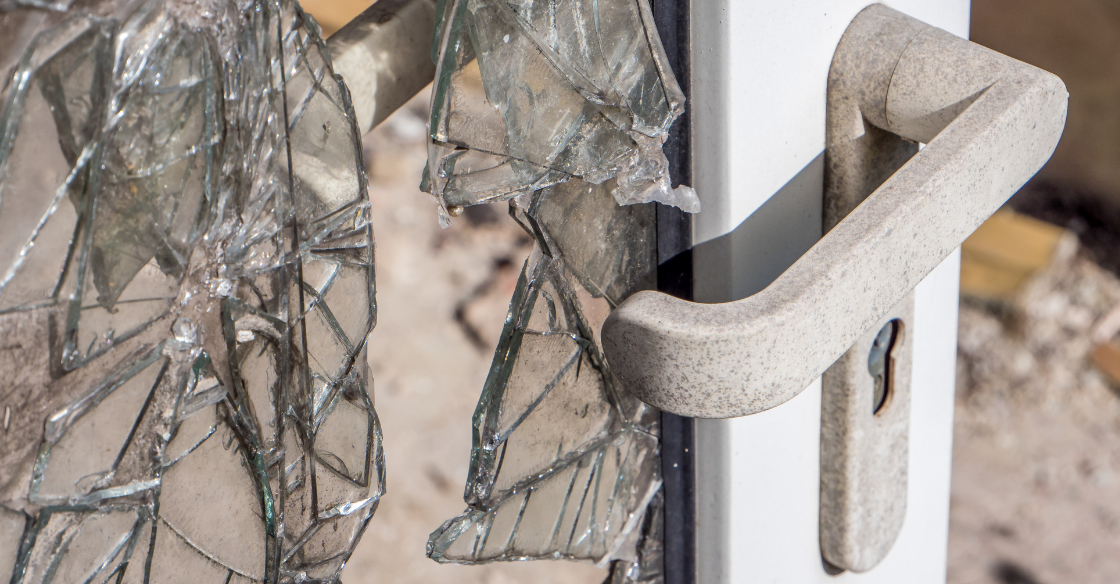 Cover Glass USA's specially engineered top-hung frameless sliding glass doors cannot be pried or lifted out of alignment, protecting against forced entry and high wind speeds. Top-hung door systems consist of specially designed panels suspended between our upper and lower steering profiles and fixed into our glazing channels with stainless steel fasteners, ensuring each panel is securely fit. Our systems also include a deadbolt that locks both at the top and the bottom of the first panel to the inside of our glazing channel. This allows for a seamless look while maintaining safety. Alternatively, if you prefer "essential entry access" from the outside or a lock for every panel, Cover Glass offers flexible security options that work for your family and lifestyle.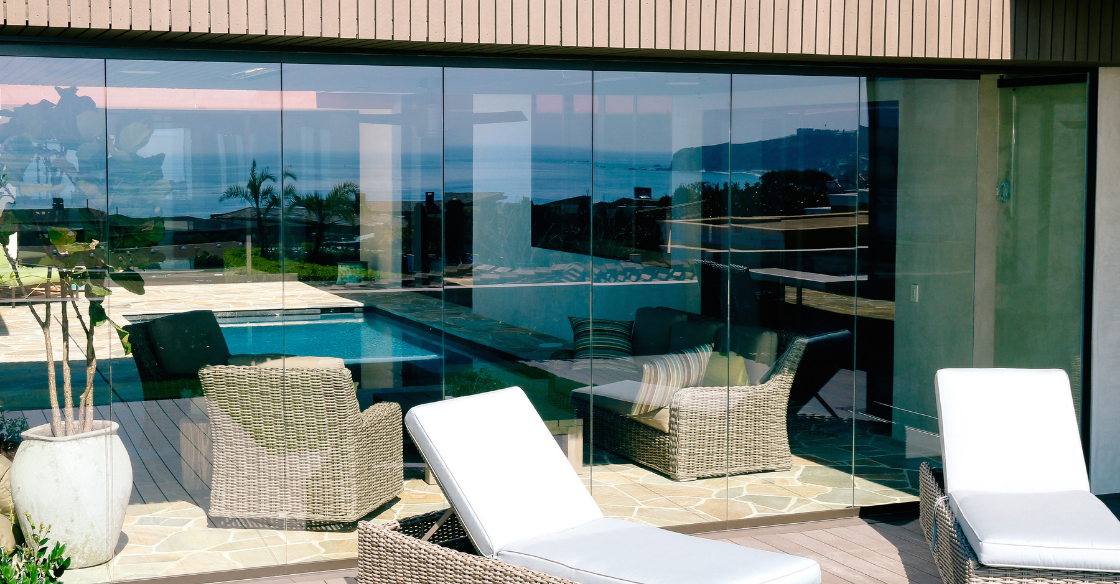 2. Burglar-proof windows
Windows are some of the most common entry points for home invaders, making them a high-priority security concern. Older homes typically have double-hung windows and flimsy latches that are susceptible to break-ins. Humidity, heat, and other environmental factors can also cause wooden window panes to swell and prevent them from latching correctly. Inspecting and reinforcing your window hardware can improve the security of your home and prevent unwanted visitors.
Here are a few tips to burglar-proof your windows:
Reinforce glass with window security film
Install window or glass break sensors
Add window bars
Regularly inspect locks and hardware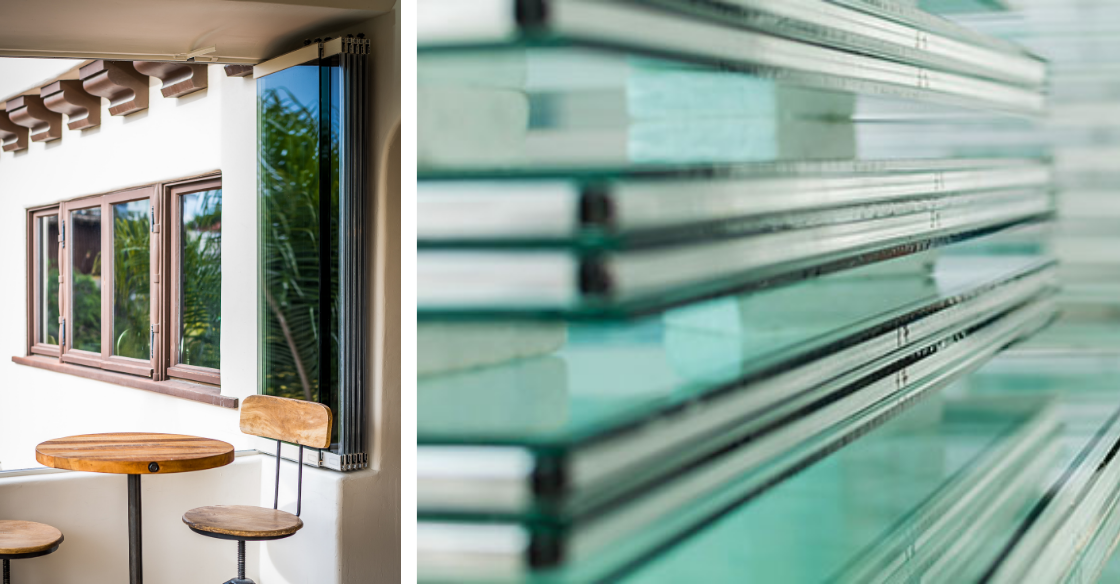 3. Home security system
Today, there are several quality home security systems on the market for everyone depending on your budget, security needs, and tech-savvy. Unfortunately, only roughly 38% of U.S. households have a security system installed, leaving over 200 million Americans more vulnerable to burglaries and home invasions. Take advantage of the recent technology advancements and install a home security system to take intruder-proofing your home to the next level.
To choose the security system that's right for you, you'll want to consider your budget, your neighborhood, and any security threats specific to your house. Systems like Ring doorbells, SimpliSafe, and Cove have all been popular security system options in recent years. Your local police department can help you conduct a home security evaluation and help you determine the level of security you'll need.
Here are a few must-have features for your home security system:
Video surveillance
Motion detection
Automatic lighting
Night vision
Wi-Fi capability
Two-way talk
Cloud storage
Weatherproof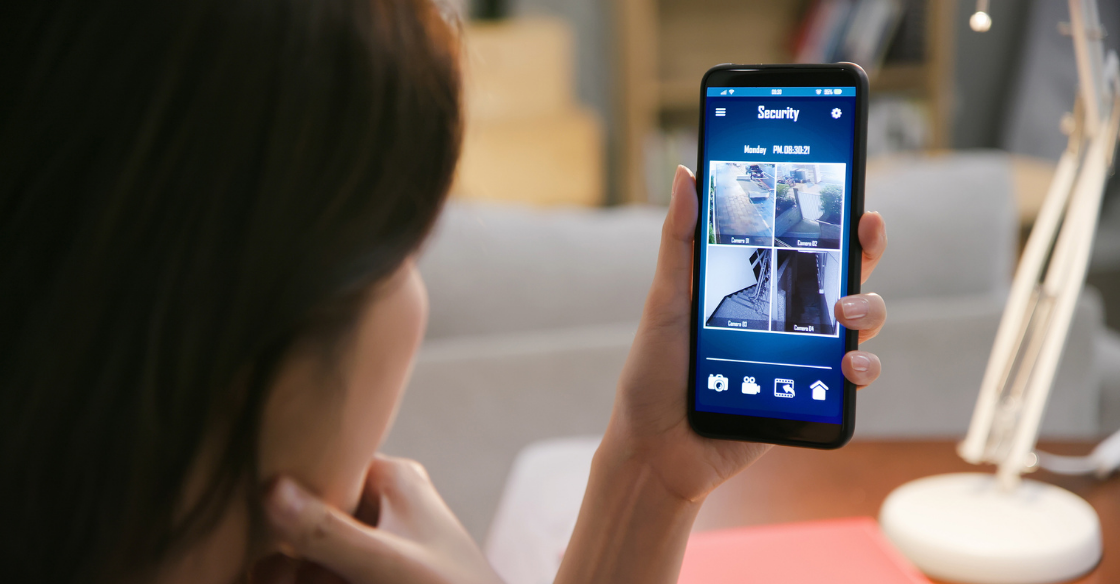 Secure your home with the safest sliding glass doors
We know the safety of you, your family, and your home is your number one priority, which is why we've made it our mission to provide you with the most secure frameless glass systems possible.
Frameless sliding glass doors are a beautiful and effective way to secure your home while maintaining the aesthetic you love. Cover Glass USA is an investment in your home's appeal and overall value, thanks to premium Finnish engineering built into one innovative, intuitive solution. With its captivating design and held in high regard by world-class architects, homebuilders, and real-estate developers -- Cover Glass USA is a status statement of quality craftsmanship, dazzling beauty and top-of-the-line home safety.
Request an online consultation to connect with our glass door and window experts to find out how we can secure your home with frameless sliding glass doors.