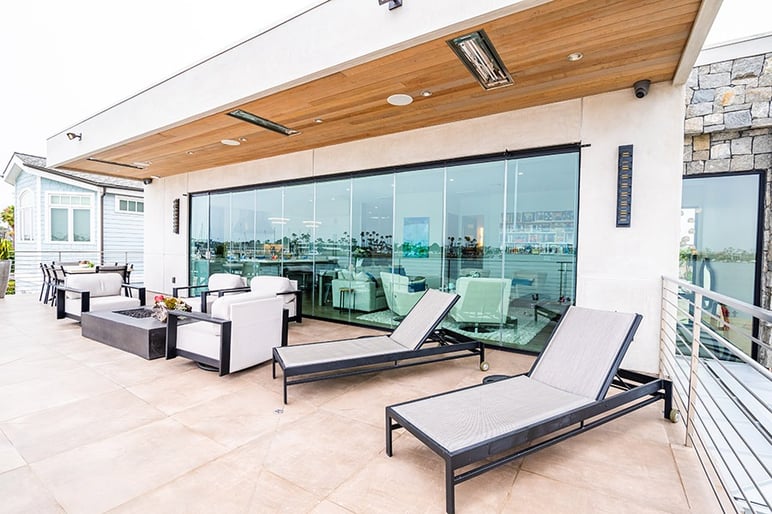 A wide patio with wall to wall windows and doors, granting you great views and just the right amount of natural light… This is luxury as we see it. In fact, home appraisers agree. Upgrading your windows and doors for efficiency alone increases your home's value by approximately $8,500.
But you don't make an investment such as a wall of folding glass doors just to raise your home value. Instead, you do it because you have dark living space that you want to open up, or you want to change the feel of the entire space. Luxury just happens to be part of the appeal.
If you're looking to brighten your home, improve energy efficiency, and enjoy the view, think about changing your patio doors to one of the following.
Sliding Glass Doors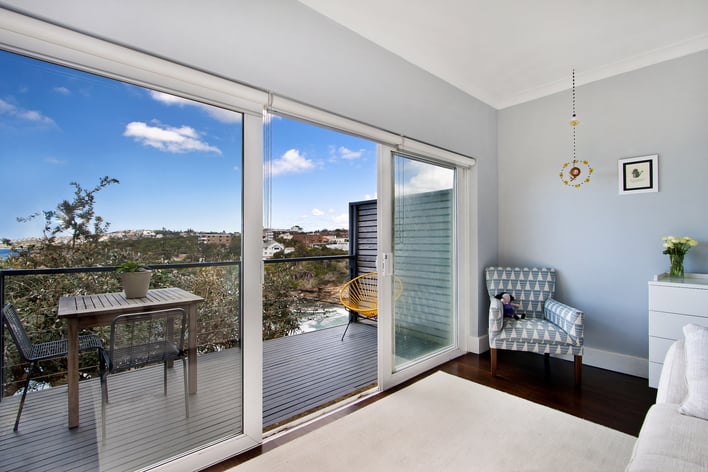 Sliding glass doors typically have two glass panels, one of which slide. This makes them a great option if you have limited space, where it would be difficult to have a door that swings. The screen that usually comes with sliding glass doors makes it possible to keep your door open all day to let in fresh air and keep out the bugs.
Beyond the ease and convenience, the technical progress applied to their production over the years gives them even more reasons to be one of the most popular choices out there for patio doors. Here are just a few:
Year round views of the outdoors
Abundance of natural light
Better eyesight to watch your children playing outside
Easy access to the outdoors
Improved air circulation
Great home value
Visual appeal
While it's true that there are many benefits to choosing sliding glass doors, there are a few drawbacks to consider.
First, installation isn't always easy with sliding glass doors, due to the need for properly positioned tracks. If they are not installed properly, it can cause functioning difficulties down the road if not immediately. This leads into another issue with sliding glass doors- jamming.
Jamming can happen at any time, especially over time. After sliding open and closed several times a day for years, tracks can be worn down, doors can be pulled off their tracks, or something can be caught in the tracks.
With that, we'll point out that dirt and grime is another common issue for these patio doors. Tracks can be difficult to clean, and because they are a barrier to the outside, they attract more dirt than most other areas of the house.
Hinged Doors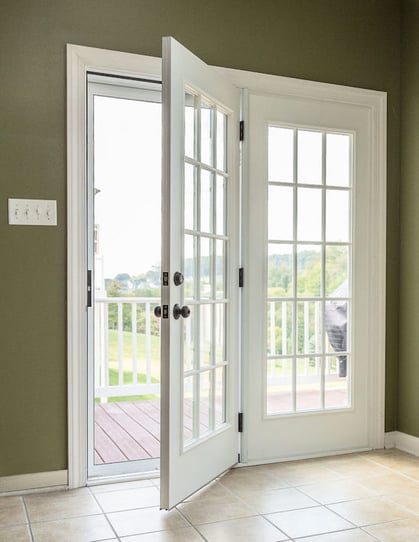 Hinged patio doors are another common choice for homeowners who want to let more light into their homes. If you have room for the swing of the door, hinged doors give you a little more style freedom than sliding glass doors.
Under the hinged patio doors category, you can choose center hinged patio doors, three panel french doors, single pane swing doors that take up a full wall, and so much more. Some of their benefits include:
Elegance
More style options
Ease of opening
Easy transition to the outdoors
Easy to install
Customization possibilities
Energy efficient
While hinged patio doors are a beautiful option, there are a couple of disadvantages. For instance, they will typically take up more room due to the swing of the door, whether it's inward or outward. Another is that they require maintenance, including replacing weather stripping and oiling hinges.
Pivot Doors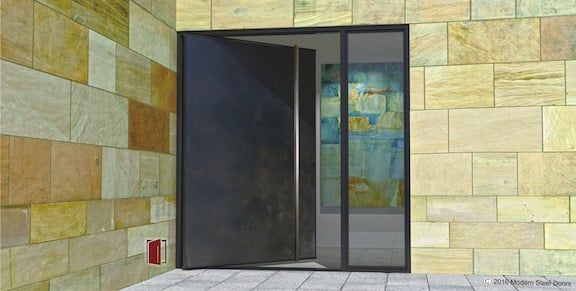 As the trend in homebuilding and home renovation moves more towards modern and minimalist designs, pivot doors become more common.
What is a pivot door? Pivoted windows and doors are rather unique in that they do not use a frame. They are, in fact, supported by a pivot at both the top and bottom of the door (or window). This makes them more stable, especially in bad weather.
That's not the only reason pivot doors are catching on. Their appeal lies in how they look. They are sleek, modern, bold… In fact, they can even be made to look like part of the wall rather than a door. This greatly adds to their appeal.
However, there are still disadvantages to this modern door style. There is still a need for swing room, which isn't always possible for some homes. Another disadvantage is that these doors don't always seal as well as other types of patio doors. While we see this being solved in the future, it is still something to consider.
Bifold Doors/ Folding Doors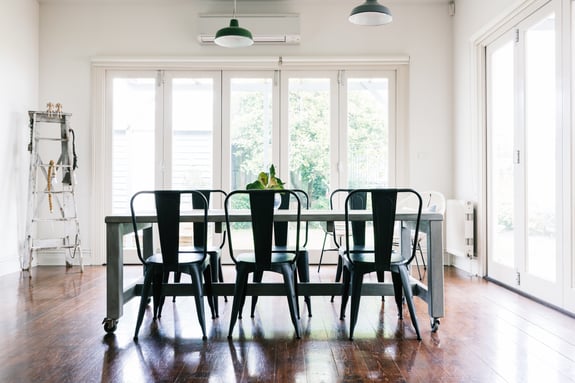 Bifold windows and doors are becoming increasingly popular home improvement projects, often opening up a space that was previously closed off by a wall. They are chosen for their clean sight lines, minimalist design, and easy to fold panels that can be pushed to the side of the frame where they'll stay out of the way.
When closed, they give you wide views of the outdoors, and can even look like a bunch of picture frames depending on the view. The problem with these patio doors is that they can be difficult and costly to install, and they aren't as energy efficient as other patio door options.
Cover Glass USA- Frameless Glass Doors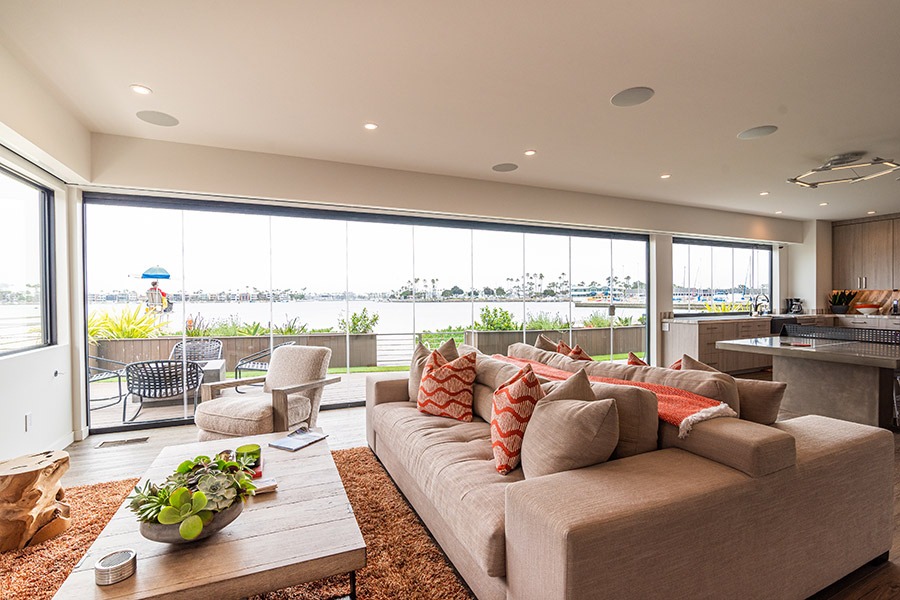 Frameless glass doors from Cover Glass are kind of the goldilocks in the patio door search. Like pivot doors, they are completely frameless. They fold just like the trendy bifold doors, but they are more energy efficient.
In fact, we call it the "open concept" swing door system, because they both swing and freely slide to be stacked out of the way. You'll get unobstructed views and connection to the outdoors without the inefficiency.
In addition, Cover Glass customizes every frameless glass wall system to meet your exact needs.