Many factors contribute to the value, aesthetic, and guest experience of commercial spaces. Many spaces are just on the precipice of becoming a modern commercial building and only require a few upgrades to refresh the design instead of a whole rebuild. A few simple renovations can help make a huge difference in garnering the attention of prospective tenants and clients.
Here are five ways to modernize outdated commercial spaces to increase their value and elevate the design: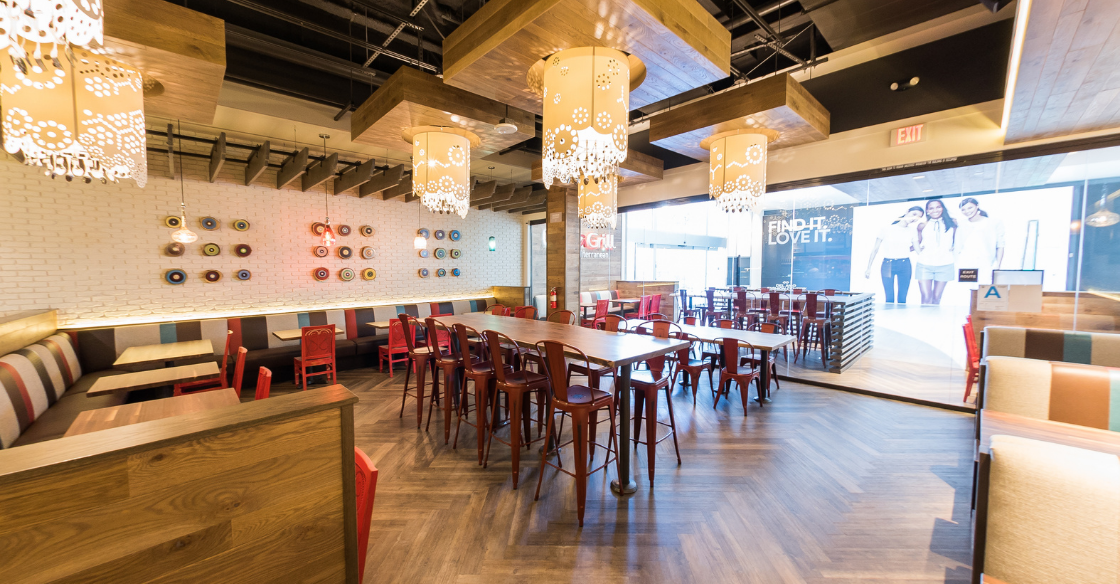 Create a Warm Welcome
The best place to start creating a modern commercial building is the entryway. The entrance to a commercial space is your chance to make a first impression and create a warm welcome for your visitors. Installing floor-to-ceiling glass doors, potted plants, and pops of color can instantly modernize a commercial space. Creating a more functional and aesthetically appealing entrance can make a big difference across the board in how your commercial building is received.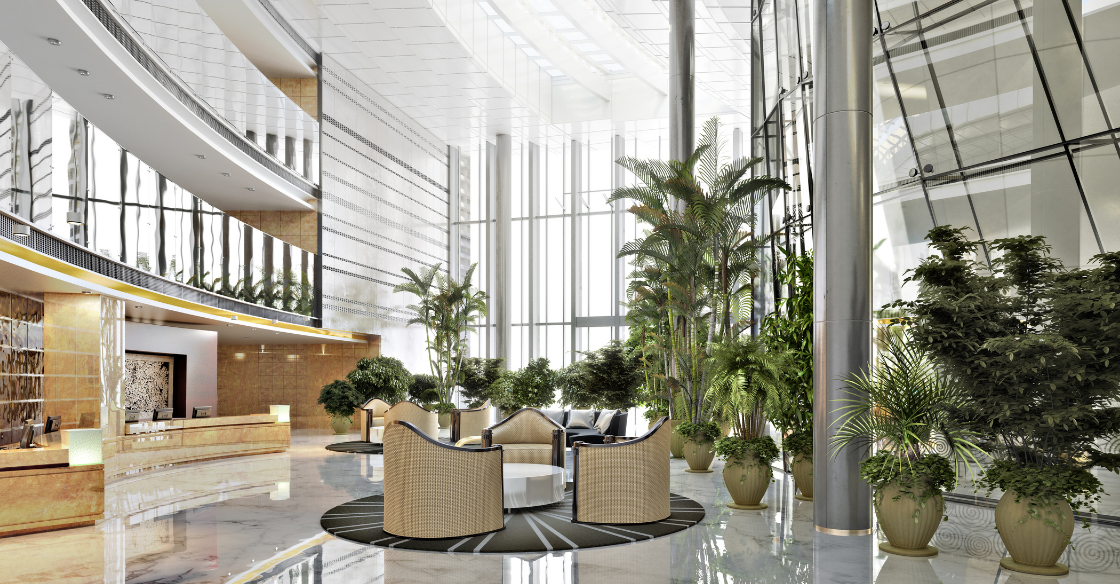 Optimize Your Space
Functionality is a crucial element when it comes to commercial building design. We often see commercial property owners making the mistake of neglecting high-traffic areas like hallways and bathrooms. Creating a fluid, spacious, and functional layout will help your tenants, employees, and clients navigate your building more comfortably.
Another important factor to consider in your modern commercial building is accessibility Corridors should be wide enough to accommodate wheelchairs, and ramps should be installed throughout the property. Creating an inclusive commercial space is just as important as creating a beautiful one.
Juxtapose Natural Light & Glass
Ample natural light has become a mainstay in modern commercial buildings. However, it's not as simple as just plopping large windows in a traditional building. Capitalizing on natural light requires property owners to create open-concept layouts that accentuate a commercial space's architecture.
Frameless sliding glass walls are a fantastic option for increasing natural light, defining spaces, and creating stunning views. A sliding glass door system offers seamless transitions and multifunctional areas that enhance your commercial space's square footage while creating an elegant atmosphere for clients. Instead of succumbing to a fixed glass door frame's limitations, frameless glass eliminates an entire wall, which in turn extends usable space and increases functionality.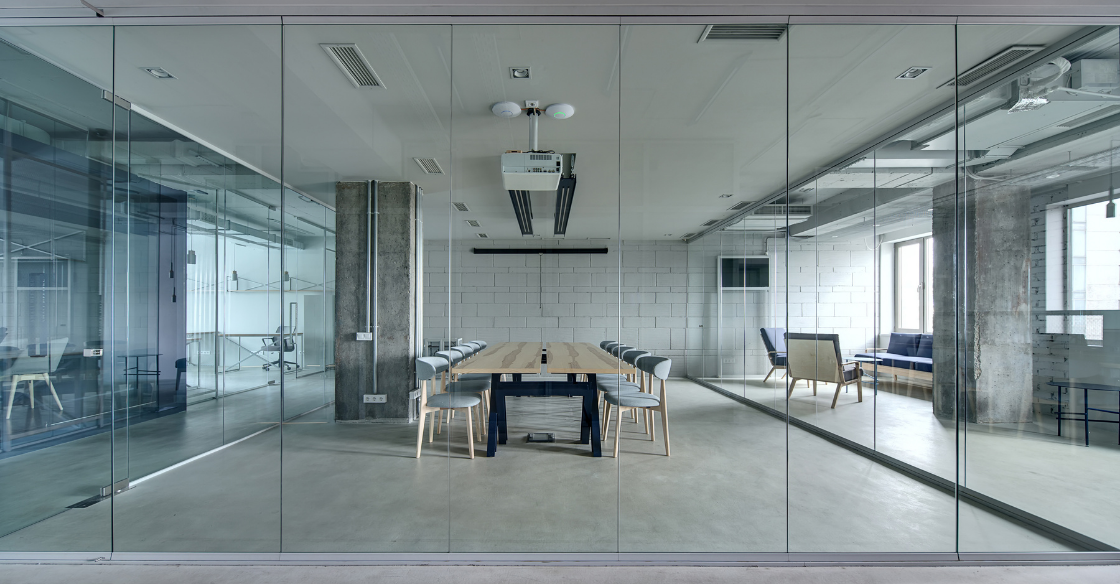 Digital Signage
Tech has become an essential tool for modern commercial buildings. Incorporating digital signage into your overall building design allows you to create dynamic graphics and update branding in real-time and provide an unparalleled level of modernity and tech to their exterior design. Make the digital signage part of the overall design versus an afterthought, and the results are truly remarkable.
Bring the Outdoors In
Biophilia has become a popular commercial interior design trend in spaces to breathe life into a sterile environment. Greenery offers an affordable and natural accent that will make any commercial layout feel more organic and inviting. Living walls have increased in popularity since the rise of social media because of their ability to immediately create an Instagram-worthy backdrop in a modern commercial building. Because plants have been proven to improve mood, decking your commercial space out with a few organic elements is not only an excellent aesthetic choice, but it will make your tenants and clients happier!
Creating seamless transitions between indoor and outdoor spaces is also a great way to bring more light into your commercial design and improve the space's flow. Using frameless glass walls allows you to capitalize on your commercial building's surrounding views while creating an elevated aesthetic.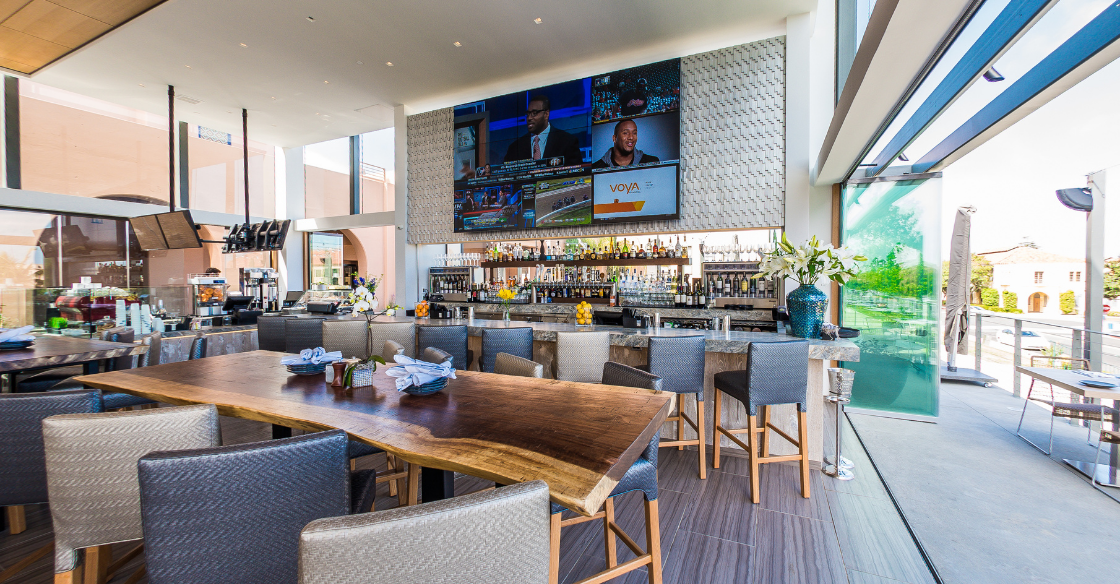 Upgrade Your Modern Commercial Building
You can make tons of upgrades to modernize a commercial space, but none are more impactful than frameless glass. Sliding glass walls are an elegant addition to any property and offer several benefits that will improve the look and the value of your property. With no frames around our folding glass walls and doors, Cover Glass creates open concept systems that slide and seamlessly stack according to your vision and structural conditions.
Cover Glass is fully approved by the National Certified Testing Laboratories. We only use the latest generation of Low-E glass that has been tempered and laminated with polished edges. Each system is custom built to order at our California, Arizona, Nevada, and Texas locations. From the glass color and the track color to the swing and the size of each panel, you'll enjoy a frameless glass door system for years to come, knowing you've contributed to every part of the design.
Ready to bring the magic of frameless glass to your commercial space? Give us a call at (866) 233-1862 or request an online consultation to connect with a member of our team and find out how frameless glass can transform your property.