Across the country, this year's winter is expected to be colder than past years. In an age when energy consumption is center-stage and natural resources are a concern, keeping your home warm until spring without cranking up the heat may prove a challenge.
Here are a few steps you can take to shield yourself from the cold, yet keep your heating bill on budget.

Keep Your Home Warm by Eliminating Sources of Cold Air
We're not suggesting you place your house under a vacuum-sealed bubble, although that's a product that would make its inventor rich! Cold air sneaks in many ways, pushing warmth away and out. Here are some tips to help.
Keep unheated rooms closed
The holidays are over, which means that family and friends have left. It's time to shut the guest rooms until the next round of visitors. Other unused rooms should be kept unheated and closed. You don't want to waste energy heating a room nobody goes into and you don't want the cool air wandering out and bringing down the temperature.
In rooms that are particularly cold due to their situation or orientation (facing north for instance), you can place a draft-stopper at the bottom of the door (door snake) or a draft guard. Manufacturers are getting creative and you can find some pretty draft guards that will not clash with your décor. If you're crafty, you can even make them yourself.
Mind your use of the fireplace
Modern fireplaces are mostly there for looks, adding a welcoming touch of comfort to a room. They are not designed to heat the room like in the good old days. It is tempting to light it up on a cold, damp day and to sit really close to it to get cozy. The problem is that, in contrast, the rest of the room will feel colder than it really is, prompting us to turn the thermostat up.
You should also be aware that when lit, the heat of the fire goes out the flue. When the fireplace is off, make sure the flue is closed!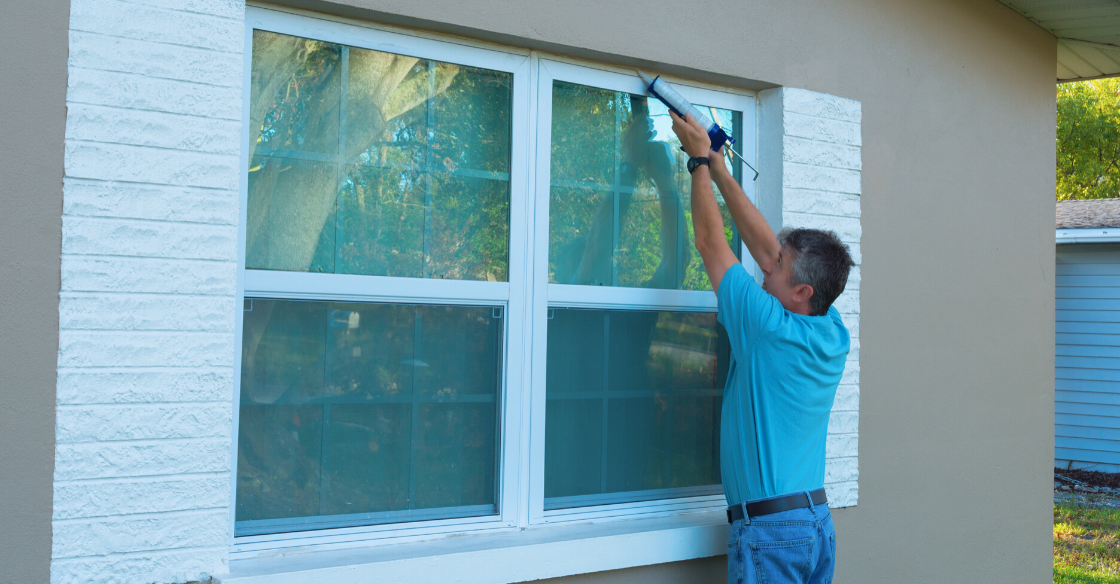 Seal up gaps and weatherproof windows
It doesn't take much for cold air to get in. The weakest areas are usually windows and doors. With time, they become slightly off balance or the seals wear off, creating gaps and cracks. Cover Glass has mastered the art of weatherproofing windows and sliding glass doors so you are protected from the elements day in and day out.
You can also go around the house and list the windows that show signs of wear and tear the most. If you feel a draft, you know it's time to hit the hardware store and stock up on winterizing material. Weatherstrips are easy to install and work as summer insulation as well. Sliding glass doors especially need attention, with longer and potentially wider gaps.
Finish the tour outside of the house, paying attention to cracks, holes and worn caulk on frames, around vents and on the siding. Seal all suspicious areas. This will prevent cold air from entering, but also protect you from water damage.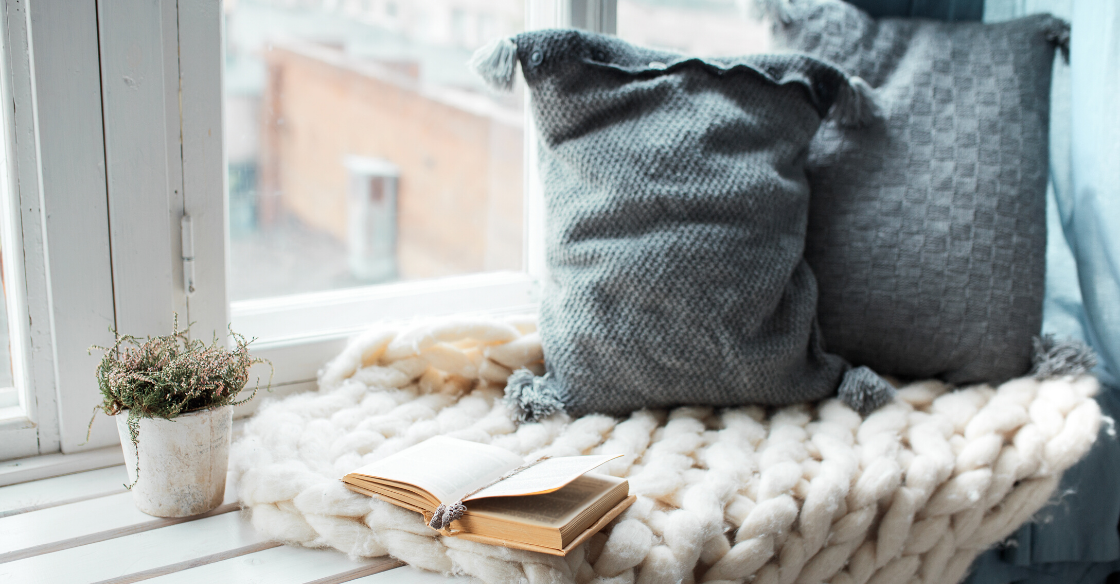 Other ways to winterize your home
You have diligently eliminated sources of cold air, but there are other ways to maximize warmth and minimize energy losses.
Switch the fans to winter mode
Summers make us forget that fans do more than provide relief on hot days by pushing cool air down. They also have a winter mode that reverses the way the blades turn, hereby pushing the rising warmth down and pulling the cool up. If you are unsure on which setting your fans are, turn them on and check the direction the blades are turning:
Clockwise = winter setting
Counterclockwise = summer setting
Keep the space around radiators and vents free and clear
We rarely pay attention to vents and radiators when we arrange furniture. Our concern is mostly centered on practicality and aesthetics. Winter is a good time to do a little shuffling, so nothing is an obstacle to proper airflow. Basically, move everything away from the heat source, vents, radiators, space heaters, etc.
Use your décor to cozy up
If you store your rugs away in the summer to benefit from cooler floors, bring them out for the winter months. If you keep them in place year-round, consider adding a layer that will act as an extra barrier against the cold. Felt pads underneath a rug are a great way to insulate.
Be generous with throws. They're not just stylish, they are also practical. When you settle in your favorite chair or sofa but feel a bit of a chill, you only have to extend your arm to grab a throw and cover yourself, rather than adjust the thermostat.
Install heavy curtains on windows and sliding doors. At night, they create a shield from the cold that comes through the glass. If you tend to get chilly when the temperature drops by even one degree, take a look at thermal insulated curtains. During the day, let the sun flood in to warm up the rooms.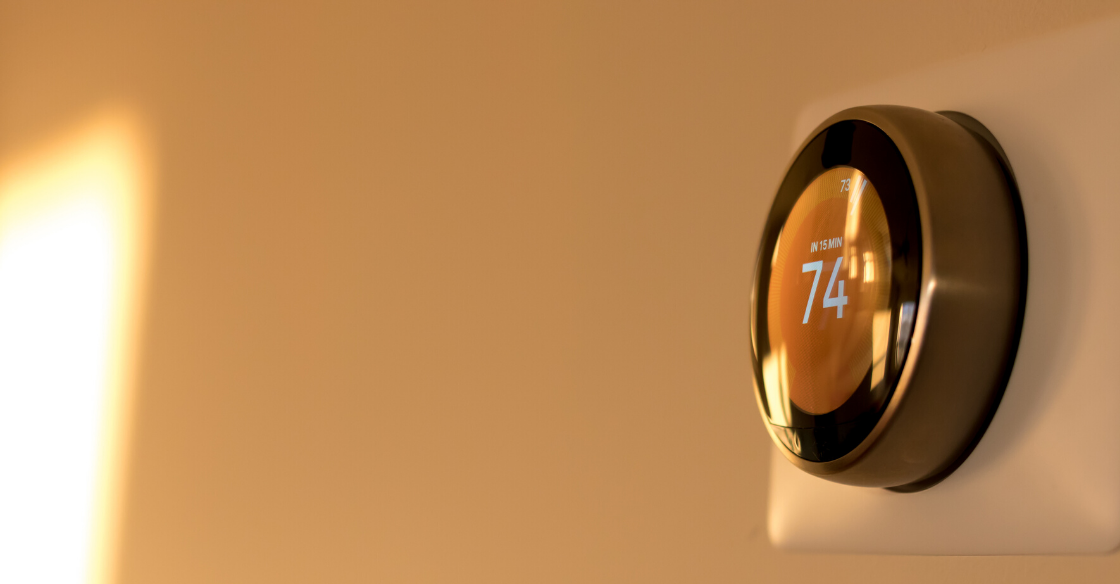 Make the Best Use of Your Programmable Thermostat and Technology
The best invention since sliced bread is probably the programmable thermostat. It's easy to create heating and cooling schedules based on when we are home or when we don't use a particular room.
Programmable thermostats are one of the items to look at if you're concerned about your energy consumption increasing, especially if you find you have to crank up the heat to keep a comfortable temperature.
In addition, many of us tend to keep the temperature low when the house is empty and turn it up high when we get home, hoping it will warm up the house faster. It's an intuitive action, but counterproductive. It takes the same time to reach the desired temperature on a regular setting as it would on high. A more effective way to come home to a warm room is to set the timer so it comes on earlier. Smart thermostats act like very own elves to getting the house ready for our return (the downside is they don't prepare dinner). Even if you programed your morning, day and evening settings, you can remotely adjust when the heater starts or stops if you have to change your schedule.
These are just a few tips to help keep your home warm this winter. From making sure your doors and windows are properly insulated to taking advantage of today's smart home technology, there are many ways to stay warm and cozy as the winter weather hits.