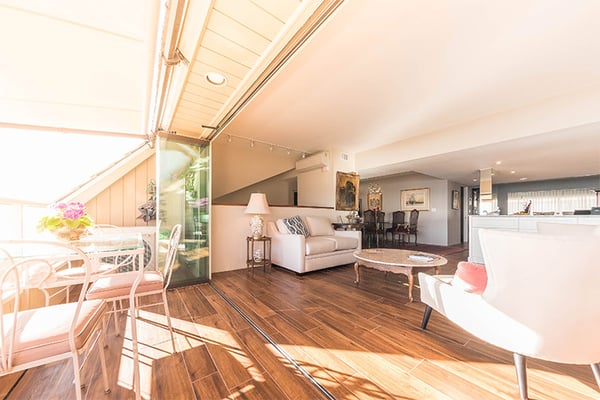 Frameless sliding glass doors not only provide stunning views but also create a seamless transition between outdoor and indoor living spaces. Blank, feature-free walls give way to natural light, eye-catching views and a sense of airiness as you connect with the environment surrounding you. No more peering through crowded windows, the world is now your oyster.
We call it the "open concept" because it opens our eyes and minds to uninterrupted views. Although predominantly used in exterior doors and windows, we offer multiple ways of using glass indoors in virtually any space. This creates a fresh and impressive feel and instantly modernizes any home in a unique way.
Interior Frameless Glass Door Uses
We share two excellent ideas that have the potential to bring glamor to your home:
The Walk-In Closet Makeover
Ever wondered why beautiful walk-in closets get hidden away as if we are ashamed of them? We offer the opportunity to change perceptions by beautifying the space with frameless glass doors. One option is to add a single glass door to retain that feeling of privacy. If you really want to break out of the ordinary, choose the glass walls or a single glass door and open the view out. This may even motivate you to keep that area clean and free of clutter.
Frameless Glass Doors and Bathrooms
Breaking away from tradition, your bathroom is an excellent place for interior glass walls, glass doors, or the right sliding glass. Moreover, glass is resistant to damage caused by steam or water and it requires minimal effort to keep looking stunning. Consider using a glass wall to separate your master bedroom and en suite, the effect will be a combined space of modern, natural beauty. A glass shower door or glass tub enclosure adds real style too.
The above are a couple of inspired ideas to promote alternative options. Each home is unique in its style, and this presents many great opportunities for using glass to enhance your indoor living space.
Choosing the Right Sliding Glass for Adding Value
With vertical frames and bland exterior walls replaced with the right sliding glass, you can enjoy uninterrupted views. Frameless glass doors not only enhance the view, they literally open the door to entertainment options by integrating outdoor and indoor living spaces. You can also section off a space when a storm is threatening or before retiring to bed, knowing you have the best possible weather and security shield.
Read More: 4 Trends in Indoor Outdoor Transition Spaces
Adding a frameless sliding door system to your property is a good investment, one that certainly adds value to your home. You also get to optimizing your open floor plan, adding to your living space and enhancing your view. Isn't it time to replace boring traditional french patio doors and put in the right sliding glass? We can design our frameless glass patio doors for any exterior application.
You create an incredible wow factor when you choose frameless patio doors. You can also improve the interior vibe of indoor space by using the right frameless sliding glass system.
Read More: The Perfect Panoramic View
◊◊◊
Experience the difference. Choose Frameless. Choose Cover Glass USA.
Cover Glass USA serves the Southern Californian region, including Malibu, Calabasas, Santa Monica, Newport Beach, San Diego, Santa Barbara and other beautiful cities.