San Diego proudly calls herself "America's Finest City," and judging by the rich architectural history, we have to agree! From world-famous beachfront hotels to naval stations turned community attractions and more, you can find beautiful architecture just as abundant as our gorgeous natural settings.
Below, we're sharing some of our favorite San Diego architecture spots, including a few that we played a part in creating!
Hotel Del Coronado
Hotel Del Coronado, known more casually as "The Del" or "Hotel Del," can be found in Coronado, just steps from the gorgeous beach. It's one of the most popular tourist attractions, and for good reason: it showcases architecture at its finest, with a look that blends beachfront with Victorian flair.
When it opened in February 1888, the Hotel Del was lauded as an architectural masterpiece and immediately attracted wealthy visitors from all across the world. They often stayed to enjoy the weather and San Diego lifestyle for months at a time. Over the years, the Del has hosted tons of celebrities, including Marilyn Monroe, Cary Grant, and Katherine Hepburn.
Fast forward to today and it's still one of the most famous buildings in San Diego. It's a top destination whether for a stay, brunch or just a stroll across its charming grounds.
Some of the architectural elements you'll notice right away are its red-roofed rotunda, gorgeous meeting rooms with soaring sugar-pine ceilings, and beautiful stained-glass windows.
Balboa Park
Another must-hit tourist attraction is Balboa Park. It features something for everyone: tons of open space with natural vegetation and gardens, walking paths to explore, museums and theaters, gift shops and restaurants, and showstopping architecture at every corner.
The city established the 1,200-acre urban park in 1868. Which makes it one of the oldest parks in the United States dedicated to public recreational use. After hosting two world fairs—the Panama-California Exposition of 1915-16 and the California Pacific International Exposition of 1935-36—the park continued to grow and develop into what it is today.
The standout architecture to add your Balboa Park Bingo sheet includes the Renaissance-style Spreckles Organ Pavilion, the lively and colorful World Beat Center (which occupies a renovated water tower), the Spanish-Colonial Mingei International Museum, and The Old Globe Theatre (built to replicate the open-air Globe Theatre in London, best known for hosting Shakespeare).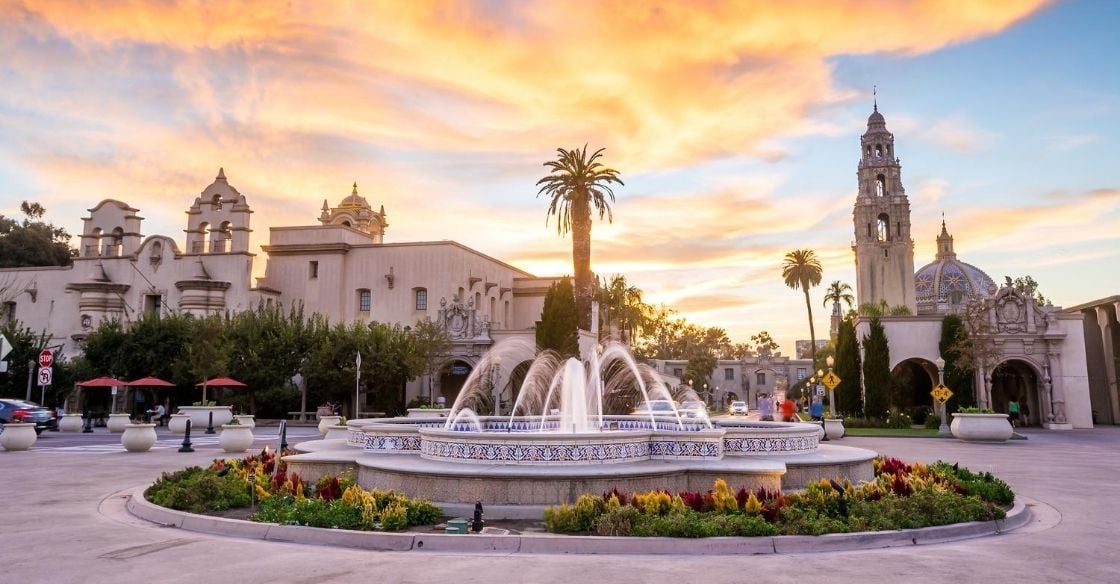 Liberty Station
History and military buffs should look no further than Liberty Station, located in the Point Loma neighborhood of San Diego just west of the airport. The former Naval Training Center closed down in 1993, and was brought back to life almost 20 years later and slowly developed into a mixed-used area.
Buildings have now been adapted into art studios, small-business shops, fitness centers, indoor and outdoor venues, and the newest Liberty Public Market. Renovations have put a modern spin on many of the areas, while still honoring the historical significance.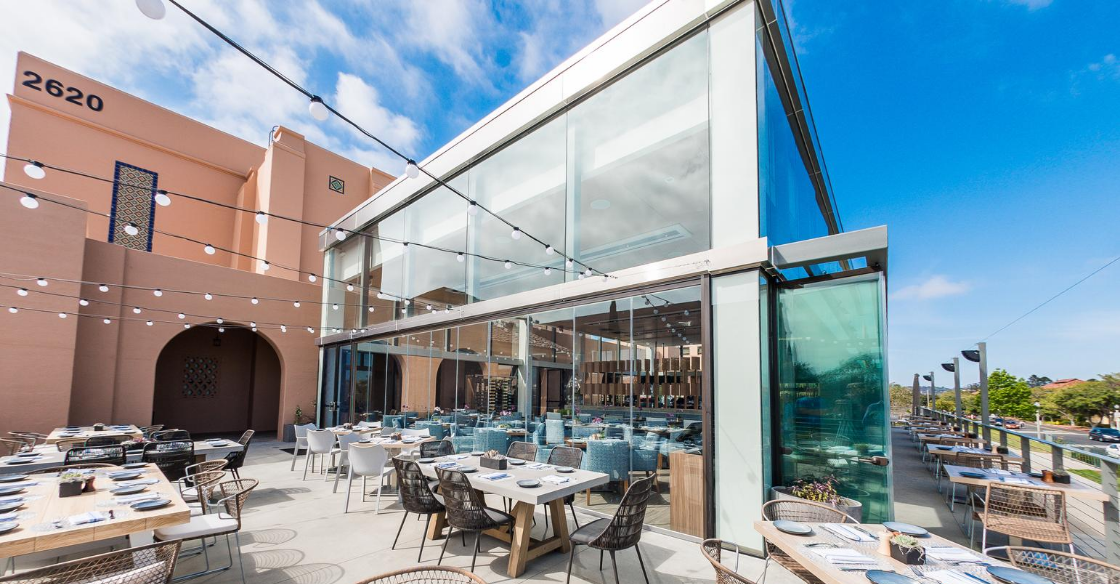 The LOT at Liberty Station, a luxury movie theater and full-service restaurant and bar located at the southwestern corner of the development, is a prime example of this. The LOT used to be the Navy's Luce Auditorium; to honor the history, the architects kept the original wood stage and concrete presidium, along with the original exterior. For a modern twist, the LOT transformed the feel of the restaurant with large frameless sliding glass doors with seamless recessed tracks, allowing for stunning views of the nearby grounds and plenty of natural light when the doors are closed.
Geisel Library
Venture a bit further north to picturesque La Jolla, and you'll find the Geisel Library on the campus of the University of California San Diego. Named to honor the late Theodor Geisel (better known as children's author Dr. Seuss), the building is a prime example of Brutalist architecture. This style is known for a modular and abstract look, with heavy use of concrete, steel, and other utilitarian materials.
This San Diego architecture favorite is made of reinforced concrete and features arches along the sides that are designed to look like hands holding up a stack of books. It also features 38,000 square feet of horizontally-placed glass windows. The architecture of this building certainly turns heads.
Salk Institute
Not far from the Geisel Library is another must-see, the Salk Institute for Biological Studies. This non-profit scientific research institute was named for American medical researcher Jonas Salk, who discovered the polio vaccine in 1953.
Today it's known as a modern architectural treasure, with beautiful and distinct teak window walls blended with Pozzolanic concrete and steel for a bold first impression. The Institute is a working research facility, but also hosts and permits docent-led and self-guided tours during business hours.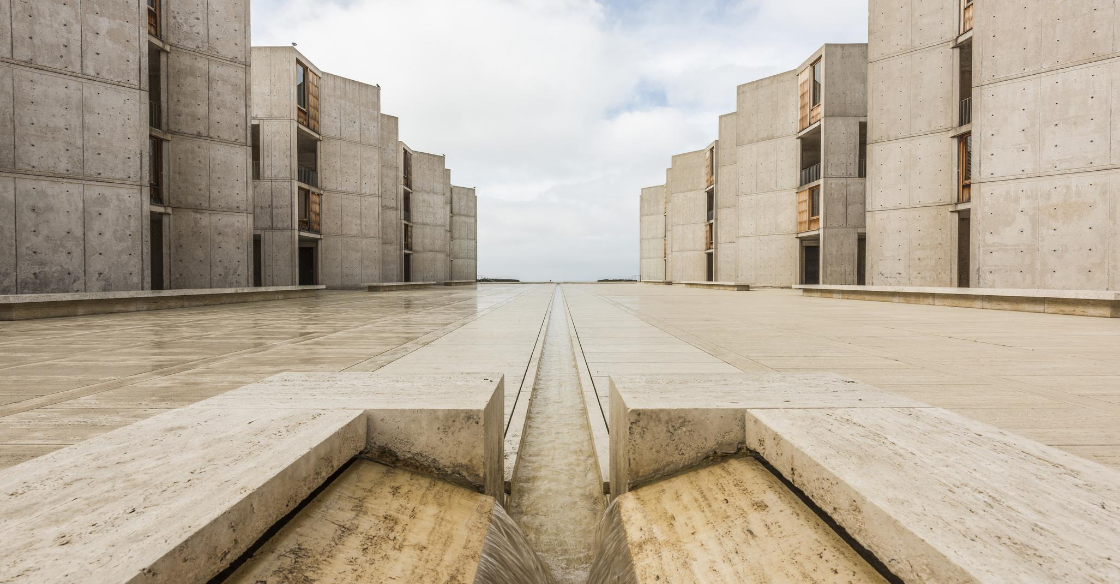 San Diego Central Library
Yet another masterpiece of materials is the architecture of the San Diego Central Library, located downtown. Here, old books line curved walls to provide an acoustical damper and warm concrete completes the lobby walls and columns. While floor-to-ceiling windows in the dedicated "Reading Room" provide brilliant light (as well as panoramic views of the bay and city), and massive sliding glass doors open up to a beautiful courtyard. This San Diego attraction is truly one-of-a-kind.
The library has undergone a few renovations, including the most recent in 2013. Since then, it's been honored with several awards, including the National Award for Excellence in Structural Engineering and the coveted Orchid Award from the San Diego Architectural Foundation's Orchids & Onions Awards.
Ready to Build Your Masterpiece?
At Cover Glass, we're ready to help you transform your commercial or residential property into an architectural masterpiece. Our stunning frameless sliding glass walls create uninterrupted views, increase your home's value, and improve your natural ventilation. For businesses, we help you establish flexible spaces that catch the attention of visitors and locals alike.
Get inspired by browsing our project gallery and contact us for more information. We can help no matter what stage of your project you're at, and we can't wait to see your vision through.