Whatever your home setup and wherever you live, you can find inspiration in the luxurious home designs of celebrities.
Many of the top trends of 2019 focus on an indoor–outdoor living style, which is possible to emulate in practically any property.
Check out these amazing celebrity homes we love and consider how you could apply the trends to your own property.
1. Mediterranean-Style Villa
Our first celebrity home belongs to Eva Longoria. Located in the Hollywood Hills, the mansion uses a Mediterranean style typically seen in villas and takes it to the next level. Despite having numerous, expansive rooms, it still manages to maintain a cozy feeling.
This Hills home encompasses elements of continental Europe, like fireplaces, a stone courtyard, and, most importantly of all, a wine cellar.
However, the signature feature has to be the cool tile. Appearing both indoors and outdoors, it creates cohesion between the interior and yard.
2. Modern Meets Antique
For our next celebrity home, let's move across the country to New York City and take a look at the townhouse owned by Baz Luhrmann and Catherine Martin.
This is a perfect example of how it is possible to seamlessly combine antiques with a modern style. In fact, this home takes things a step further by including items and furnishings from a variety of eras.
To follow this trend, you just need to make sure that all the elements in your design complement each other.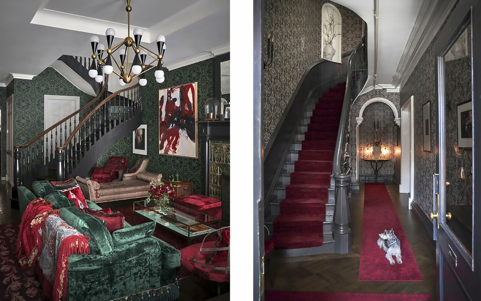 (Photo from ELLE Decor)
3. Layering for Sophistication
Returning to California, we have Whitney Port's home in Los Angeles. It is a great example of how an eclectic selection of objects can create an elegant yet relaxed atmosphere.
The key here is the technique of layering. A variety of materials and repurposed items blend together to form a whimsical atmosphere.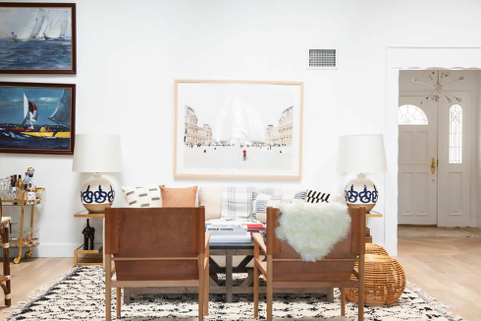 4. Outdoor Living
A stunning example of how to embrace outdoor living comes from the Los Angeles home of Elton John. An outdoor room extends the entire length of the house, accessible by sliding doors.
The expanse of glass is also perfect for showcasing the view of the pool and the valley beyond the property. Furthermore, the glass features UV protection to keep furnishings safe from sun damage.
(Photo from Architectural Digest)
5. Open Floor Plan
Another celebrity home that brings the outdoors inside belonged to the late actress Mary Tyler Moore.
This house merges the interior with the exterior by creating a space that, especially when the glass doors are stacked to one side, feels like an extension of the terrace. The result is a luxurious aesthetic.
(Photo from Architectural Digest)
6. Comfort Reigns
Jennifer Aniston, with her Bel Air home, shows that it is possible to be stylish without sacrificing comfort. Beyond the choice of furniture, serenity is achieved through the use of sentimental items, which are layered over fashionable color palettes.
(Photo from Architectural Digest)
7. Contemporary Minimalism
Next, we turn to this Soho penthouse owned by Justin Timberlake. Simplicity reigns here — the home contains no more than is needed. This leads to a minimalist look that expresses care and attention to detail.
All the elements of this celebrity home are contemporary, not least the windows that surround the penthouse. These provide natural light in abundance and access to the wraparound terrace.
8. Floor-to-Ceiling Views
Emily Blunt and John Krasinski clearly wanted to make the most of the scenery surrounding their Hollywood Hills home. Almost every room has floor-to-ceiling glass.
On the lower floor, you see another example of indoor–outdoor living in a modern design: sliding glass allows the wall open completely. Although it may be a small feature, such an addition significantly increases the home's value.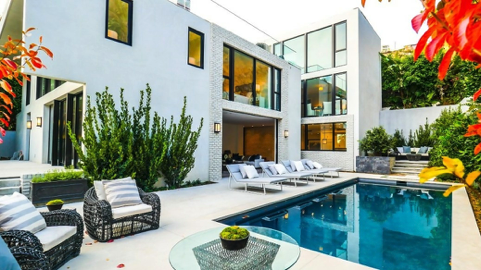 (Photo from Architectural Digest)
9. Urban Treehouse
Architectural Digest named Diane von Furstenberg's avant-garde property one of the best celebrity homes of all time. It is easy to see why.
For one thing, the top of the penthouse is covered by a roofgarden, bringing green to the urban location. For another, the exterior walls are entirely transparent.
Thanks to the setting, there is no risk of lost privacy. Whereas such a design may be impossible for most people, you can still take inspiration from the idea.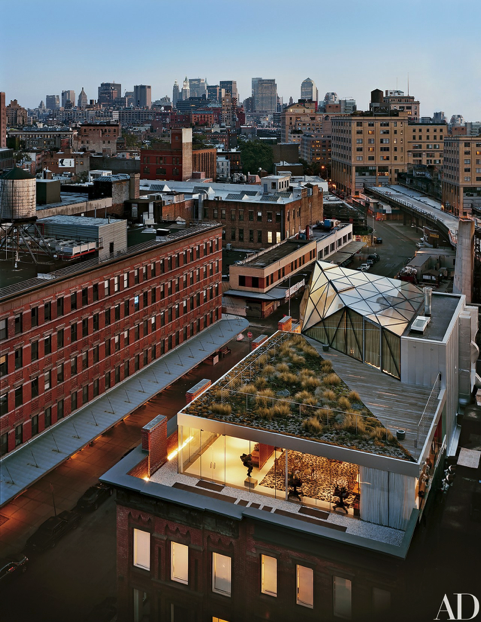 (Photo from Architectural Digest)
10. Infusion of Personal Style
Any list of celebrities homes would be incomplete without the White House. As little is known about the Trump interior design choices, let's return to the White House of the Obama administration.
It featured some stunning choices in home decorating, the result of a collaboration between a number of interior designers.
The most notable element of the design, however, was the use of the traditional elements you would expect to see in the White House with items that represented the Obamas' personal preferences.
This is an excellent example of how it is possible to decorate a home in any style, but still make it your own. It is more important that the home portrays you than it fits to a particular narrative.
(Photo from Architectural Digest)
To start taking advantage of some of these trends, the best thing you can do is improve the connection between your home and the outdoors.
As you can see from the above, the top way to achieve this is to use sliding glass doors. Look for frameless glass (to ensure nothing obscures views when the doors are shut) and pick doors that stack out of the way to one side to maximize the space available to you.